Live Wire: Pop's noise-rock implosion
"Is the play offensive? I certainly hope so; it was my intention to offend — as well as amuse and entertain."
This was Edward Albee talking about his play, The American Dream, in 1961; a work that explores the patent falsity of its namesake.
Substitute "music" for "play" and you could just as easily have a musician perhaps more eruditely than usual waxing philosophical on the aim and intent of punk 16 years later.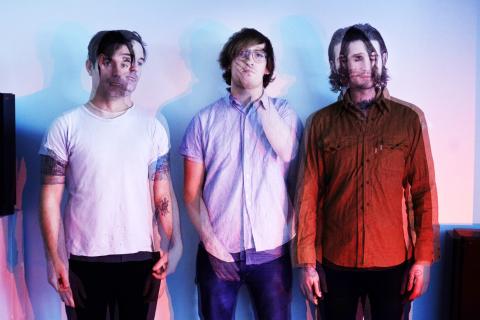 Since their founding in 2008, Toronto noise-rock trio METZ has earned a reputation as one of the underground's most explosive live acts.
Photo courtesy of Highnote Asia
Amuse. Entertain. Offend. The inalienable punk credo. And not necessarily in that order.
That last part of the equation is where some musicians tend to get confused. Being offensive doesn't have to mean getting in people's faces with controversial points of view. Causing offense in the general populace solely for the sake of causing offense is something of a causa perdita. It accomplishes nothing, really, save for offending those who are looking for any reason whatsoever to be offended.
"Offensive" isn't the swastikas on the Dead Boys' jackets. It's not GG Allin singing about blowjobs and suicide for the umpteenth time, nor is it Seth Putnam's sophomoric use of the word "gay" in every second song title. Such are dead and ignorant mediums wrought by venerated though nevertheless (mostly) dead men.
You really want to get people's guts up? All you have to do is slaughter a few sacred cows. Toy with genre like drag queens with gender. They'll lift you up on their crooked spines and laud like Caitlyn Jenner all the way to the abattoir.
METZ have spent the past eight years slopping down that bloody road, riding a self-propelled rickshaw powered by pop and noise rock, one of music's last bastions of true rebellion. The Toronto three-piece has risen on the shoulders of giants — Today Is The Day, Butthole Surfers, Swans — to become one of new vanguards of bombastic, air-pushing distortion and punk rock psychedelia.
Over the course of two albums, 2012's eponymous debut and last year's II, METZ has gone about formulating a tempestuous mash of noise and feedback, rock, punk and pop, building on such disparate experimentation's begun by the likes of The Velvet Underground on through The Jesus and Mary Chain.
"We are really into noise and pop," says founding vocalist/guitarist Alex Edkins in an interview with the Taipei Times. "We want to incorporate both worlds."
The problem with melding these two worlds is that the grand concept of what's noisy and abrasive tends to shift ever further toward the ultimate supersonic singularity that is harsh noise. How do you marry Torturing Nurse with Thurston Moore (a one-way romance famously rebuked by the former)?
Maryland/Pennsylvania grinding death metal band Full of Hell collaborated with Japanese noise god Merzbow on a record a couple of years back, but their sounds already shared something of a common ground. Pop and noise, not so much.
"I think we will continue to evolve as songwriters and our pop sensibilities will grow," says Edkins of the inevitable evolution. "However, we aren't really interested in rehashing our steps or making traditionally structured music either, so I think we will continue to get more and more adventurous in our recordings."
The unsettling sense of setting foot into the dark space of the unknown is where METZ comes from in both the artistic and the literal sense. Both Edkins and drummer Hayden Menzies started off their career playing in Ottawa punk bands before upping sticks for the Big Smoke in 2007.
"Moving to Toronto was exciting and at the same time scary," Edkins recalls. "Hayden and I had been living in Ottawa for most of our lives so we didn't really know what to expect. It ended up being the exact right decision."
Right in a number of ways, not least of which the fact that it led the pair to the bassist that would round out the present-day trio, low-end rock steady sludge merchant Chris Slorach.
Four years after bringing him on board, the band came to the attention of one of the biggest names in the noise-punk-alterniverse, Sub Pop. The Seattle taste-maker, the house Nirvana built, has been METZ's label for the band's first two albums. But when they first got signed, they were just happy someone — anyone — gave a damn about a noise trifecta from the Great White North.
"I think we were just excited that someone cared," says Edkins. "We had every intention of just self-releasing the album, so for a label like Sub Pop to get involved was a welcome surprise."
Today METZ is a full-time gig, though the members have no illusions that will last forever. But they're going to take it as far as they can. Keep pushing. Keep evolving. Already they've displayed an innate ability to avoid repetition, getting looser, heavier and darker on II than they were on their debut.
The one constant from day one, the live energy. Three men going for broke, taking themselves to the ever expanding edges of their own black universe. But perhaps that's getting too poetic with the thing. It's more Bukowski than Rimbaud.
"METZ music demands a certain type of performance for it to translate properly," says Edkins. "It's also a lot more fun than just standing around."
■ METZ plays on Feb. 17 at The Wall, B1, 200, Roosevelt Rd, Sec 4, Taipei City (台北市羅斯福路四段200號B1). Tickets are NT$1,000 in advance, available at The Wall and online via KKTIX and books.com.tw. NT$1,200 at the door. Sorry Youth (拍謝少年) provides support. Doors open at 7:30pm and the show gets underway at 8pm.
Comments will be moderated. Keep comments relevant to the article. Remarks containing abusive and obscene language, personal attacks of any kind or promotion will be removed and the user banned. Final decision will be at the discretion of the Taipei Times.