Live Wire: A metalhead in the legislature
After the massive political victory of Tsai Ing-wen (蔡英文) and the Democratic Progressive Party (DPP) in last Saturday's elections, one of the other most reported stories in the international media was race for the legislature in Taipei's Wanhua (萬華) and Zhongzheng (中正) districts. That's because one of the candidates, Freddy Lim (林昶佐), is also lead singer of the band Chthonic, a face-painted extreme metal group that has played top heavy metal festivals, including Ozzfest and Wacken, and toured extensively in the West and Japan. Chthonic has produced eight albums, won a Golden Melody Award and has fans around the world.
For the last 15 years, Lim has worn studded black leather and corpse paint on stage. In the last half year, he has been wearing business suits and running for office as part of the New Power Party (NPP), which sprang up out of the 2014 Sunflower movement, in which student protesters' occupied the Legislative Yuan's main chamber for almost 23 days in protest against the government's handling of a cross-strait service trade agreement.
A heavy metal legislator makes for good click-bait, and Lim's story has been carried by major outlets like the BBC, The Guardian, Germany's Suddeutsche Zeitung, general interest magazines like GQ and, of course, the entire constellation of heavy metal magazines and Web sites. Fearing that Lim's victory would mean an end to the band Chthonic, one rock site, Team Rock, ran the headline, "'Black Sabbath of Asia' Risk Future For Democracy."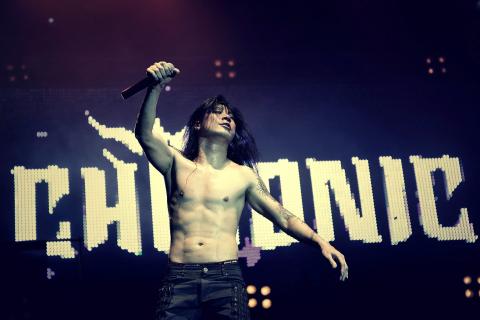 From heavy metal rocker to lawmaker.
Photos courtesy of Freddy Lim
"Producing new music will be slower," Lim said in a phone interview with the Taipei Times earlier this week. "But I will definitely keep making music. It will also affect our performing. There's no way we can leave the country for a two or three-month tour, though we should still be able to play international festivals or one-off shows in Asia."
Lim won a close race, beating out Lin Yu-fang (林郁方), a 64-year-old incumbent legislator from the Chinese Nationalist Party (KMT).
"We ended up winning by four points," Lim said. "A week before the election, we were leading by eight points, but during the last week he was running a lot of attack ads, and we didn't have time to respond to the mud-slinging."
"He used banners, flyers and all sorts of means to tell the electorate that I'm a really horrible person, that I support drug use and sex offenders and mass murderers. That influenced some people, especially those in their 40s or 50s, who might think since I'm a rock star, I am always going to do strange stuff. And of course I'm in an extreme metal band, so…."
Lim paused, so I mentioned an attack ad that featured Lim in stage makeup that backfired on his opponent, causing Lin Yu-fang to become an item of ridicule on Facebook.
"Of course," Lim said. "But that was among young voters, and there I was leading all along, so it wasn't really a problem ... We knew we were going to lose some ground, so we just hoped we wouldn't lose the lead entirely. And in the end, we didn't."
If you've known Lim for any length of time, you would not be surprised at this political turn. I first met him in the late 90s, when Chthonic was still a new band. He was also running a small live house called Zeitgeist and developing the Formoz Festival into Taiwan's top music festival — this happened when he borrowed a huge chunk of money through a traditional credit union to invite Megadeth, Biohazard and other top bands, making Formoz Taiwan's first truly international rock fest. In 2008, he was a founder of The Wall, which is still Taiwan's top international rock club.
Lim also bootstrapped Chthonic to fame, flying to Denmark to record albums with top metal producers and, more generally, learning and then doing everything it took to reach an international standard of awesomeness.
At the same time he was creating Taiwan's indie music infrastructure, he also attended the Lee Teng-hui School, a program run by the former president to groom young leaders. He promoted political causes, inviting the Beastie Boys for a Tibetan Freedom Concert in 2003, and supports Taiwan independence and numerous other causes. Lim, however, avoided direct involvement in party politics until 2008, when he campaigned for DPP candidate Frank Hsieh (謝長廷). From 2010 to 2014, he was the Taiwan chairperson of Amnesty International.
As a newly elected legislator, Lim says the focus of the NPP — which will hold five legislative seats once the new government is installed on May 20 — is economic and social reform. It aims to instill notions of social justice in the framework for economic growth and conduct a thorough review of all the Taiwan-China policies introduced under Ma Ying-jeou (馬英九).
"We can't let only a small handful of corporations reap all the benefits," said Lim. "That might make the big picture statistics look good, but most people are still earning a very low salary, while corporations take control over the majority of the resources. That is not right."
His policy ideas mostly concern salary reform and support of small and medium-sized enterprises.
Lim met president-elect Tsai Ing-wen once at an NGO-sponsored panel discussion on education, and refers to her in our conversation by the familiar nickname, "Little Ing" (小英).
He does not anticipate a strict alliance between his NPP and the DPP.
"We will maintain our subjectivity," he says.
However, he adds, "generally I'm positive about it. The last two or three years, the DPP has felt the direction of public sentiment, so I have positive expectations that they're looking to enact reform."
In terms of China policy, Lim favors low-level citizen-to-citizen exchanges and supporting democratic movements within China.
"The more open and democratic China becomes, including opening of information, the Internet, Chinese will become more accepting of global information and will be less inclined to extreme nationalism and more able to make independent judgments. This will also safeguard Taiwan's freedoms," he said.
Well that's all fine and well, but will we see a new Chthonic album anytime soon?
"Don't blame me!" Lim interjects. "I'm not the one holding up the new album. I've already put together a few things. We're still waiting for parts from the other band members! I think we can put it out sometime this year."
Comments will be moderated. Keep comments relevant to the article. Remarks containing abusive and obscene language, personal attacks of any kind or promotion will be removed and the user banned. Final decision will be at the discretion of the Taipei Times.