Personalizing the walking tour
Like It Formosa, organized by a group of young Taiwanese, organizes historical and themed tours of Taipei using tour guides who share their personal experiences
When Becky Liu (劉樾) visited the Plum Pavillion (梅亭) in Taipei's Beitou District (北投), it reminded her of her great-grandfather, who, like the pavilion's former resident, former Control Yuan president Yu You-jen (于右任), was an expert calligrapher.
"Through this connection, I can tell [tourists] about calligraphy in our culture and what it represents," she says.
This is one of the personal experiences that local tour guides will relate during Sunday's Beitou, Hundred Years a day walking tour, organized by Like It Formosa (來去福爾摩沙), formed by a group of twenty-something locals dedicated to a variety of walking tours all conducted in English.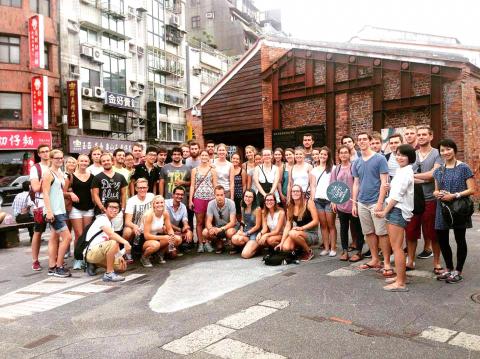 A group photo from a previous historic Taipei walking tour by Like It Formosa.
Photo courtesy of Like It Formosa
"We want our guides to not read from a book but to incorporate their personal experiences and serve as storytellers and performers," says founding member Julia Kao (高于晴). "We want to present to foreigners the perspective of local young people."
She adds that visitors have joined the same tour multiple times just to hear different tour guides share their experiences.
Formed early last year, Like It Formosa started out last September and October with two pay-as-you-want weekly walking tours of Taipei — a historic one every Thursday that takes people through the old Taipei neighborhoods on the western end, and a modern one every Sunday that shuffles through the bustling East and Xinyi districts from Sun Yat-sen Memorial Hall to 44 South Village (四四南).
They launched their first paid tour in November — an LGBT Taipei one that took visitors to locations such as an LGBT bookstore and Rainbow Sauna (彩虹會館), a 24-hour gay establishment. Sunday's Beitou tour is their first time taking people to northern Taipei, and they have more tours planned for later this year.
These young Taiwanese aren't just looking to show foreigners what Taiwan is about. They say it's also a self-exploration of what it means to be Taiwanese, which is a question local students especially struggle with when asked to present their culture while studying overseas.
"When I went on the tours myself, I felt pretty impacted," Kao says. "To locals, it's a chance to get to know Taiwan all over again."
"When we pass by the Presidential Palace, we can discuss the protests and democracy in Taiwan," Liu adds. "In Ximen, we can talk about Japanese influence on the city. Through exchanges with tourists, we can in turn ponder deeper questions about where we live."
Comments will be moderated. Keep comments relevant to the article. Remarks containing abusive and obscene language, personal attacks of any kind or promotion will be removed and the user banned. Final decision will be at the discretion of the Taipei Times.