Mutant mustard
Trips to a Taiwanese traditional market are always filled with new discoveries, and for those more used to supermarkets, the variety and lack of identification can prove intimidating. Particularly in the grocery section (with a nod to the arcane mysteries of the fishmongers), names can be especially confusing. A few years ago I was introduced to what was then a very new vegetable in Taiwan, which the market grocer told me was called wawa cai (娃娃菜, baby vegetable). It is a bizarre looking vegetable, with a thick broccoli-like stem, from which burst forth nods which have a passing resemblance to the shoots of mustard greens. The whole thing has the look of a horticultural experiment gone badly wrong, but I was assured that this strange looking creature made excellent eating, and I have been experimenting with it over the last couple of years and found it to have many excellent qualities.
The process of coming to grips with this vegetable began with its name. I was nonplussed by the fact that the wawa cai with which I was familiar was a miniature Chinese cabbage that I understood had been introduced from Japan and was popular in high-class Chinese restaurants due to its tenderness and cuteness.
After some research, I discovered that what is often called wawa cai in Taiwan's markets is actually an import from China, growing in the highlands of Sichuan Province, where it is called er cai (兒菜, child vegetable). To the best of my understanding, the scientific name for this vegetable is Brassica juncea Coss. var. gemmifera, and other common names in Chinese for it include ginseng vegetable (人參菜) and ball mustard (抱子芥菜). This wawa cai, or er cai, as we should probably call it, is a relative of mustard greens, and until recently little known outside its mountain home of Sichuan. It is now grown in highland regions of Hsinchu County and Taichung, and one of its great selling points is that since it can only grow in cool and relatively pest free environments above 1,500m, it is less subject to the hazards of chemical pesticide residue.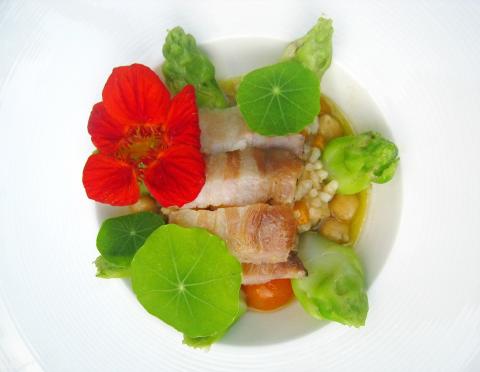 Stewed salted belly pork with er cai is a simple dish that shows off the subtle flavor of this unusual vegetable.
Photo: Ian Bartholomew
Er cai gets its name from the little nodes that cling to its stems, which look like so many tiny papooses clinging to the mother branch. These baby nodes are remarkably tender and cook in a matter of minutes, but even the stems are wonderfully tender, tasty and generally toothsome. Er cai's flavor has hints of mustard greens, but much more delicate, and its texture, particularly of the stem, brings to mind the most tender of broccoli shoots. Its delicate taste is delicious on its own, but is also excellent at absorbing flavors from other ingredients, making it suitable for anything from soups to stir-fries.
Although very tender, er cai is a rich source of dietary fiber, aiding digestion and assisting, according to Chinese medical lore, with the evacuation of toxins in the body. It is also a mild diuretic, once again assisting with removing bad things from our insides and replacing them with good things — the many nutrients, vitamins and minerals that it shares with other members of the mustard family.
The only downside for er cai is that is does not keep well. The fact that it is amenable to a wide range of preparations helps, as the smallest nodes can be thrown into a soup at the last moment, the larger ones steamed in stock, and the stems peeled, sliced and added to a tasty fry up with any variety of meats — as the Lunar New Year approaches, a good choice is a combination with cured pork belly, easily available from traditional dry goods sellers.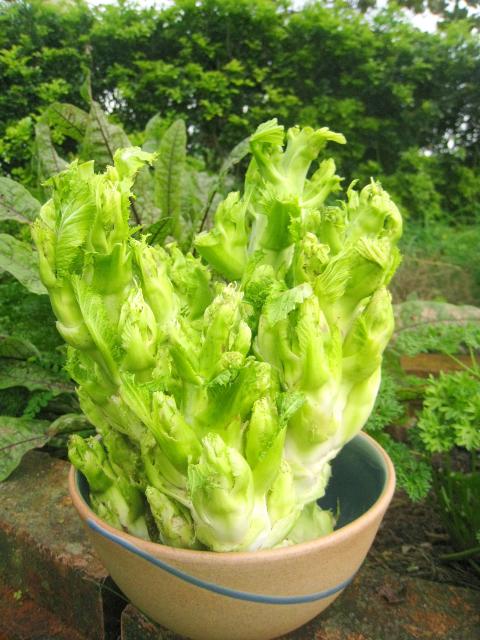 Er cai looks odd, but don't let that put you off a vegetable with a really good taste and great versatility in the kitchen.
Photo: Ian Bartholomew
Stewed salted belly pork with er cai
(Serves 4)
This is a bit of a hybrid dish that uses a salt pork that has become an integral part of my larder, simply because I have ceased to have faith in what may be added to commercially produced bacon. While the pork must be made in advance, the rest of the dish comes together quite quickly. The dish can be made with stock or water, the former providing a much denser flavor, but given the reduction of the liquid, I would only recommend using stock if you have made it yourself. For this dish I also recommend keeping the rind on the pork. After the hour and a half cooking, it not only adds to the depth of the stock, but provides a lovely gelatinous element to the meat that is perfectly delicious and is a great introduction to the more intense experience of a full blown Taiwanese pig's foot or headcheese experience.
Ingredients
For pork
8 slices of thickly cut salt pork (recipe follows)
1 carrot, finely diced
1 onion, finely diced
2 cloves of garlic, finely chopped
1 small nub of ginger, minced
Olive oil
2 cups homemade vegetable stock, or water
Serve over brown rice, chickpeas, cannellini beans or other cooked grains
For er cai
1/4 cup vegetable stock
200g er cai (the little nodes are very pretty, but if appearance is not a major factor, any part of the er cai can be used; just remember to peel the stem of its thick outer skin)
Directions
1. Cut the salted pork into thick slices, about 0.5cm to 1cm. Soak in water for about 4 hours, changing water at least 3 times.
2. Heat oil in a deep saute pan. Add ginger and fry until fragrant. Add onion and carrot, cook for 2-3 minutes. Add garlic.
3. Add stock and pork. Bring to a boil then reduce to low simmer and cook for about 1.5 hours.
4. When the pork is almost done, add the er cai to a pot of cold stock. Bring to a boil and cook for 3-5 minutes. Remove from heat.
5. Remove pork from stock, slice and set aside.
6. Mix er cai with cooked rice, chickpea or other mixture of cooked grains. Stir to incorporate. Placed sliced meat over the top.
Recipe for salt pork
This has been adapted from Fat: An Appreciation of a Much Misunderstood Ingredient, with Recipes by Jennifer McLagan, who is a major culinary inspiration. Taiwan has excellent pork, and this very simple recipe can be put to used in a wide variety of dishes. I use odd corners to enrich soup and fry it up to add a crispy element to salads, or simply cut in thin slices it can, at a pinch, be used as a substitute for bacon.
Ingredients
1.2kg of belly pork (with skin)
300g table salt
60g raw sugar (黑糖)
2 teaspoons black pepper corns
2 bay leaves
3 grains allspice
Directions
1. Put pepper, allspice, bay leafs in a spice grinder and grind.
2. Mix salt and sugar and add spices above.
3. Wash pork and dry thoroughly with kitchen paper.
4. Take half the salt and spice mixture and rub into pork.
5. Place skin side up in glass container for two days in fridge.
6. Wash, dry and rub the remainder of salt and spice mixture into the pork. Place skin down for another two days in fridge.
7. Wash, dry thoroughly and wrap in double layer of muslin. Place in refrigerator. It is ready to use after about one day. Keeps for up to 2 months.
Ian Bartholomew runs Ian's Table,a small guesthouse in Hualien. He has lived in Taiwan for many years writing about the food scene and has decided that until you look at farming, you know nothing about the food you eat. He can be contacted at Hualien202@gmail.com.
Comments will be moderated. Keep comments relevant to the article. Remarks containing abusive and obscene language, personal attacks of any kind or promotion will be removed and the user banned. Final decision will be at the discretion of the Taipei Times.