Live Wire: The mad ones
"The only people for me are the mad ones, the ones who are mad to live, mad to talk, mad to be saved, desirous of everything at the same time, the ones that never yawn or say a commonplace thing."
Jack Kerouac, literary patron saint of white Catholic guilt, speaking through the character Sal Paradise in On the Road.
Most of us, we're wrapped up in commonplace things. The usual. The mundane. The conversations with outcomes a foregone conclusion. The songs much the same. The million and one nothings that congeal us into the great nonthreatening middle ground.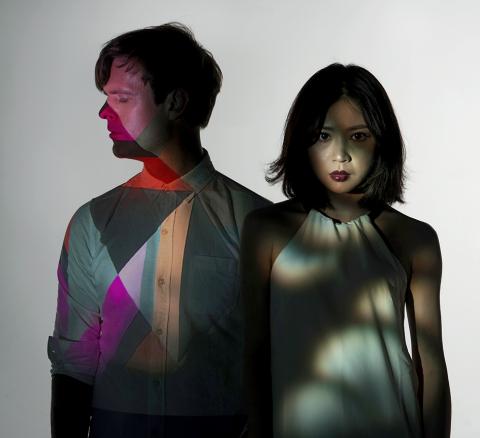 Taipei synth-pop duo Dronetonics will take to the stage one last time tonight before going on hiatus.
Photo courtesy of Steven Vigar (Up Against The Wall)
That's why we're drawn to people who say and do and make things in ways unusual. The artists who are less afraid of the struggle of making something from the hints of microscopic inspiration gnawing at the back of their brain. The ones who evolve into something new, the hard way, rather than drag their feet in circles like dumb beasts hitched to the mill wheel of past creation.
Taipei's Dronetonics have never gone about doing things the easy way. The minimalist synth-pop duo of Phin Berry and Crystal Shien have fought tooth and claw through the darkest realms of industrial to the bright spaces of danceable synth-driven pop. The music is heavy, but it never takes the safe route to get there. Even in its lightest moments, you can feel something seething, writhing. Some unseen angst. A subliminal inner conflict.
And perhaps that was driven in part by the at times tumultuous artistic relationship between Berry and Shien themselves. For his part, Berry has always been open at the sometimes fractious dynamic between him and his counterpart. But friction can be a source of creation or destruction, depending on one's willingness to embrace it as one or condemn it as the other.
Dronetonics choses to embrace it, and the result has been one of the most intriguing artistic metamorphoses of the past few years in the Taiwan scene. What started off as somewhat disjointed and frankly a bit awkward was merely a pairing finding its feet, looking to discover a voice that had yet to emerge.
And when it finally did gel, it came out as something dark and reflective, an arty mix of distortion, noise and melody that avoided the cliche of becoming overwrought. The lone full length Sentiments somehow managed to sound like a grand design, a meticulously planned statement, all the while managing to hold true to the band's stripped-down aesthetic.
From the band's founding as Berry's solo project up to the present incarnation, Dronetonics has developed its own singular consciousness, incubating a mood, a visceral air that settles over both band and audience in the live setting, thanks in no small part to collaborations with visual artists, projecting mind-bending patterns, images and clips on and around Berry and Shien as their onstage melodrama played out time and again.
For those who were there from the beginning, you could see the substance take shape. You could watch them today and see that the band had worked its way up from the depths of turmoil, brutal self-doubt and reflection to reach a kind of enlightened pinnacle. You could sense a building of a certain well-earned hype.
Will there be any way past this current high point? We might never have the chance to find out. Last week Berry announced in an online post that Dronetonics would be going their separate ways.
"For the time being, as a band, we've decided to call it off," he wrote. "Take a break. Go on hiatus. Go out on a high note? It's a dreaded mode, but also necessary, at least for us. And truthfully I don't know if we'll be back."
As it stands, Shien will remain active as keyboardist and vocalist in alt-rock band Goosander (川秋沙), while Berry is busy working on material for what is currently another solo project, Color Domes. The two still have much to offer the Taipei scene. It's just that for now, they'll do it apart rather than together.
And so it should be a bittersweet occasion when they take to the stage tonight as Dronetonics for what may be the final time. It's been four years of being the mad ones. Not the loud and brash kind. More of the thoughtful variety. The kind that speak up when they have something to say, happy to maintain a kind of quiet, droning menace for the majority. They found their voice, and though you could hear the influences in it, it was their own.
There's no shame in stepping aside to watch the wave roll back from the high water mark and recede into anonymity once more. The music will always be there to speak for itself. But you can't help but hope this isn't forever. The ones who never say a commonplace thing are rare and lonely, and from time to time, they crave the company of others.
■ Dronetonics plays tonight at Revolver, 1-2 Roosevelt Rd Sec 1, Taipei City (台北市羅斯福路一段1-2號). Sharing the bill are Heartones (心電樂) and Pilots In The Sky And On The Sea (旅人). Tickets are NT$300 at the door and includes a drink. Doors open at 8:30pm and the show gets underway at 9pm
Comments will be moderated. Keep comments relevant to the article. Remarks containing abusive and obscene language, personal attacks of any kind or promotion will be removed and the user banned. Final decision will be at the discretion of the Taipei Times.