A raw deal
A legal case highlights the need for migrant workers to enjoy the same labor rights as Taiwanese
Aliw returned to the Philippines last month still owed NT$600,000, which she fears she'll never see. The 31-year-old had worked in Taiwan for nine years — six as a caregiver — often putting in 12-hour days without any time off. But as it became increasingly obvious that her employer, a nursing home, was refusing to pay the overtime that she was owed, she sued. A judge found in her favor.
Her employer appealed the decision, and Aliw, not her real name, will not be present at the next trial because her work visa expired last month, forcing her to return to the Philippines.
"Most of the employers won't pay, even if they lose the trial," says Lennon Wong (汪英達), international coordinator with the Serve the People Association (桃園縣群眾服務協會), which operates one of approximately 15 shelters for migrant workers who have been financially, physically or sexually exploited.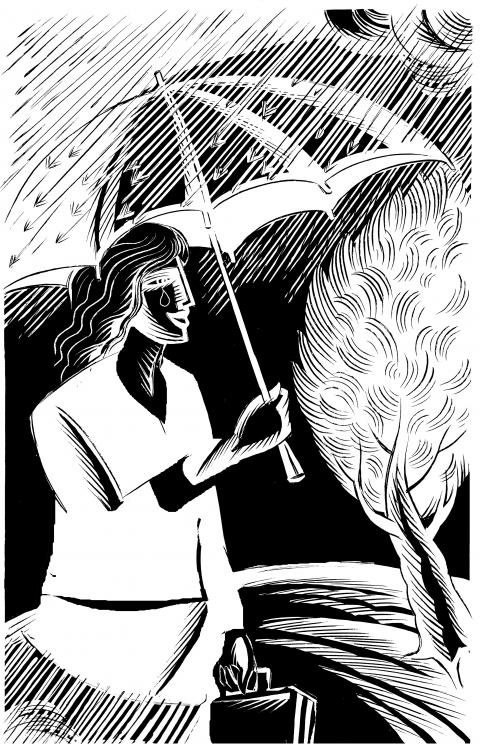 GRAPHIC: TT
"I've been here for almost one year already," Aliw said of her stay in a shelter in New Taipei City before she was forced to leave Taiwan because her visa expired. "When I go back to the Philippines, I don't have work anymore."
The circumstances that led to Aliw's case are not unusual for the 13,600 migrant workers employed as caregivers at nursing homes throughout the nation. Borrowing money in their home country to find a job in Taiwan and, once here, forced to work long hours often without a day off to pay back the debt, Aliw has few rights under the Labor Standards Act (勞動基準法) to rectify the situation.
Misinformed about her rights from the manpower service that hired her, and afraid that she would lose the job that helps her family back home, she at first didn't speak up for fear of reprisals.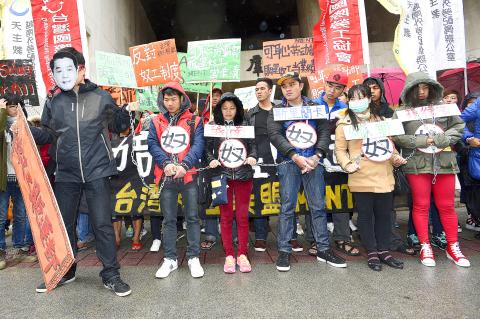 Migrant workers protest outside of the Ministry of Labor in March. They've dubbed the ministry the "ministry of slave labor" due to the lack of legal protection for many migrant workers.
Photo: Chen Chih-chu, Taipei Times
"[The manpower service] said that if you don't like your employer you will be sent home," says Aliw.
IN DEBT TO THE SYSTEM
White collar workers from Western countries do not require a manpower agency for employment and are under no obligation to pay a service fee when they find employment in Taiwan. Moreover, the law protects these workers when they work overtime.
Aliw, like many of the 585,000 Southeast Asian migrant workers currently in Taiwan, on the other hand, borrowed money to pay a manpower agency to find a job and deal with her visa. To repay the sum, her wages, already less than the minimum wage (NT$20,008 per month), were garnisheed by NT$5,000 a month for nine months.
She says she was also docked between NT$1,500 to NT$1,800 per month for a "service fee," which was paid to the Taiwanese broker who acted as an intermediary between Aliw, the manpower agency in the Philippines and the Taiwanese employer. Over a three-year period — the maximum term migrant workers can sign on for at one time — the service fee totaled NT$60,000.
Some migrant workers such as Aliw may negotiate the rate of pay they receive for overtime, but, already in debt and with no other legal job prospects, they have virtually no leverage. With the threat of being sent home, they are usually forced to accept whatever terms their employer dictates.
Moreover, for the approximately 220,000 individuals employed as domestic caregivers and helpers, there are no laws in place to protect their basic rights.
Due to the large number of complaints over human rights abuses, Indonesia announced that beginning in 2017 it will no longer send domestic caregivers to Taiwan.
PROTECTING THE UNPROTECTED
Shelters have recently proliferated, three of which are in New Taipei City. On a recent visit by the Taipei Times, they were all full — something that Wong says is far too common.
Though the Ministry of Labor offers a subsidy based on the number of workers housed within the shelters, Wong says migrant workers are not at the top of the ministry's priorities.
"What [the labor ministry] cares more about is the impact on the employer and the brokers," Wong says.
Migrant workers in one shelter gave a litany of examples of exploitation. Like Aliw, their names have been changed out of fear of reprisal.
Lita, 37, was working in Taichung, ostensibly as a caregiver. In reality there was no ward for her to care for. She was often denied food, and was lent out to others for domestic chores not listed under her employment contract.
"When I first arrived [in Taiwan] the broker said, 'It's your first time, so you cannot take a day off for the first year,'" she says.
Renato, Oliver and Nicanor, three members of the same extended family ranging in age from 22 to 36, worked as fishermen in Suao (蘇澳). Working for months on end without time off, they were charged a room and board "fee" of NT$5,000 per month, even though they were told it would be provided free of charge.
Geraldine, 35, cooked and cleaned for an extended family of 20 on a daily basis. After putting in a 16-hour day, she says her male employer would often ask her to give him a massage, and she felt pressured to comply.
legal hurdles
These examples beg the question of what can be done to protect the rights of one of Taiwan's most vulnerable populations. Although no consensus has been reached, the Serve the People Association is pushing the Ministry of Labor to include migrant workers in the Labor Standards Act.
Other groups, such as the Taiwan International Workers Association (台灣國際勞工協會), are asking for a water-downed version of the labor act — one that the labor ministry has drafted. To date little has been done about it, however.
Statements from the ministry frequently make mention of there being need for more "consensus" from society before any action can be taken on the issue.
As for Aliw, she says the responsibility does not rest solely on the shoulders of Taiwanese authorities.
"Before we come here to Taiwan, the Philippine government should spend time to educate us, to introduce our rights here so when we are here in Taiwan we know our rights if anything happens, where to go and what to do."
Until such time that education programs and legislation to protect migrant workers in Taiwan are put in place, there is little to suggest that shelters such as the three in New Taipei City won't continue to fill up with a steady stream of migrant workers, all sharing similar stories of physical, financial and emotional exploitation.
Comments will be moderated. Keep comments relevant to the article. Remarks containing abusive and obscene language, personal attacks of any kind or promotion will be removed and the user banned. Final decision will be at the discretion of the Taipei Times.