Taipei Watcher: A small step forward
For the first time, 10 same-sex couples participated in a mass wedding hosted by the Taipei City Government, but formal legal recognition will still take time
The month of October is "pride month" for the lesbian, gay, bisexual and transgender (LGBT) community in Taiwan, as tens of thousands are expected to turn up at the Taiwan LGBT Pride parade (台灣同志遊行) scheduled for Saturday in Taipei.
The LGBT community can also take pride in the Taipei City Government's increased recognition of their rights. For the first time, same-sex couples participated in a public mass wedding, usually held twice-yearly, following a push by the LGBT community and some Taipei City councilors such as the Chinese Nationalist Party's (KMT) Councilor Wang Hong-wei (王鴻薇).
"Every love deserves to be cherished," said Taipei City Mayor Ko Wen-je (柯文哲), who served as the ceremony's presiding witness.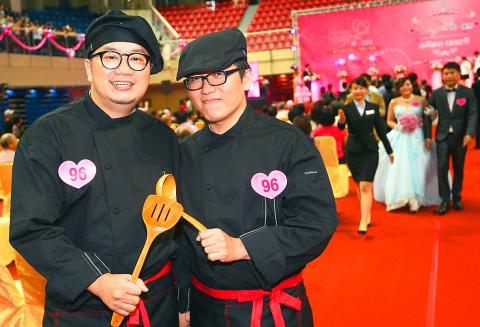 Gay activist Nelson Chen, left, and his partner Kao Chih-wei celebrate their union yesterday at a mass wedding ceremony in Taipei City.
Photo courtesy of Chang Chia-ming
According to the Chinese-language media, 123 couples — including 10 same-sex partners — were married at the event, which was held at the University of Taipei.
When introducing the measure last month, Taipei City Deputy Mayor Chou Li-fang (周麗芳) said that LGBT rights are a human rights issue.
"We hope that all Taipei citizens can enjoy the same blessings from the Taipei City Government," Chou said.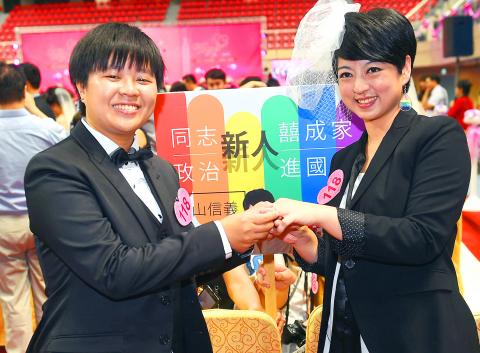 Social Democratic Party legislative candidate Jennifer Lu, left, and her partner Chen Ling, participate in a mass wedding ceremony in Taipei City yesterday.
Photo courtesy of Chang Chia-ming
Although the ceremony is not legally binding, Chou called it a big step forward.
IT'S NOT LEGAL
Gay activist Nelson Chen (陳敬學), who held a public wedding with his boyfriend Kao Chih-wei (高治瑋) in 2006, was one of yesterday's participants. Chen said that although he was grateful that same-sex couples were given recognition, there is still a long way to go.
"My partner and I have been married for almost 10 years, but the government still refuses to legally recognize our marriage," Chen said. "The public mass wedding is more like a ceremonial blessing than equal treatment."
Chen added that the government should pass an anti-discrimination act and a human rights protection basic law so as to safeguard everyone's basic rights.
"Even the US, which is a predominately Christian, ruled in favor of marriage equality. Taiwan's LGBT community should bravely fight for their own rights," Chen said.
THE 'NOT MY TAXES' CHESTNUT
Not everyone was elated, though. The Happiness of the Next Generation Alliance (下一代幸福聯盟) was among a handful of Christian groups that condemned the admittance of same-sex couples to the ceremony.
Predictably, the alliance called on "taxpayers" to phone the 1999 Citizen Hotline and protest the government's measure.
"We are strongly opposed to the city's promotion of gay culture with 'our money' without any discussion," the alliance wrote in an open letter.
Don't LGBTs also pay taxes and fulfill the same obligations and responsibilities in society? Isn't the LGBT community entitled to equal treatment?
Of the nation's six municipalities, Taipei, Taoyuan, Taichung and Kaohsiung have promised to include same-sex couples in their public mass weddings, while New Taipei Mayor Eric Chu (朱立倫) and Tainan Mayor William Lai (賴清德) refused to adopt the measure, claiming that it is inappropriate to do so before amendments to the Civil Code (民法) are completed.
Their reasoning sounds lame.
Chu serves concurrently as the KMT's chairman and presidential candidate, and Lai is an upcoming political star in the Democratic Progressive Party (DPP) who may run for president in the future. As potential leaders of the nation, it is encumbant upon them to take a stand on marriage equality.
As we congratulate the 10 same-sex couples who made history yesterday — as well as the other 113 who deserve equal recognition — it is hoped that these symbolic ceremonies will soon transform into meaningful rights for the LGBT community throughout the nation.
Comments will be moderated. Keep comments relevant to the article. Remarks containing abusive and obscene language, personal attacks of any kind or promotion will be removed and the user banned. Final decision will be at the discretion of the Taipei Times.