Everyone's an outcast
Now in its 22nd year, Women Make Waves Film Festival expands the idea of women to include all those who feel marginalized
This year's Women Make Waves Film Festival (女性影展) seeks to break down, re-interpret and set free the concept "woman." The festival, which runs through Oct. 18, features a lineup of more than 80 feature, documentary, short, experimental and animated works from 22 countries.
Festival director Su Ying-ju (蘇盈如) says the annual event is more than just a platform for female filmmakers to show films about women to women.
"The concept of woman is not limited to the biologically female. It can be a reflection of oneself, a point of view, a vision or a critique of the system. The feeling of being marginalized, silenced and invisible can exist in anybody's mind," Su told the Taipei Times.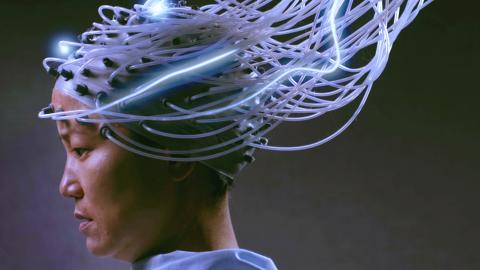 Jennifer Phang, Advantageous.
Photo courtesy of Women Make Waves
Appropriately, this year's theme, The F Word, can mean many different things. Works included in the Fucking Nation section, for example, examine the individual within the political and social sphere. Among them, Pioneer Heroes begins with three Russian kids joining a propaganda organization that encourages its young members to inform on their parents in 1987, the twilight years of the Soviet Union. As the regime crumbles, the trio grow to become successful professionals living in present-day Moscow, while their fervent belief in collectivism seems to have disappeared.
Su says that the Russian drama can reflect and resonate with those in Taiwan who grew up after the Martial Law era.
"There is clearly a generational gap. Taiwanese in their 30s didn't experience the authoritarian regime directly, but its legacy lingers on, sometimes through the education system. The important thing is how to face and deal with the system which we are critical of, but has already become part of us," Su says.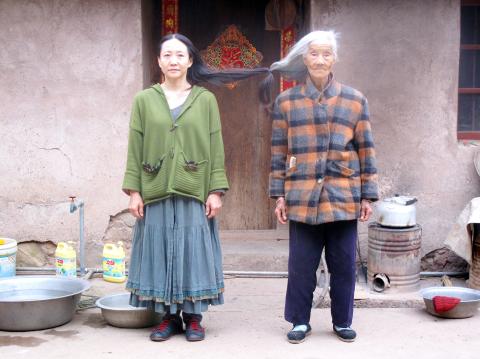 Wen Hui, Listening to Third Grandmother's Stories.
Photo courtesy of Women Make Waves
WOMEN'S ADVENTURES
Su says that several films were chosen because they focus on a female adventure narrative and contrast conventional narratives of masculinity such as conquering and heroism.
Daughter, for example, tells the heartfelt story of a mother and daughter fleeing child marriage in Pakistan's tribal regions, while Wanja tells the story of a 40-year-old former bank robber and her struggles to reintegrate into society after serving a long prison sentence.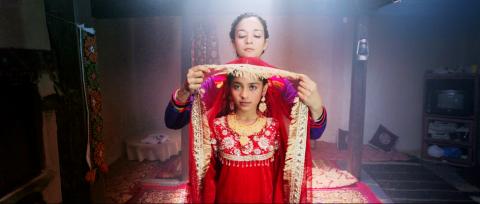 Afia Nathaniel, Daughter.
Photo courtesy of Women Make Waves
HISTORY UNVEILED
Forgotten history is revealed in documentaries such as We Came to Sweat: the Legend of Starlite, the story of Starlite, the oldest black gay bar in Brooklyn and a safe haven for people of different race and sexual orientation.
History is also a predominant theme among the 22 films nominated in the Taiwanese competition section, which was initiated last year to encourage Taiwanese female filmmakers.
The Double Life of Li Xianglan (李香蘭的世界) explores the issues of identity, nationality and gender by making an intriguing parallel between the life of Li Xianglan, a China-born Japanese movie star during World War II, and that of her friend Liu Na-ou (劉吶鷗), a Taiwan-born, Japan-educated filmmaker.
With Hebei Taipei (河北台北), director Lin Nien-hsiu (李念修) examines his father's past as he reminisces about his youth as a solider fleeing to Taiwan in 1949.
To mitigate the lack of understanding of contemporary Chinese female filmmakers and their works in Taiwan, festival organizers put forth a mini program curated by US-based Chinese film scholar Zhang Zhen (張真) that introduces five important figures to local audiences. Among them, Listening to Third Grandmother's Story (聽三奶奶講過去的事情) is renowned choreographer Wen Hui's (文慧) first documentary, which examines her family's memories.
The film is part of the project initiated by Wen and Wu Wenguang (吳文光), internationally known as a founding figure of Chinese independent documentary, with an aim to unearth and preserve the nation's past by interviewing village elders.
For something sexier, several queer flicks by established queer filmmakers offer "insiders'" viewpoints into their worlds, often in a subversive and fun manner. The Foxy Merkins, for example, is billed as a lesbian hooker buddy comedy about a hooker duo and their street encounter with bargain-hunting housewives and the Republican ladies. Meanwhile, Vagina is the Warmest Color is a hilarious parody of the Cannes-winning and male-centric Blue is the Warmest Color by Tunisian-French director Abdellatif Kechiche.
"When we talk about queers and lesbians, we usually talk about the issues and problems. But the fun part is on the cultural level. There is much creativity [in queer film], and they are so different from mainstream culture," Su says.
Publication Notes
Festival notes
What: The 22nd Women Make Waves Film Festival Taiwan (第22屆台灣國際女性影展) When: Today through Oct. 18 Where: Spot Huashan Cinema (光點華山電影館), 1, Bade Rd Sec 1, Taipei City (台北市八德路一段1號) Admission: Tickets are NT$180 for weekday matinee screenings, NT$200 for weeknight and weekend screenings, available through 7-Eleven ibo kiosks On the net: wmwff.pixnet.net/blog
Comments will be moderated. Keep comments relevant to the article. Remarks containing abusive and obscene language, personal attacks of any kind or promotion will be removed and the user banned. Final decision will be at the discretion of the Taipei Times.