All that and a bag of 1990s
Music from the 1990s will be heard tonight as 30 musicians preform all the decade's quintessential hits at Triangle
For some people, reminiscing about the1990s brings back memories of slap bracelets, Beverly Hills 90210, Beanie Babies, Chris Farley crushing coffee tables and gettin' jiggy with it. For others, thoughts of the 1990s hark back to Bill Clinton and Monica Lewiniski's extracurricular activities, Michael Jordan's complete and utter dominance on the basketball court, the Olsen Twins and Los del Rio's extraordinarily catchy but extremely cheesy Macarena song and dance.
For Brandon Thompson — singer, bandleader, and self-proclaimed 80's baby but lover all things 90s — the decade represents the time when he became a man.
"The best music of that decade ran the gamut of musical tastes. Dance music, R&B, hip-hop, metal and even the grunge scene were all forming during a time in our lives when we were trying to figure out who or what we wanted to become," Thompson told the Taipei Times. "The music offered many of us choices we had never thought about listening to before."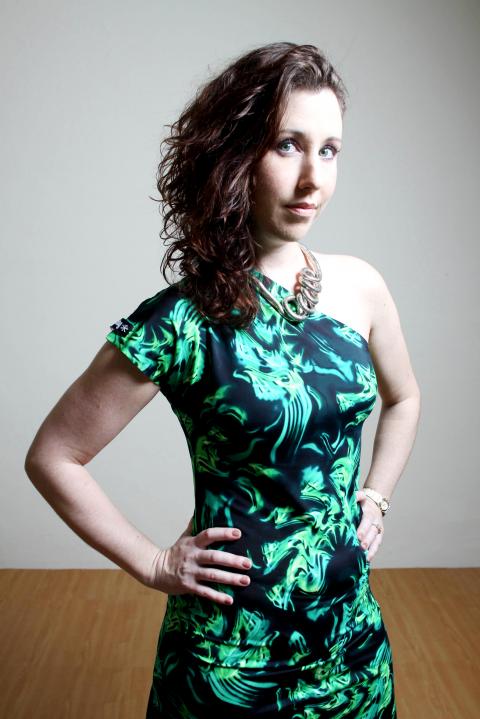 Carrie Kellenberger says that all those girls who grew up in the 1990s will know her songs.
Photo courtesy of Brandon Thompson
For these reasons, Thompson is throwing the F@#K Yeah 90s! party at Triangle tonight.
THE GENESIS
Mandy Roveda and Sarah Fothergill of theater group Taipei Players kicked around the 90's party idea, but it never came to fruition. Even though Roveda and Fothergill have both moved on from Taiwan, Thompson is doing a 90's show complete with 30 musicians, a lip sync battle and DJ Mr. Uppity throwing down the classics at the end of the night, as a dedication to them.
"This idea has been percolating for quite some time," Thompson said. "They wanted to do an entire night of Karaoke style 90's music but sadly never got around to putting that show on, so I decided if I am going to do a smorgasbord style live music show I should make it a 90's night and do it in their honor."
While the song list for the night is as tightly guarded as the newest Tamagotchi pet device was in 1996, many hints have been tossed out on Facebook including Color Me Badd, Sugar Ray and the white guy from Counting Crows who may or may not have been sleeping on Thompson's couch since the Y2K bug did not hit. One thing is for certain: there will be eight guitarists, six bassists, four drummers, two keyboard players and nine singers playing over three hours worth of 1990's music.
Carrie Kellenberger, one of the singers, would only offer a hint.
"Every song I'm singing is a song that every '90's girl sang in their bedroom with a hairbrush in hand."
F@#K Yeah 90s! A Night of Awesome L!VE MUSIC Friday night from 9:30pm to around 4:00am at Triangle, 1 Yuman St, Taipei City (台北市玉門街1號). Admission is NT$500 and includes a drink.
Comments will be moderated. Keep comments relevant to the article. Remarks containing abusive and obscene language, personal attacks of any kind or promotion will be removed and the user banned. Final decision will be at the discretion of the Taipei Times.