Saving the Amis language one megabyte at a time
Hoping to reverse the extinction of Taiwan's Aboriginal languages, a diverse group of volunteers have come together to create the first Amis language mobile dictionary app
A lack of online resources can make learning Taiwan's Aboriginal languages incredibly difficult. But a new app called Moedict Amis dictionary (阿美語萌典—方敏英字典) has made learning the Amis language as easy as cecay, tosa, tolo (one, two, three).
A group of volunteers have come together to create the first ever Amis language dictionary app for mobile phones. The group includes both Amis and non-Amis, engineers and tech luddites — and even a former legislator and a Catholic priest.
The app's development is not targeted at language enthusiasts but for the Amis to save their language from years of regressive government policies, and urban migration that has crippled the development of Aboriginal languages.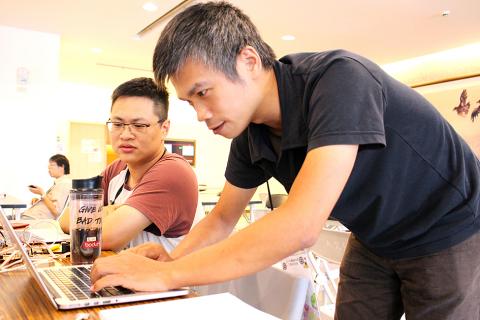 Amis dictionary group members Lafin Miku, left, and Miaoski Lin.
Photo: Aaron Wytze Wilson
"We're not just looking to preserve the language for future generations, but also hoping to set off a cultural revival for other Aboriginal languages," says group member Tsai Wei-ting (蔡維庭).
FACING EXTINCTION
According to a UNESCO report in 2009, Taiwan's Aboriginal languages are in serious danger of extinction unless drastic action is taken to preserve them.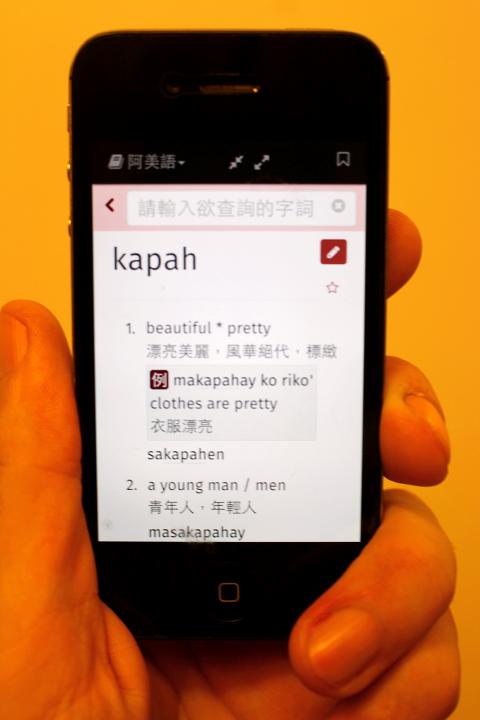 The Amis Dictionary is available for both iOS and Android, and is free.
Photo: Aaron Wytze Wilson
Due to decades of regressive language policies under the Japanese and Chinese Nationalist Party (KMT) governments, people of Aboriginal background grew up and were educated in a language that is not originally their own.
Taiwan's Amis are no exception. Although the government estimates the Amis population at a little over 200,000, the number of people who speak Amis as their first language is estimated to be lower than 10,000.
However, the exact number is not known because no government survey has been carried out to find it.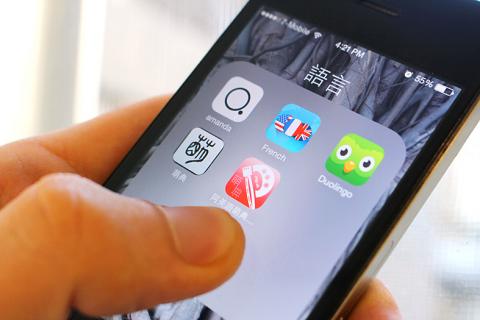 The Moedict Amis dictionary, alongside other dictionary apps.
Photo: Aaron Wytze Wilson
With such a rapid decline in native-speaking Amis, immediate action is needed to prevent further decline. However, the government's response has been slow because it doesn't seem willing to acknowledge how dire the situation is.
ALINGATO, AMIS FOR THANK YOU
Just as the Amis language is facing a critical juncture in its preservation, a group of software engineers and concerned citizens have come together to create an Amis dictionary phone app.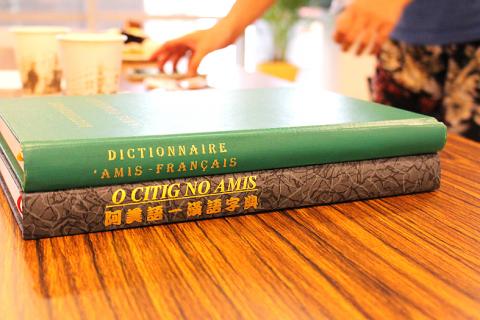 The Amis-French Dictionary by Maurice Poinsot, and Amis-Chinese Dictionary by Tsai Chung-han.
Photo: Aaron Wytze Wilson
"We didn't have too much interest from the Amis community at first, until Lafin Miku, who is Amis, stepped forward to help out with the project" says Miaoski Lin (林哲民), one of the app's software programmers.
Lafin and Lin are part of the netizen collective g0v, a civic activist group that uses tech, new media and data to solve some of Taiwan's biggest social and political problems.
Lafin has acted as a critical go-between for the group and the larger Amis community. "It's a very meaningful project, but I was skeptical at first. Digitizing an entire dictionary is so tiring," Lafin says.
Much of the Amis language is preserved in leather-bound dictionaries that are decades old, with very few of them making it online.
Converting them into digital content is an exhausting task, requiring weeks of monotonous scanning and data input.
To simplify the procedure, the group uses crowd-sourcing, a tactic that allows multiple group-members to work on the task of scanning and inputting at once.
The group has also been fortunate to have the help of two patron saints of the Amis language.
The first is former People First Party legislator Tsai Chung-han (蔡中涵), a respected member of the Amis community who has spent decades of his own time and money to compile an Amis-Chinese dictionary.
The second is 82-year-old father Maurice Poinsot, a French Catholic priest who moved to Taiwan when he was 21 years old to do missionary work in Hualien.
Poinsot compiled his French-Amis Dictionary along with now-deceased father Louis Pourrias.
Both Tsai and Poinsot have generously allowed the group to use the copyrights of their respective dictionaries free of charge.
"They are extremely supportive of our project," said Tsai Wei-ting, "all they ask is that we show them the app when it's finished."
FUTURE DEVELOPMENTS
The group has made remarkable progress in the span of a year, with the first version of the app already online. They plan to add new features soon, including real voice pronunciation, dialect variations, and recordings of traditional Amis stories and legends.
The group hopes other Taiwanese Aborigines will feel empowered to start their own language dictionaries, and have made the programming code used to create the app available for anyone to use. "It's important that Aborigines are not left out of the digital movement," said Lafin.
The app is available now on both iOS and Android operating systems, and is free to download.
Comments will be moderated. Keep comments relevant to the article. Remarks containing abusive and obscene language, personal attacks of any kind or promotion will be removed and the user banned. Final decision will be at the discretion of the Taipei Times.