The human condition through film
The year-end film festival season begins with two events set to open tomorrow in Taipei City
The global undercurrents of angst and collective fear are the motifs of two film events set to open tomorrow. The 2015 Taipei Documentary Film Festival (2015國際華人紀錄片影展) responds to challenges and problems relevant to our daily lives with 38 works addressing a broad range of environmental and social issues. On the Road Film Festival (在路上影展) takes its cue from Jack Kerouac's defining novel of the Beat Generation, On the Road, to look at the human condition with a more existential and literary approach through a daring, compact lineup of 21 feature, documentary, experimental and short films.
TAIPEI DOCUMENTARY FILM FEST
Restless Mind of Turbulent Years (忐忑流年) is the theme for the documentary film fest and emphasizes marginalized people in cities. The festival is organized by Chinese Next, or CNEXT, a nonprofit that disperses money to aspiring documentary filmmakers in Chinese-speaking regions.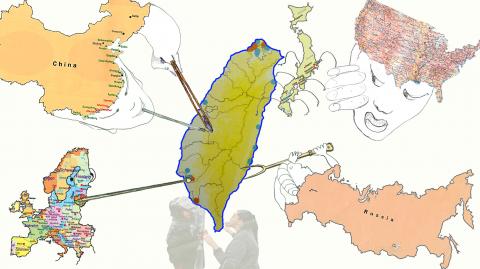 Verena Kyselka, The Formosa Experiment.
Photo courtesy of Spot — Taipei Film House and CNEX Foundation
A Tale of Waste City (廢城記) transports audiences to a makeshift community built from waste by urban scavengers in Beijing. The city is located three kilometers from the National Stadium and is home to over 30,000 workers and their families who hail from China's Henan Province. Life is tough but carries on — until, that is, the residents are told that the community is soon to be demolished.
Polish director Hanna Polak's Something Better to Come follows a Russian girl named Yula for 14 years as she grows up on a gigantic landfill with her mother, friends and many others living off people's waste outside Moscow. The documentary discovers humanity in the most dehumanizing situation, and sees Yula, now a young adult, holding her head up high and daring to dream.
Other highlights include up-and-coming Chinese documentary director Du Haibin's (杜海濱) A Young Patriot (少年小趙), an intimate documentary that chronicles five years in the life of Zhao, a Chinese millennial who is brought up to believe in Maoism, but, as he stumbles into adulthood and goes to college, starts to question his country's turn toward rampant state capitalism.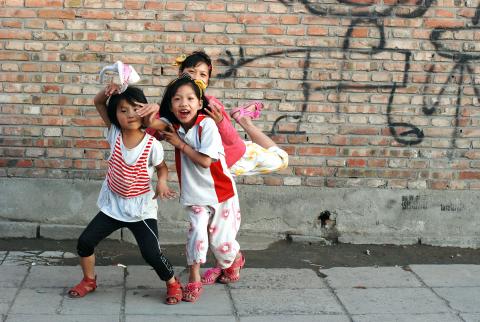 Tseng Chien, A Tale of Waste City.
Photo courtesy of Spot — Taipei Film House and CNEX Foundation
Another portrait of the millennials from the US, The Internet's Own Boy: the Story of Aaron Swartz celebrates the life of Aaron Swartz, a hacktivist devoted to advocating freedom of information in the digital age. The 26-year-old Swartz committed suicide in his Brooklyn apartment in 2013 after being threatened with a 35-year jail term.
ON THE ROAD FILM FEST
Across town, film enthusiasts are given a change to revisit familiar masterpieces and explore experimental works at the On the Road Film Festival, which, according to curator Yang Yuan-ling (楊元鈴), treats film as a voyage through time and space, across cultural borders and into the psyche.
Serbian director Emir Kusturica's Time of the Gypsies (1988), for example, tells the surreal and absorbing tale about the life of a family of gypsies in former Yugoslavia. Die-hard cinephiles will be delighted to know that this Cannes-winning masterpiece was shot in 35mm film. Another classic shown in 35mm is Leningrad Cowboys Go America, Aki Kaurismaki's 1989 road movie which attracted worldwide attention to the Finnish auteur known for his singular blend of bleak comedy with warm humanism.
On the avant-garde end, American experimental filmmaker, artist and scholar James Benning's Easy Rider (2012) is a feature-length remake of Dennis Hopper's 1969 classic of the same title. As the original work is thought to be a landmark film that captures the US counterculture of the 1960s, Benning's version searches for the counter-culture in today' America.
Female artists are also featured predominantly on the lineup. German new media artist Verena Kyselka creates an imaginative muse of Taiwan's history with The Formosa Experiment (2014), while her Territory of Beauties (2012) was inspired by the Taiwanese female artists she interviewed.
American experimental filmmaker Lynne Sachs is known for her formally diverse oeuvre that explores the relationship between personal and collective experiences. Which Way is East: Notebooks from Vietnam (1994) is the director's travelogue in Vietnam that mixes personal memories, history and parables.
Apart from screenings, several filmmakers will discuss their works during the festival period. Participating directors include Kyselka and Taiwanese experimental filmmaker Cheng Li-ming (鄭立明). More information can be found at www.spot.org.tw.
Publication Notes
Festival notes
What: 2015 Taipei Documentary Film Festival (2015國際華人紀錄片影展) When: Tomorrow through Sept. 27 Where: Spot Huashan Cinema (光點華山電影館), 1, Bade Rd Sec 1, Taipei City (台北市八德路一段1號) Admission: NT$120 per screening, NT$420 for festival package which contains four tickets, available online through tickets.books.com.tw On the net: documentaryfilm.festival.taipei
Comments will be moderated. Keep comments relevant to the article. Remarks containing abusive and obscene language, personal attacks of any kind or promotion will be removed and the user banned. Final decision will be at the discretion of the Taipei Times.