To sing our own songs
Lee Shuang-tze inspired Taiwan's campus folk song movement during a legendary performance that would later be known as the 'Tamkang Incident'
Taiwan in Time: Sept. 7 to Sept. 13
Less than a year after he ignited Taiwan's campus nativist folk song movement by proclaiming "sing our own songs" (唱自己的歌) on stage during a Western folk music event, Lee Shuang-tze (李雙澤) drowned on Sept. 10, 1977 at the age of 28 attempting to save a fellow swimmer.
After Lee's death, his friends and fellow folk singers Yang Tzu-chun (楊祖珺) and Ara Kimbo, commonly known as Kimbo Hu (胡德夫), premiered an unreleased song, Formosa (美麗島), at his funeral.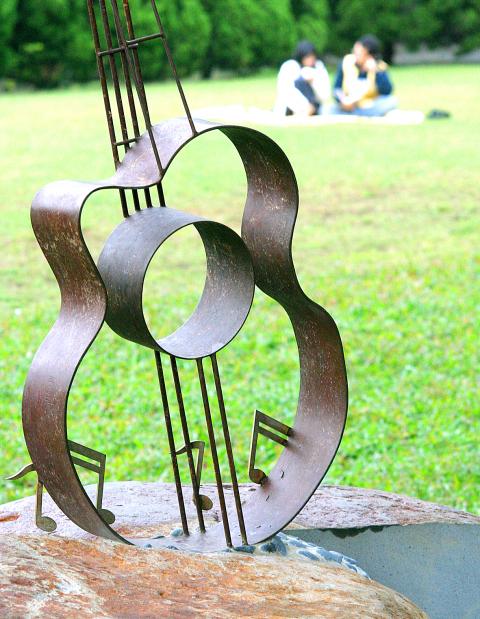 This memorial for campus folk singer Lee Shuang-tze was erected in 2007 on the Tamkang University campus.
Photo courtesy of Tamkang Time
Lee wrote the melody, but the lyrics were adapted by Liang Ching-fong (梁景峰) from an earlier poem, depicting the beauty of Taiwan. However, the song became forever politicized and was even banned by the KMT due to its name being used for Formosa Magazine (美麗島雜誌), a magazine created by the opposition to Chinese Nationalist Party's (KMT) one-party rule.
The 1979 raid on the magazine's headquarters and arrest of opposition politicians would become known as the Kaohsiung Incident, also known as the Formosa Incident (美麗島事件), but that is another story.
In the 1970s, Western folk music was popular in Taipei coffeehouses, but there was also a nationalist and nativist sentiment brewing as Taiwan was gradually losing its international political status to China while opposition grew against the KMT regime. Part of this sentiment included many young Taiwanese involving themselves in the "Safeguard the Diaoyutais Movement" (保釣運動). Back then, even though Lee would often sing in Hoklo (commonly know as Taiwanese), he still used "Chinese" (中國人) to describe the people of Taiwan because of the political climate.
Author Ma Shi-fang (馬世芳) retells the incident in his book Subterranean Homesick Blues (地下鄉愁藍調). Lee reportedly took the stage with a guitar and bottle of Coca-Cola during a folk music festival in 1976 at Tamkang University (淡江大學), where mostly Western songs were performed. He wasn't even originally invited — he came as Ara Kimbo's replacement, who was unable to sing due to a broken tooth.
There were no recordings or photos of what happened next, and the performance gained legendary status in campus circles, and became immortalized as the "Tamkang Incident" (淡江事件).
When Lee took the stage, he allegedly criticized the previous performer for playing English songs. He had just returned to Taiwan after spending time in the US, Spain and Philippines. Why can't we sing in our own language, he wondered.
"Before we are able to write our own songs, we should sing the songs of our predecessors," Lee said, and proceeded to smash the Coca-Cola bottle, a symbol of Western globalization, on the floor.
He then sang the then-banned Hoklo song Mending the Net (補破網) and other classics of that time. The crowd mostly booed him. He switched to English, sang Bob Dylan's Blowing in the Wind, and reportedly proclaimed, "We should sing our own songs!" before storming off the stage.
The performance was not exactly successful. Many people, Ma included, say that the story is likely to have been embellished as it spread. And whether Lee smashed the bottle remains a point of contention.
But the impact of the incident was significant, as it sparked discussion in campus publications about the lack of and potential for Hoklo-language folk songs. It also inspired college students around the nation to pick up a guitar and start writing their own songs.
Taiwan in Time, a column about Taiwan's history that is published every Sunday, spotlights important or interesting events around the nation that have anniversaries this week.
Comments will be moderated. Keep comments relevant to the article. Remarks containing abusive and obscene language, personal attacks of any kind or promotion will be removed and the user banned. Final decision will be at the discretion of the Taipei Times.