Burned by the system
Like other migrant workers in Taiwan, Vietnamese national A-dao has little legal protection, is forced to work dangerous jobs and has to pay brokers NT$130,000 per contract for the privilege
Saturday Aug. 17, 2013, was the last day A-dao set foot inside the Hsinchu marble processing facility he had worked at since 2004. It was the start of another 12-hour workday for the 35-year-old Vietnamese factory worker. A supervisor pointed to a vat of paraffin cleaner, still in its hardened form, and instructed A-dao to melt it down with a blowtorch and use it in his janitorial duties.
He lit the torch and set to work. But the wax didn't just melt. It caught fire.
A-dao acted quickly, warning his coworkers of the blaze while attempting to retrieve a fire extinguisher. As he did, a coworker kicked over the vat containing the now-burning wax, and almost entirely coating the helpless A-dao, sparing only his back, midsection and hands. Doctors at Tong Yuan Hospital in Jhubei, Hsinchu County later said he received second to fourth degree burns to over 80 percent of his body.
A-dao, a Vietnamese factory worker in Taiwan, has endured two years of constant pain and discomfort since a workplace accident left 80 percent of his body with second to fourth degree burns. He is currently in a legal battle with his former employer for compensation.
Photo courtesy of Paul Ratje
Already fighting for his life, A-dao would soon face another battle in the courtroom.
WORKER'S RIGHTS
In most cases, Western white-collar professionals such as teachers can find employment in Taiwan without having to pay any employment brokerage fees whatsoever, and after five years of consecutive employment, said professionals can apply for permanent residency. Additionally, they are afforded comparable legal protections and medical benefits as Taiwanese.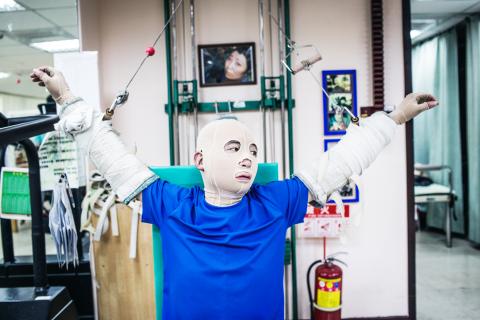 A-dao stretches the burnt skin of his arms in order to prevent hardening of the tissue. Burn victims must endure the painful procedure until the doctor deems it safe to stop. If they do not stretch, they lose their mobility and chance to work again.
Photo courtesy of Paul Ratje
A-dao, who wishes to be identified only by his nickname, hails from the Vietnamese capital of Hanoi. For the past 11 years, he has been renewing three-year contracts with a marble processor in Hsinchu. Until the most recent contract, his fourth, each was seen through to completion without incident.
With the signing of each new contract, A-dao paid brokerage fees totaling NT$130,000 to manpower agencies in Taiwan and Vietnam, including the Hsinchu branch of Kanglin Global Group (康林國際集團). The payment is non-negotiable.
For months after signing the contract, the manpower agencies garnished A-dao's wages to repay the sum. Original pay slips from his employer showed to the Taipei Times reveal months in which his take-home pay was less than NT$2,000.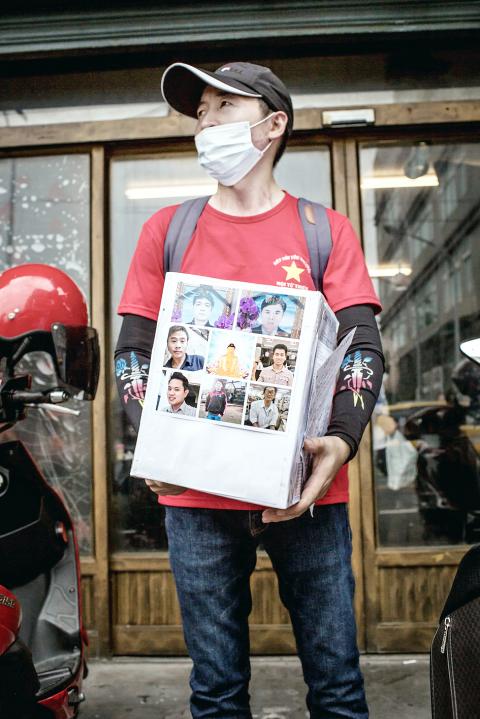 A-dao, pictured here on a Sunday in Taoyuan, collects donations for a Vietnamese organization that uses the funds to help the families of workers who have been killed or injured while working in Taiwan.
Photo courtesy of Paul Ratje
For the three months after his accident, A-dao was kept alive by machines at Tong Yuan Hospital. For much of the time he was knocked out on pain medication. During rare moments when he was aware of the agony, he would immediately try to rip out the tubes.
"I wanted to die," he tells the Taipei Times quietly, nearly two years removed from the ordeal.
A-dao's wife was soon by his side. During his three months in the hospital, then three more at his home in Taiwan, the trained caregiver nursed her husband, tending to his needs 24 hours a day.
The cost of such care for hospital patients is usually NT$2,400 per day. However, learning that A-dao's Vietnamese wife would be assuming care-giving duties, he says his employer offered her NT$5,000 per month.
No longer able to work, A-dao immediately sent over half of the NT$800,000 paid out from his labor insurance claim back to Vietnam so that his family didn't go hungry.
His body looked like one giant scar, which had to be stretched daily, an agonizing treatment which takes up to eight hours. Doctors say he needs years of rehab and five separate surgeries. His employer discouraged his wife to hold a public fundraiser to raise money for his treatment, claiming they would take care of everything.
A-dao's broker continued to garnish his salary, leaving him with NT$12,000 a month. But, he says, rehab fees alone total more than NT$15,000. His employer, in a seeming act of pettiness, has even made him travel from Taipei to Hsinchu to pick up his pay in person.
And then his employer cut him off entirely, leading him to take legal action.
COMPENSATION
The struggle to get compensation following a workplace injury is common for migrant workers. Grace Huang (黃姿華), who works for the Serve the People Association (桃園縣群眾服務協會), says she has seen many such cases during her four years of work with the humanitarian NGO.
"Employers tend to refuse to admit it's an occupational injury," she says. "Some of them pay the medical bills and salary in the beginning, just in case the worker asks for legal help. But what the employers do is always far from enough. According to the law, the employer should give them the full pay during sick leave and assist with all the rehabilitation needs. The fact is, they will try their best to terminate the contract as soon as possible."
When contacted, a manager at A-dao's place of employment declined comment.
A professor of law, who spoke to the Taipei Times on the condition of anonymity due to his association with the case, says that in instances of workplace injury the employee is entitled to occupational injury compensation, such as retaining their salary to the end of their contract.
They can also file for a tort liability, which can be negotiated between the employer and the employee based on the employee's medical expenses and the level of responsibility for the injury the company itself is seen to bear.
In A-dao's case, the occupational injury compensation was only partially paid. As to the tort liability, the company refused to pay.
"I didn't want to sue them at first," says A-dao, sitting in the shade of some trees in a park in Taoyuan on a sweltering Sunday afternoon last month, his entire body covered by a pressure garment, skin coated in ointments and creams beneath to treat his burns. On his face, now different from the picture on his latest Alien Resident Certificate (ARC), he wears a surgical mask, removing it only to eat.
"I just wanted my salary. They told me, if you want to sue, you sue," he says.
LEGAL HURDLES
Though A-dao retained legal representation and began court proceedings two months ago, with no hard copy of his contract to go on, and with his employer failing to be forthcoming with it to date, there is only the oral agreement to argue over in court.
The law professor says that even if the contract surfaces, it is legal so long as it is signed by all concerned parties, even if it breaks any of the relevant labor laws.
Regardless, the case will probably drag on for another three to five years. Before the trial comes to a close, A-dao will in all likelihood have to leave Taiwan. No longer able to do the type of work he has been trained for, there is little he can do in Taiwan were he to stay.
At present, the government doesn't extend permanent residency to the hundreds of thousands of southeast Asian migrant workers who have helped Taiwan's economy to become the Asia Tiger it is today.
On Aug. 25, A-dao faces the third of his surgeries. Five days before the operation, he will be in a Hsinchu courtroom for another hearing, forcing him to relive the pain of the horrific ordeal all over again.
Hundreds of Taiwanese were horrifically burned in a tragic accident at Color Play Asia in late June at Formosa Fun Coast (八仙海岸) water park. Almost immediately, the New Taipei City Department of Health announced that it would provide assistance to the burn victims.
Though A-dao is just one man, there was no such offer of assistance when he was burned close to the point of death. Now, all he can do is wait, continue enduring the agonizing pain of his rehabilitation sessions and go through surgeries that, if he is left alone to bear the cost, will mostly likely seal his financial ruin for years to come. Still, he remains hopeful that one day the scales of justice will finally tip in his favor.
Comments will be moderated. Keep comments relevant to the article. Remarks containing abusive and obscene language, personal attacks of any kind or promotion will be removed and the user banned. Final decision will be at the discretion of the Taipei Times.