Cooking up 'Rice' in the open air
If tradition holds — and weather allowing — several thousand people will pack Liberty Plaza on Saturday night to watch another of Cloud Gate Dance Theatre's annual free outdoor performances
Cloud Gate Dance Theatre (雲門舞集) and Cathay Financial Holdings are celebrating 20 years of collaboration this month and Cloud Gate fans nationwide should be celebrating right along with them.
Cathay Financial began sponsoring the company's annual summertime outdoor performances two decades ago, allowing the troupe — or Cloud Gate 2 (雲門2) — to entertain and thrill tens of thousands of people who might never have the chance to see the companies perform on stage.
The venues for the summer show almost always include Taipei and then one or two places either in the center or south of the nation, or occasionally one of the offshore islands.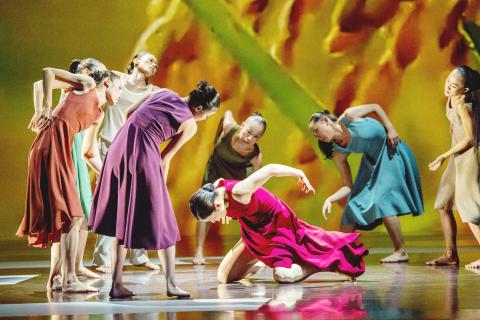 Cloud Gate Dance Theatre is taking its 2013 production Rice on tour for its annual summertime outdoor performances, starting on Saturday night in Taipei's Liberty Plaza.
photo Courtesy of Cloud Gate Dance Theatre
Cathay Financial chairman Tsai Hong-tu (蔡宏圖) told a news conference in Taipei on Thursday last week that the company plans to continue underwriting Cloud Gate's outdoor shows so that even more people could have the chance to enjoy the troupe.
This year, residents of Taipei, Kaohsiung and Hualien will be able to see the free shows, the first of which is on Saturday night in the capital's Liberty Plaza. The next two Saturdays will see the troupe heading south and then to the east coast.
The company will be performing founder and artistic director Lin Hwai-min's (林懷民) Rice (稻禾), which premiered at the National Theater on Nov. 22, 2013, with thousands of people packed into the plaza behind the theater to watch a simulcast of the sold-out show as part of Cloud Gate's celebrations of its 40th anniversary.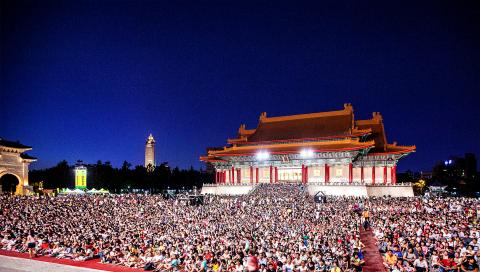 Cloud Gate Dance Theatre fans pack Taipei's Liberty Plaza for a performance by the company in an undated photograph.
photo Courtesy of Cloud Gate Dance Theatre
Rice is a beautiful work that celebrates both the grain that is an essential part of so many people's everyday lives, the natural world around us and the beauty of Taiwan's East Rift Valley. Rice takes the audience through a cycle of seasons, and the cycle of life for rice farmers.
Central to the piece is Chang Hao-jan's (張皓然) videography and Ethan Wang's (王奕盛) projection design in which video clips of paddies, seedlings, ripened grains and burning husks — filled with gleaming greens, sunburst yellows, luscious sky blues and ethereal cloud whites — provide a constantly shifting backdrop to the dancers.
It will be interesting to see how those projections work on the temporary stage set up behind the National Theater and the two large screens on either side of the stage. At the premiere I found them almost too beautiful, making it hard to concentrate on the dancers. Perhaps the outdoor staging — not to mention the focus of the crane camera feeding the big screens — will make them less of a distraction.
Veterans of Cloud Gate's outdoor shows know to come equipped with a cloth or pillow to sit on, cool drinks and paper fans — and to show up at least an hour or more ahead of the 7:30pm start time to get a good spot.
A smoothly efficient mix of Cloud Gate employees and volunteers maintain order and clear walkways amid the several thousand people anxious for a free viewing of a show by one of the world's premiere dance troupes, and ensure an efficient and speedy departure and clean-up process afterwards.
Publication Notes
Performance Notes
What: Cloud Gate Dance Theatre outdoor performance When: Saturday at 7:30pm Where: Liberty Plaza, 21-1 Zhongshan S Rd, Taipei City (台北市中山南路21-1號) Admission: Free Additional performances: Saturday, July 25 at 7:30pm at Kaohsiung Cultural Center (高雄市文化中心), 67 Wufu 1st Rd, Greater Kaohsiung (高雄市五福一路67號) and Saturday, Aug. 1 at 7:30pm at Hualien County Stadium (花蓮縣立體育館), 1 Dagu Huwan Da Rd, Hualien City (花蓮市達固湖灣大路1號)
Comments will be moderated. Keep comments relevant to the article. Remarks containing abusive and obscene language, personal attacks of any kind or promotion will be removed and the user banned. Final decision will be at the discretion of the Taipei Times.