Swimming away stigma
For children with disabilities, synchronized swimming is not only fun but helps them grow athletically and mentally
At 14 years old, Shirley Huang (黃加鑫) knows what she wants to be when she grows up — a fashion designer. A natural leader in and out of school, Huang also knows that she has a genetic disorder that will slowly deteriorate her eyesight until she can no longer see. Doctors tell her this will happen in the next four years.
"I feel special," Huang said, adding that it's not because of her impending disability, but because of what she's doing right now. "With synchronized swimming, there are just a few people involved."
The spotlight will be on Huang and 29 other swimmers from around the world when they take part in a synchronized swimming exhibition for children with disabilities in Taipei. The event will take place from 1pm to 3:30pm Sunday at the Taipei Songshan Sports Center (臺北松山運動中心). It is free and open to the public.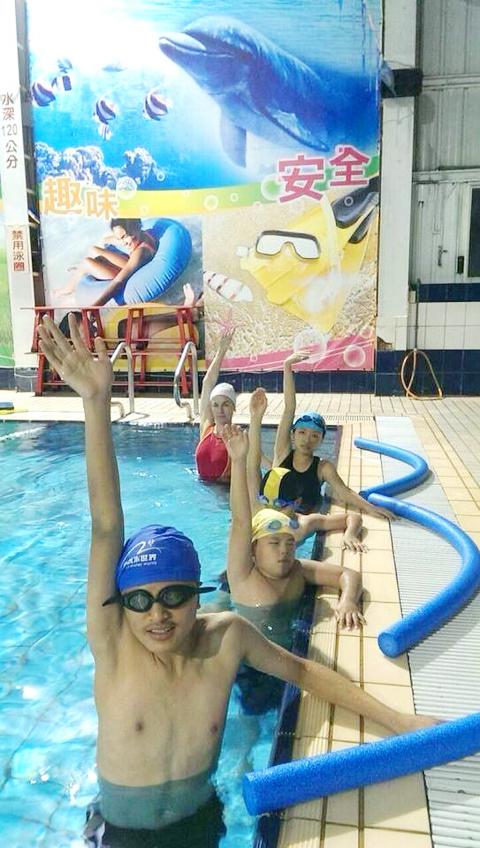 Coach Julia Startchenko, back, and four synchronized swimmers.
Photo Courtesy of Julia Startchenko
Huang attends the Huei-Ming School and Home for Blind Children (私立惠明盲校與盲童育幼院) in Taichung. Fashion conscious, she will wear a pink sequined swimsuit for the exhibition.
In theory, synchronized swimming for people with disabilities is similar to that of the Olympic sport. Accompanied by music, teams perform a routine in unison, showing off their beauty and athleticism.
Moves such as the eggbeater — an underwater kick done by rotating the legs in opposite directions — and the ballet leg — a long extension of the leg while floating on the water — can takes months to master.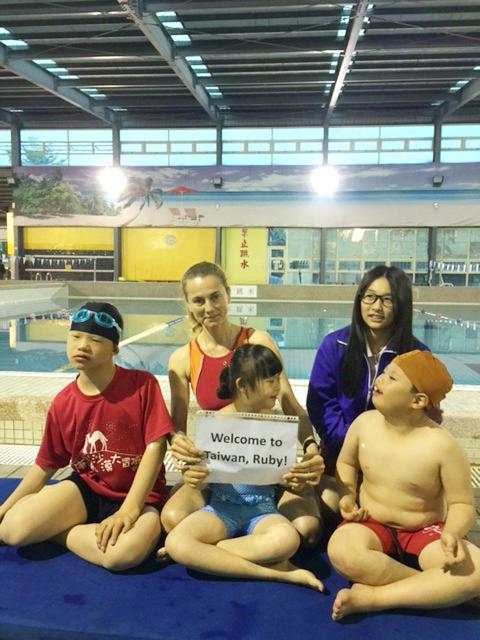 Coach Juia Startchenko, a volunteer, back row, and three synchronized swimmers, front row.
Photo Courtesy of Julia Startchenko
However, for swimmers with disabilities, the rules are often modified. While some teams use floatation aids such as pool noodles, other teams perform in shallow, waist-deep pools where actual swimming is not required.
"It's our job to support these athletes," said Huang's coach, Julia Startchenko. Startchenko and her husband, Vincent Shih (施玉俊), organized the synchronized swimming exhibition, which will attract teams from seven countries, including Russia, Brazil and the US.
At Sunday's event, swimmers will participate in three different categories: solo, duet and in teams of up to eight. Routines will vary in length, with the longest being nearly three minutes.
As a coach and former synchronized swimmer, Startchenko said she focuses on the swimmers' enjoyment of the sport over the competitiveness.
"It's not about you," she said. "It's about them having a good time."
True to that belief, Startchenko is having her swimmers dance to the catchy song Little Apple (小蘋果).
To help keep the young swimmers in rhythm with the song's upbeat tempo, Startchenko taps a coin against the metal railing of the pool's ladder.
For 10 year olds Josh Zhang (張家欣) and Alex Jian (簡偉哲), both students at Huei-Ming, synchronized swimming is all about having fun and making friends.
The boys, who are both blind, said that in the six months since they took up the sport, their self esteem has soared, adding that one day they would like to travel and compete internationally in synchronized swimming.
"Before, they were really quiet," said Katie Huang (黃惠青), a disciplinary administrator at Huei-Ming, who will accompany the boys to the swimming exhibition in Taipei. "But now they like to talk more and even sing."
And while synchronized swimming promotes athletic growth and cooperation skills, it's this gain in confidence that is so appealing to parents of children with disabilities. Parents cite improved moods and overall happiness in their children, who can face such challenges as social stigmas and limited sporting opportunities.
"I feel happy too," said Chen Yu-man (陳玉滿), whose son, Joe, trains in a Taichung pool once a week with other children with disabilities. "The most important thing he wants is to come here."
At one recent practice session, Joe and his teammates lined up in formation at the side of the pool. Behind Joe stood his mom, hands on her son's shoulders, helping him keep the beat to Little Apple.
"Stand, clap, back, forth," said the team's choreographer, Vladimir Frank Barsuk. Seeing everyone trying get in rhythm, he added, "Good job, everyone."
And while the benefits for swimmers are apparent, the coaches are quick to point out how they themselves have grown personally.
"They give us a chance to help and they teach us compassion, patience and understanding," Startchenko said.
Helping children with mental disabilities lead productive lives is the goal of Chen Qing-biao (陳清標), whose 16-year-old son, Hugo, will participate in Sunday's swimming exhibition.
Chen is also president of a support organization that helps provide physical therapy, employment and schooling opportunities for people with Down Syndrome and other disabilities.
"So many children get to learn more about what they can do through this water therapy," said Chen. "Their bodies find strength and their minds find peace. Plus, they have a lot of fun."
Publication Notes
Performance Notes
What: Synchronized Swimming Exhibition When: Sunday from 1pm to 3:30pm Where: Taipei Songshan Sports Center (臺北市松山運動中心) Admission: Free More information: Call Coach Julia Startchenko at (09) 1721-1186
Comments will be moderated. Keep comments relevant to the article. Remarks containing abusive and obscene language, personal attacks of any kind or promotion will be removed and the user banned. Final decision will be at the discretion of the Taipei Times.