Theater and vamps
Nicaraguan director Jaime Zuniga shares the story that led him to directing 'Venus in Fur,' a theatrical production with inflections of feminist critique
Jaime Zuniga takes his chances. Ever since he made a snap decision to join an extracurricular class in university in his native Nicaragua 15 years ago, the actor-director's life has been a series of seized opportunities.
"The guy from the theater department came in, and a girl that I liked raised her hand, so I raised my hand, too," Zuniga told the Taipei Times. "I thought it would be easy and I would be doing a favor to art by just going on stage and being brilliant at it. But then I realized how much work was involved."
Did his romantic ruse bear fruit? "We started dating and had fun doing all these activities together, but we broke up. I fell in and out of love with her but started falling in love with theater."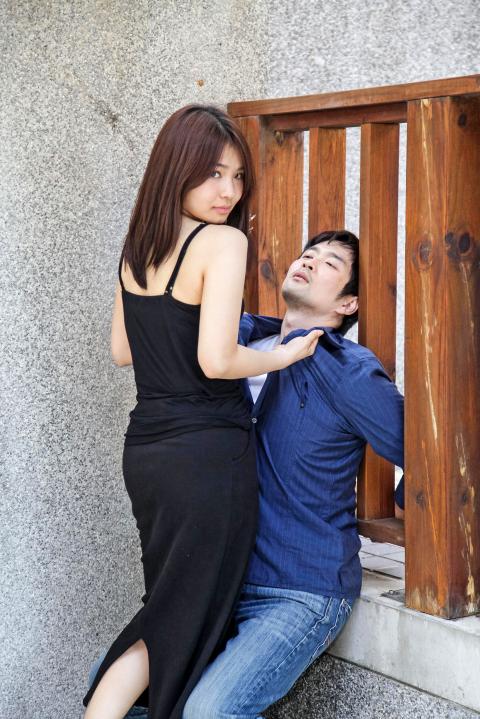 Chi Lee, left and Lawrence Ong star in Jaime Zuniga's production of Venus in Fur, which debuts in Taiwan this weekend.
Photo courtesy of Anpis Wang
Following his graduation, Zuniga landed a job with Danish shipping giant Maersk. A year later, he enrolled in their elite training program. The selection process was notoriously stringent, but he scented another break.
The program had trainees rotating positions every six to eight months and, as the sole representative for Nicaragua, Zuniga gained experience in a wide range of areas. There were frequent trips to the HQ in Denmark for "very intense" training modules, which brought together trainees from around the world. These courses challenged Zuniga's thinking and gave him an international perspective.
"It's a company that is everywhere and deals with all these cultures," he says.
At the program's conclusion, trainees were posted abroad for three years. Intrigued by Asia, Zuniga chose Vietnam as his destination. While working full time in logistics in Ho Chi Minh City, "the theater bug," he says, "bit me again."
IMMERSING IN THE ARTS
In 2011, Zuniga co-founded Dragonfly, Vietnam's first professional English-language theater company. The company's production of Oscar Wilde's The Importance of Being Earnest was listed alongside a Bob Dylan concert as one of the events of the year and was the subject of a nationally broadcast TV documentary.
Once again, Zuniga's directorial debut was a case stepping into a half-open door. He ended up directing the play at the behest of friends "simply because there was no one else."
But Zuniga remained restless. Moving to Bangkok with his wife in 2013, he realized he needed to dedicate himself to his art. However, barely had he helped establish another company, Peel the Limelight, than another opportunity presented itself. In September of last year, he arrived in Taiwan to undertake an arts management master's on a scholarship, believing that he needed to immerse himself in a more artistic environment.
"I wanted the arts equivalent of a monastery in the mountains, for a novice monk to find the path I would follow the rest of my life."
Amazingly, Zuniga has been flying back to Thailand and Vietnam to star in and produce shows while pursuing his studies. He has even managed to helm his own production here in Taiwan. Starting today and running through Sunday, he will present Venus in Fur, a double-hander that premiered off-Broadway in 2010.
Racy and funny, David Ives' play is a multi-layered work that sees the protagonists slip in and out of various roles.
"Throughout the play, we are swimming in a vague sea of ambiguity," Zuniga says.
SUBTLE SOCIAL CRITIQUE
The play opens with Thomas, a director, exasperated at the end of a day of abortive auditions for the female lead in his new play, an adaptation of Austrian writer Leopold von Sacher-Masoch's novel Venus in Furs. As he is about to leave the theater, a brazen and unsophisticated actress named Vanda struts in and convinces him to let her try out for the part. An unpolished diamond, she catches him cold with her delivery of the lines, initiating a tit-for-tat struggle for supremacy.
For Zuniga, the theme of female dominance has a particular resonance.
"Taiwanese don't realize how machista the society, the performing arts community, is here," he says. "This is a role that humiliates men because of them trying to overpower women. This is a topic nobody's talking about and I find it fascinating."
Chi Lee (鍾琪), who plays the tramp-turned-vamp Vanda, thinks the play's themes transcend gender. For her, auditions are a challenge exclusive of sexual considerations.
"Everyone is looking at you, and you want to make them happy," says Lee, who graduated from Goldsmiths, University of London with an MA in Performance Making. "That's not just a gender issue, but a power issue."
Portraying Vanda's willing whipping boy is Lawrence Ong (翁書強). The Malaysian actor's recent credits include a role in an adaptation of the classic Chinese novel Dream of the Red Chamber with the acclaimed Edward Lam Dance Theatre in Hong Kong.
Ong ponders the parallels between Vanda's manipulation and certain passive-aggressive defense mechanisms.
"I think there's a way that Asian women, when they feel they are being victimized, retreat and use a softer approach to deal with it," he says.
While Zuniga champions an art for art's sake approach to his craft, he is aware of Venus' potential as a social critique. In researching the play, he came across a production in Singapore featuring a Western actor playing Thomas. Zuniga balked at this casting decision, feeling it showed a lack of nous.
"Besides the fact you don't need to cast a white guy, you're missing a great opportunity to tell another story," he says.
And Zuniga is not one for missed opportunities.
■ Venus in Fur is tonight, tomorrow night and Sunday night, 7:30pm at Taipei National University of the Arts (TNUA, 國立臺北藝術大學). Tickets have already sold out.
Comments will be moderated. Keep comments relevant to the article. Remarks containing abusive and obscene language, personal attacks of any kind or promotion will be removed and the user banned. Final decision will be at the discretion of the Taipei Times.