Live Wire: After 8,700 gigs, Gig Guide calls it quits
It's time to bid a sad farewell to GigGuide.tw. The site ran for over six years and was a go-to portal for information on all musical happenings in Taiwan. It was loved by bands, fans and venues, especially those in Taipei's indie rock scene.
Over the last half-dozen years, the site posted information on more than 8,700 gigs and more than 250 interviews and photo reports.
The site shut down last month, with a short notice: "For over six years we've been singing the praises of Taiwan's ever-so-excellent music scene. But dear friends, the time has come for us to finally say goodbye."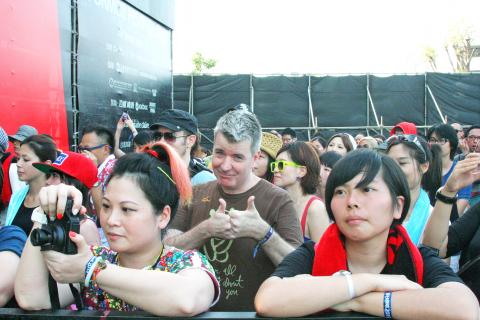 Steve Leggat, center, the founder of GigGuide.tw, poses for a picture at Formoz Fest in 2013.
Photo: David Frazier
The message did not reveal any reasons for shutting down, but founder Steve Leggat, a web designer from New Zealand who started the site out of pure love for indie music, said over the phone: "Economics certainly had a lot to do with it. The staff was all working for free, nobody was buying any ads, and eventually, it was hard to justify the work we had to put in just to keep the site running."
Leggat said the site gave him opportunities to photograph and interview his heroes, including bands like Dinosaur Jr and Trail of Dead, and also to become acquainted with Taiwanese bands like Bowz Tiger, LTK and many others.
"Starting out as a non-photographer, and then having a chance to take photos of all these great bands, has been quite an honor," he said.
Gig Guide had respectable web traffic, with over 20,000 visits per month, and by the end, Leggat estimates about 90 percent of the listings were posted by users and venues. Still, large concerts and festivals seldom posted information, so a significant amount of work was necessary to keep the listings comprehensive.
The shutdown does not come as a complete surprise. Leggat threatened to shut down the site two years ago, but held off after fans and live house owners asked him to "hold on a little longer."
The site was Taiwan's only source of music information that was in English and attempting for universal coverage, listing everything from stadium shows to acoustic gigs in coffee shops. Those online gig listings that remain are all attached to venues or ticketing services, and don't cover gigs that don't generate direct income.
This is part of a more general problem in Taiwan's entertainment industries, where there are few trade associations or mechanisms for industry coordination. Movie theaters, for example, do not have a film industry association to collect reliable box office data, despite the whopping scale of their business. Taiwan's only website for reporting box office information, www.atmovies.com.tw, is, like Gig Guide, run by non-professional enthusiasts, and its data is only partial.
Taipei City Government has launched its own events magazines and portals in the past, generally at great expense and to little effect. With all that wasted government money out there, it's a shame that a site like Gig Guide, which was both English-friendly and actively tied to the community, cannot find even a small amount of funding to keep it afloat.
But at this point, all we can say is, thanks Gig Guide! You will be missed.
CELEBRATING 15 YEARS OF TAIWANESE BRITPOP
Tomorrow night, 1976 — the indie band that most successfully translated the Britpop sound for Taiwan's indie scene — will celebrate a landmark anniversary. It's been 15 years since 1976 released their influential album album, Sense of Direction (方向感), which brought a new sensibility inspired by Oasis, Suede, Blur, early Radiohead and other British guitar bands of the 1990s.
Local music critic Yeh Yun-ping (葉雲平) once said: "Before 1976's Sense of Direction, in the minds of Taiwanese youth, Britpop still held a hair's breadth between idealism and realism; but after Sense of Direction, the rock, the Brit, the dreams, the mimicry, its refinement… all got swept together into the flowing stream of guitar lines [and] came together as one."
1976 went on to become a minor sensation in Taiwan's indie scene, breaking through to sign with a major label, Sony BMG, in 2009. They have been less active of late, so this milestone makes a good excuse for a gig in front of some loyal fans. The band will celebrate the anniversary as part of Legacy's retro rock series, Classics Reissued (經典再獻), which periodically features local bands that emerged in the 1990s or earlier.
Expect a group of old school rockers in the back of the room and mod haircuts up front. This is Britpop, Taiwan style.
■ 1976 performs tomorrow night at Legacy (傳音樂展演空間), 1, Bade Rd Sec 1, Taipei City (台北市八德路一段1號). Tickets are NT$800 at the door, or NT$600 in advance through www.indievox.com.
Comments will be moderated. Keep comments relevant to the article. Remarks containing abusive and obscene language, personal attacks of any kind or promotion will be removed and the user banned. Final decision will be at the discretion of the Taipei Times.