Highlight: The Urban Nomad Film Fest
The Urban Nomad Film Fest kicks off five weeks of events this weekend with an outdoor music festival tomorrow called Shrimp Mania, featuring eight bands and five DJs on two stages, as well as artists, food stalls and craft beer stalls. Headliners are The Drowned Shrimp, a seven-piece funk band from Japan that perform in shrimp costumes. Other acts include Skaraoke, Cumbia del Sol, White Eyes, Macbeth, Golden (Japan), DC and the Funky Duds, DJ Marcus Aurelius, DJ Question Mark, Hi-five, Resident Soul and more.
■ Shrimp Mania takes place tomorrow from 2pm to midnight at Tiger Mountain (微遠虎山), 186-1, Ln 221, Fude St, Taipei City (台北市福德街221巷186-1號)
■ Tickets are $650, or $500 in advance through www.indievox.com.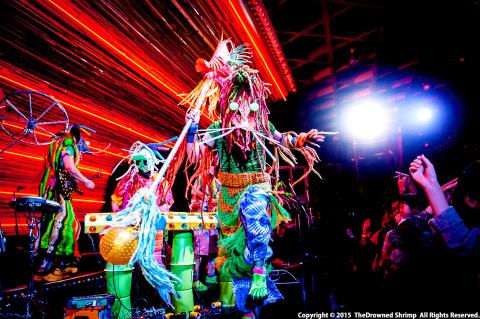 The Drowned Shrimp will take the stage this weekend for Urban Nomad's Shrimp Mania.
Photo courtesy of the Drowned Shrimp
Comments will be moderated. Keep comments relevant to the article. Remarks containing abusive and obscene language, personal attacks of any kind or promotion will be removed and the user banned. Final decision will be at the discretion of the Taipei Times.