Live Wire: Blade runner blues
Everything warped and twisted and perverted and wonderful about human nature you can find boiling quietly out of the Greater Tokyo Area's cramped back alleys and painfully sterile, orderly streets. You can see it reflected clearly in the great black eyeballs of the giant crows perched and cawing on the city's power cables and phone lines that look like they could pick a man's corpse clean if given half a chance. You can almost hear it bubbling out of the skin of the thousands of commuters packed silently onto the trains whisking like star cruisers out of Shinjuku Station in the vacuum of silent space.
The city works only because the metro area's tens of millions accept that for the sake of collective sanity they must pass one another by as specters — ghosts who say little and hear less. But when the temperature ramps up in summer, when the pristine black asphalt turns to soup and the mind itself breaks out in an uncomfortable sweat to short circuit the crackling synapses, killers are born.
You may never know they're around. They may never act on their baser impulses. But they float by you day to day just the same, dangling predatory fingers through the wavy black hair of schoolgirls as they slink away, waiting for one of a thousand moments in which they choose to snap or hold. The GTA reminds me of something sinister and dystopian. It reminds me of Blade Runner.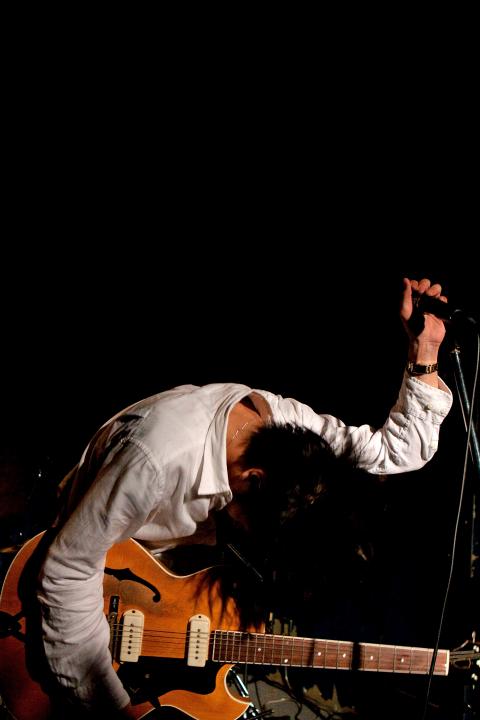 Guitarist and main songwriter Kota Saito likens his music to a soundtrack to a film that may never be made.
Photo courtesy of Kota Saito
Listening to Dead Guitar Strings, the latest album by Yokohama alternative blues band Golden, this same sense of underlying menace and unease billows out of the speakers like acrid secondhand smoke and coats the surroundings in the thick grime of maddening reality. Singer and guitarist Kota Saito's vocal delivery speaks of danger lurking just around ever pristine blind corner, his voice possessed of the kind of calm, measured intensity of the whispering unhinged mind.
"I think that's one of the things poets should do," says Saito of his channeling of the brain's dark corners into eerie focus. "Killers don't always have vicious look."
Saito's music borrows from the tortured soul of the slave music of the American rural south and gives it form as a new urban nightmare—a beast born of blocks of skyscrapers where there are no secrets. The American blues was the story of inner demons—the fight going on inside the trodden heart of a man or a woman. The devil inside.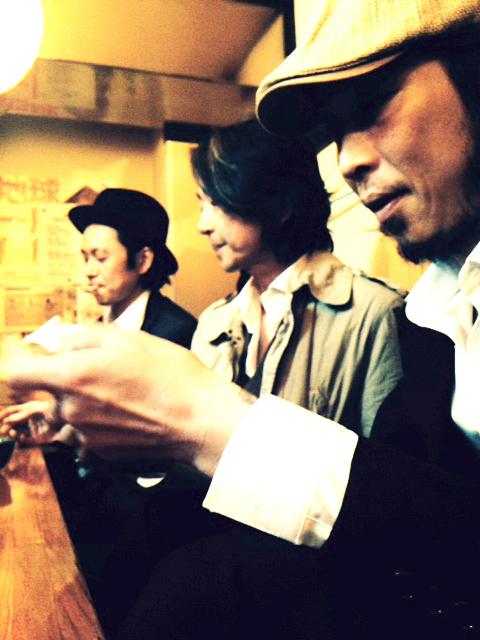 Yokohama-based band Golden has warped the blues into a vision of the pan-Asian megalopolis.
Photo courtesy of Kota Saito
In Japan, there really is no such thing as a private quarrel. And so, just as the Japanese have put their own brilliant twist on many a genre, so has Saito done with the blues to make it suit his surroundings. At the heart of his music, there are still those familiar old spirits swirling around inside his at times clean, sometimes jagged, and always purposeful chords, even if Saito may be tight-lipped about the source of the inspiration for his songs. The blues can be blunt, but it's best when cloaked in a bit of dark mystery.
"I think there are the influences from blues artists like John Lee Hooker or many other figures in the history of the blues. They have those kinds of feelings. For instance, the song I'm Bad Like Jesse James by John Lee Hooker may be based upon his own experience or a story somebody told him or just his wild imagination, nobody knows. But the way he deliver the images is just brilliant. Those narrative styles of blues music always fascinate me."
It's that underlying narrative that drives the music of Golden. Not everything needs to be stated outright. In fact, it's better when there are elements left to the imagination of the listener. It's like a film that doesn't force feed its audience. Rather, it gives the audience credit for their own powers of intuition and what it might add to the creation. Instead of pandering to the lowest common denominator, Saito's music aspires to something beyond, putting musician and listener on an even plain.
"I really love film scores from monotonous loopy ones to gorgeous soundtracks," says Saito of the common ground between his music and cinematic soundtracks. "In a way I have been making the scores for a film which doesn't exist yet, although I think personally, as a film lover, films don't always have to use music. Using music too much in films seems kind of ridiculous to me, like depending too much on music to drive the audiences' emotions."
Saito could be Japan's answer to Nick Cave — a man who like the city itself seems to have so much more going on beneath the surface layer, yet chooses to exercise restraint and respects his own art enough to let it do the talking for him. One minute he might whisper around the edges of love. The next, he could be howling on about bloody murder. An artist's artist who keeps you on your toes — worries you about what's coming next though you know worrying won't make a damned bit of difference.
"I like Nick Cave and the Bad Seeds very much," Saito reacts when posed with the comparison. "I respect them, but my storytelling thing is more from the books I read, films I watched and folk music around the world. Playing music is like painting for me."
■ Golden plays on April 18 at Shrimp Mania! (蝦蝦蝦! 蝦到你!), an outdoor music festival put on to open the annual Urban Nomad Film Fest (城市遊牧). The concert will be held near the bast of Tiger Mountain in Taipei City, approximately 12 minutes on foot from the Houshanpi MRT Station (後山埤站). The address is 186-1, Lane 221, Fude St, Taipei City (北市福德街221巷186-1號). The party starts at 2pm, with bands and DJs running all day on two stages into the night.
Comments will be moderated. Keep comments relevant to the article. Remarks containing abusive and obscene language, personal attacks of any kind or promotion will be removed and the user banned. Final decision will be at the discretion of the Taipei Times.