Shared histories
Malaysian artist Au Sow-yee's exhibition at Taipei's Guling Street Avant-garde Theater examines the lingering legacies of colonialism and the Cold War in Asia
A newsreel produced during the 1950s and 1960s by Patha News, a now defunct British news agency, shows images relating to Malaysia: Fijians volunteering to fight on the side of British and Commonwealth forces against the Malayan Communist Party. Another film depicts a Malaysian female field hockey team donning traditional attire on stage as a form of evening entertainment after a day of matches in Australia.
In Kancil, Hang Tuah, Raja Bersiong, Bomoh, the Missing Jet and Others (鼠鹿、漢都亞、獠牙王、巫師、迷航的飛機與其他), a single-channel video, these images are juxtaposed with scenes from popular Malaysian movies made during the same period, which tell folktales of shamans, mythical creatures and witchcraft.
The installation forms part of Habitation and Elsewhere: Image as Instrument (居所與他方:影像測量計劃), the latest edition of Experimental Media Art Festival in Taiwan (EX!T, 台灣國際實驗媒體藝術展), which is designed as an artist platform focusing on experimental cinema, video and new media art, currently on display at Guling Street Avant-garde Theatre (牯嶺街小劇場).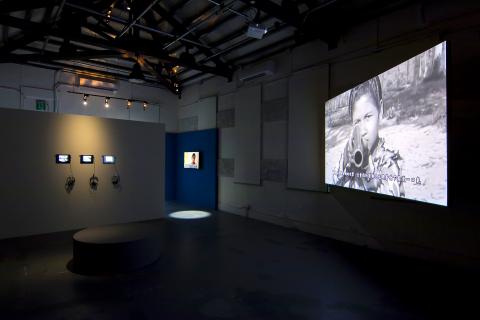 A view of Habitation and Elsewhere: Image as Instrument, an exhibition by Malaysia artist Au Sow-yee.
Photo courtesy of Au Sow-yee
Composed of three video installations by Au Sow-yee (區秀詒), as well as a series of forums and film screenings, the exhibition examines the history, myths and collective memories of Malaysia as a modern nation-state.
A Malaysian of Chinese descent, Au is an experimental filmmaker and contemporary artist educated in Taiwan and the US. Known for her live cinema performances using film projectors and homemade devices, Au began a new artistic direction in 2013, when the ruling Barisan Nasional coalition defeated the opposition coalition led by Anwar Ibrahim in Malaysia's general election.
"It was the year when the opposition coalition was believed to be more likely to win. Yet the ruling political force has remained in power since [Malaysia's] independence [in 1957]... I felt that I should do some work in relation to my birthplace," says Au, who is based in Taipei.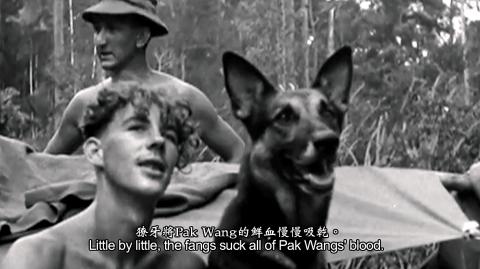 A still from Au Sow-yee's Sang Kancil, Hang Tuah, Raja Bersiong, Bomoh, the Missing Jet and Others.
Photo courtesy of Au Sow-yee
The artist soon launched Mengkerang, an ongoing project that centers on a fictitious place called Mengkerang, where people of different races peacefully coexist.
Scholar and art critic Guo Jau-lan (郭昭蘭), who curates the show, says that by studying the legacy of colonialism and the Cold War, Au's work can serve as a point of reflection and reference for Taiwan and other modern states in Asia that have experienced a similar history.
"As a Taiwanese, I can recognize in Au's work the same anxiety and insecurity that surround the issue of identity... Together, we can address those messy issues that were left untackled during the process of modernization," Guo says.
A still from Au Sow-yee's Pak Tai Foto.
Photo courtesy of Au Sow-yee
"We [Taiwanese] ... often forget there are other Asian nations — like Indonesia and the Philippines. We always look to the West, and the world map we draw is very unbalanced," she says.
In A Day Without Sun in Mengkerang, Au invited several participants from different ethnic groups to describe Mengkerang as a means of examining the theme of identity. Each participant narrates a story using as a framework three characters selected from Malaysian elementary school textbooks. The interviews are compiled into what looks like a documentary film, portraying the imaginary genesis of a nation.
By juxtaposing images from British newsreel and Malaysian fantasy movies, a genre that has largely disappeared because, Au says, it's frowned upon in Islam, Sang Kancil, Hang Tuah, Raja Bersiong, Bomoh, the Missing Jet and Others sheds light on how official ideologies and national myths are constructed and manufactured.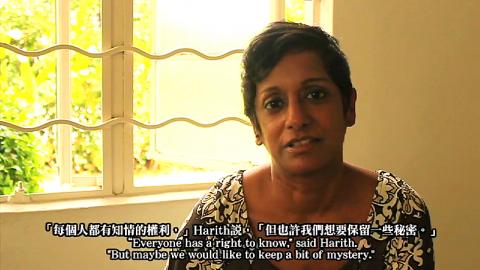 A screen grab of Au Sow-yee's A Day Without Sun in Mengkerang.
Photo courtesy of Au Sow-yee
To heighten the complexity during the process of construction, Au removes the audio from the original news clips and film scenes, and replaces it with a voice-over that recounts sang kancil, a collection of popular folktales in Malaysia about a cunning mouse-deer. The combination of modern film with traditional stories allows Au to generate a new folktale.
"The audience has to decode [what they see and hear] themselves," the artist says.
With the two-channel video Pak Tai Foto, Au examines contemporary Malaysia (Mengkerang) through interviews with five migrant laborers from Myanmar, Bangladesh and China. In it, she asks them about their experiences of migration, everyday problems, hopes and dreams. We never see who responds to the questions, only answers that drift out of the empty interior of Pak Tai Foto, a real-life photo studio in the center of Kuala Lumpur that opened during British colonial rule and remains unchanged to this day.
Guo says Au's art addresses problems facing modern states.
"The exhibition ... opens up possibilities for conversation, debate and exchange," Guo says.
A forum will be held on Saturday with three speakers — Malaysian contemporary artist Yap Sau-bin (葉紹斌) and academics Sing Song-yong (孫松榮) and Ngoi Guat-peng (魏月萍) — who will discuss various topics revolving around modernity, colonization and contemporary art in Malaysia.
Au also presents a number of documentary and experimental films by contemporary artists and filmmakers from Malaysia as a reference for what is discussed in her work. The films will be screened on April 25.
Habitation and Elsewhere: Image as Instrument will travel to Lostgens' Contemporary Art Space in Kuala Lumpur in August. For more information, go to the event's Facebook page at www.facebook.com/events/968835819794868.
Publication Notes
Exhibition notes
What: Habitation and Elsewhere: Image as Instrument (居所與他方:影像測量計劃) When: Until April 26 Where: Guling Street Avant-garde Theatre (牯嶺街小劇場), 2, Ln 5, Guling St, Taipei (台北市牯嶺街5巷2號) Admission: Free
Comments will be moderated. Keep comments relevant to the article. Remarks containing abusive and obscene language, personal attacks of any kind or promotion will be removed and the user banned. Final decision will be at the discretion of the Taipei Times.