Live Wire: From the ashes
It's goddamn cold out there. I'm not talking about the weather, though as I write this there is that typical late winter/early spring drizzle chilling the city to its mildewed bones. I'm talking about life in general; about the fact that you can put your heart and soul into something, bleed yourself completely dry mentally, physically, financially and still have everything crash down around you.
It's been a cold year for John Kevill, vocalist of LA-area thrashers Warbringer. From 2004 up to last year, Kevill along with founding guitarist John Laux, guitarist Adam Carroll who joined shortly after the band's formation and a rotating cast of bassists and drummers forged a reputation as the hungriest road dogs out there, chewing up mile after mind-numbing mile of highway to the tune of 300 shows a year at their peak.
Go on tour for four months. Home (or more likely to a kind friend's living room couch) for a few days. Head out on tour again. Repeat.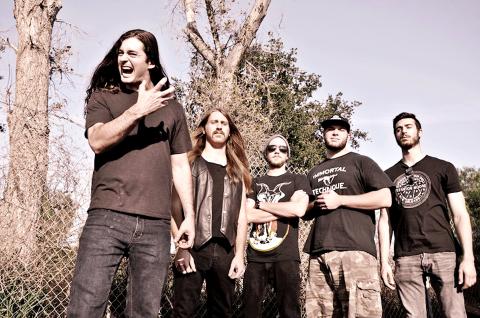 Warbringer vocalist John Kevill, far left, was living out his passion and touring the world for 10 years before reality hit hard and nearly tore it all away from him.
Photo Courtesy of Robert Bejil
A decade can fly by in an awful hurry when you're running headlong from one album touring cycle straight into another. And if Warbringer had come along in 1984 rather than 20 years later, they could have been huge. Up there with the Big Four, if not on its fringes with the likes of Exodus, Testament and others spewed out of California's seminal San Francisco Bay Area scene. Born too late, as they say.
And so, not even 10 years of living out of a van was enough to turn music into a sustainable career. As such, last year Kevill found himself in a place he never could have imagined. Laux, the main songwriter in the band, announced that he was leaving. Drummer Carlos Cruz soon following suit. The road isn't an easy place to live, and for every leather-assed Lemmy out there who can stick it out for life, there are countless others who eventually reach their limit.
"For the whole time we were touring," Kevill says, "we endured many hardships. Fights, being ripped off or underpaid, screwed on set times, playing up to 300 shows a year and eventually it just fell apart. Losing Laux felt like the final nail in the coffin."
It wouldn't be easy to bring the band back from the proverbial brink. But fortunately for Kevill, he wasn't the only one with a sense of unfinished business.
"At the last show we played with Cruz and Laux in the band, a crummy show in London, Ontario, Adam Carroll and I drank together and I asked him, 'So, is this it?' And he kept telling me, 'We're gonna make this boy into a man,' referring to the band. We still hadn't finished the work we had started."
Of course, it wasn't as simple as merely dusting themselves off and picking up right where they left off with a whole new team of supporting players. All in all, Kevill and Carroll spent about a year in exile, back in the so-called real world. For Kevill, re-assimilating after a decade spent in the road-warrior mindset was no easy task.
"Honestly the most difficult part for me was returning to normal life, getting a crummy job, and being unable to do what I love doing. The year of not being a metal musician has been harder for me than anything we had to deal with on the road, because of a forced separation from my passion."
As hard as it was for Kevill to adjust to living a normal life, even if it was only a temporary situation, the lack of having one was a big factor in the departure of many from Warbringer over the years. What keeps him going, aside from a deep-seated passion for metal, is that lingering sense gnawing at the back of his brain that he hasn't yet taken Warbringer as far as it can go.
"I feel the band should have and could have progressed on the fourth album cycle. We had opportunities to move up and do bigger and better things that we were unable to take as the band was falling apart. Now it's going to be much more difficult for the band to take the next step in terms of our success, but I think if I don't try I won't ever be able to forgive myself for giving up."
After four albums on the Century Media label, Warbringer are free agents for the second time. Recently the band played a couple of shows under pseudonyms to test drive the new lineup. Now the band is in Asia for a string of dates, the band's first tour since its implosion over a year ago. This could be a new beginning, or it could be the last go-round. Kevill knows exactly what is at stake.
"I do have a lot to prove. I think this album has to be as good or better than our previous output, or why even make it? We can only move forward, never back, and given how far the band has gone in its career that is a difficult task at this point. But we will. I have an iron will on this subject and will not rest until Warbringer is a name to be respected and feared again."
■ Warbringer plays tonight at The Wall (音樂展演空間), B1, 200, Roosevelt Rd Sect 4 (台北市羅斯福路四段200號B1), with support from Japanese thrashers Code Red and Tainan's Burning Island (火燒島). Ticket's are NT$900 in advance, NT$1,200 at the door. Doors open at 7:30pm and the show gets underway at 8pm.
Comments will be moderated. Keep comments relevant to the article. Remarks containing abusive and obscene language, personal attacks of any kind or promotion will be removed and the user banned. Final decision will be at the discretion of the Taipei Times.