Nation divided
The outpouring of good will for the US Ambassador to South Korea, who suffered a knife attack last week, has now provoked a backlash, as conservative critics lambast President Park Geun-hye's government for its 'big country worship'
The knife attack last week on the US ambassador to South Korea, Mark Lippert, set off an outpouring of good wishes here for both the envoy and Seoul's alliance with Washington.
But the response, led largely by conservative South Koreans, has now provoked a backlash, with accusations that the government of President Park Geun-hye and its supporters are "worshipping" America and politicizing the case to discredit their critics.
Kim Ki-jong, a professed nationalist with a history of erratic outbursts of violence, slashed Lippert with a kitchen knife during a breakfast meeting Thursday. The assault left a 4-inch gash on Lippert's right cheek that required 80 stitches and damaged tendons and nerves in his left hand.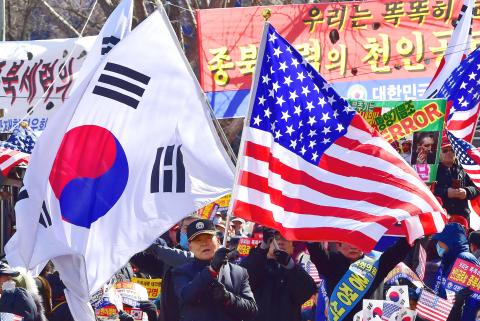 People wave flags of South Korea and the US during a rally denouncing the attack on US ambassador to South Korea Mark Lippert in Seoul yesterday. Lippert was released from hospital where he has been treated for injuries he sustained in a knife attack last week.
Photo: AFP/JUNG YEON-JE
When the South Korean media carried images of Lippert splattered with blood, the public initially reacted with shock. Well-wishers flooded Lippert's blog and Twitter account, and they posted messages on signs that conservative activists put up near the US Embassy in Seoul. The tone of the messages, however, quickly turned into one of guilt and apology.
In South Korea, mainstream conservative ideology teaches people to regard the US as a savior that sacrificed the lives of tens of thousands of its soldiers while fighting for the South during the 1950-53 Korean War. Many Koreans, especially those who are older, saw Kim not only as a senseless criminal but also as an ingrate — the most despised character in Korea's deeply Confucian culture.
sorry, sorry, sorry
"So Sorry," read a banner in front of a lone activist on the street near the hospital where Lippert was recovering.
The activist said he was re-enacting an ancient Korean custom in which a sinner seeking forgiveness would sit on a straw mat on the street and fast. The man, Shin Dong-wook, is the president's brother-in-law.
On Monday, a crowd of older South Koreans in military uniforms, some with canes, rallied near the US Embassy, urging fellow citizens "not to forget what the Americans did for us during the war" and to "eradicate jongbuk," or sympathizers with North Korea, who they said were behind the attack on the ambassador.
Such sentiments reflected fears that the episode might harm the alliance with Washington.
Yet this time, it did not take long for a counter-reaction to kick in.
"This is too much! What they did was almost like god worshipping," one blogger said. Another compared the wave of "I love America" feelings to shrines that ancient Koreans built to worship China for sending troops to help fight Japanese invaders.
John Delury, a US professor at Yonsei University in Seoul, said, "South Koreans felt shock and deep sympathy on a personal level for the U.S. ambassador, even a sense of guilt that he suffered this brutal attack as a guest in their country."
"But now government officials and political parties are hyper-politicizing what was really an isolated incident," he said, "linking it to a campaign against 'pro-North Korea followers' and as a way to drum up support for the US-South Korean alliance."
Indeed, Park and conservative leaders lost no time in insinuating a possible link between Kim and "jongbuk." They quickly defined Kim's deed as a "terrorist attack on the South Korean-US alliance" — rather than an act by a loner, as initial investigations appeared to suggest — and called for a thorough investigation into "behind-the-scene forces."
A parade of South Korean leaders, including Park, visited Lippert in the hospital. Yet many South Koreans with deep historical grievances against the United States, especially over the division of the Korean Peninsula into the pro-Soviet North and the pro-American South at the end of World War II, began accusing the government and its conservative supporters of toady sadaejuyi, or big-country worship.
"I hate the crazy man who stabbed the ambassador, and as a Korean, I feel like apologizing deeply to the Americans," said Kim Mi-hyun, 36, who watched a group of Christian church members perform a traditional fan dance and kneel in contrition across a boulevard from the US Embassy on Saturday. "But this scene makes me sick at the stomach. They are way overdoing it, and it actually will damage the image of the Americans and the alliance among Koreans."
The police have charged Kim with attempted murder. But they are also said to be investigating whether they could charge him with violating the country's National Security Law. On Monday, the main opposition party, New Politics Alliance for Democracy, said the government was using the law and Kim's case to "hunt jongbuk."
David Straub, a former US diplomat who served in the embassy in Seoul, said that invoking the National Security Law to deal with Kim seemed to be "unwisely elevating the violent behavior of one deranged person and ascribing to it a significance it does not deserve."
In comments posted on the website of the Walter Shorenstein Asia-Pacific Research Center, Straub added, "The US government has criticized that law for decades for the McCarthyite way South Korean governments have sometimes implemented it to suppress alleged 'pro-North Korean' thinking."
Comments will be moderated. Keep comments relevant to the article. Remarks containing abusive and obscene language, personal attacks of any kind or promotion will be removed and the user banned. Final decision will be at the discretion of the Taipei Times.