Live Wire: The lifer
You rarely come across people who are so supremely dedicated to both a form of music and the kind of lifestyle that music dictates than you do in the hardcore scene. Hardcore seems to breed lifers like no other genre. Roger Miret and Vinnie Stigma from Agnostic Front. Lou and Pete Koller of Sick Of It All. Madball's Freddie Cricien. John Joseph of the Cro-Mags. All have stuck it out for decades through good times and bad, struggling against innumerable hardships and staying with the music they love not because they chose it, but because it chose them.
Another name that deserves to be mentioned in the same breath as those legends above is singer Riz Farooqi of Hong Kong's seminal hardcore band King Ly Chee (荔枝王). For 15 years he's worked tirelessly to promote hardcore in a place where he had to start from square one; where there was no local precedent for the kind of music he and his band took up, nor for the subculture it entails. It's been an uphill battle, to say the least, one that he is still fighting. What's kept him going all these years, while countless others have dropped out to pursue what might be called a more conventional world view, one in which that which is wrong with the world at large is accepted with numb passivity, is an innate social consciousness.
"I got into hardcore because I was already someone that was easily impacted by the world we live in," says Farooqi of his beginnings in the scene. "Somehow I became a very socially aware and conscious person — I say it like that because it wasn't something that I was taught. It just became something that I am."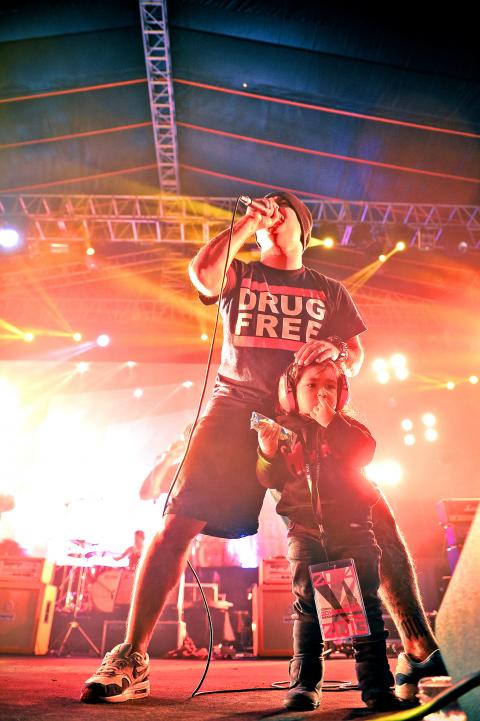 A dedicated family man, Riz Farooqi's lyrics not only draw attention to society's ills, but also serve as a call for positive change.
Photo Courtesy of King Ly Chee
It's not been easy trying to build up a scene from scratch in a city in which the majority values material gain over activism and the vocal expression of dissent. To date, there are just two hardcore bands based out of the city. Shows are rare occurrences, and attendance can be sparse. To put it bluntly, hardcore just doesn't jibe with Hong Kong on a cultural level, Farooqi says.
"Hong Kong is a very commercial and materialistic city. People chase the green here and rarely give themselves time to do anything artistic because it's a waste of time and doesn't help them achieve their goals of owning a home, a nice car, nice designer clothing. So when people don't have that passion for the arts or find any value in it, then why would they be interested in underground culture, especially one that shuns fashion and anything insignificant like how you look on the outside?"
Of course, the recent Umbrella Revolution — protests calling for fully democratic elections in Hong Kong free of interference from Beijing — showed that there are those in their thousands in Hong Kong who are not afraid to raise their voice for a cause they feel passionately about. Though the protests were very much in line with the spirit of hardcore, they still had very little impact on the scene itself, according to Farooqi. However, like many things he observes going on around him, he was able to find something within the movement that he'll be able to put into his music.
"The only thing that came out of it that actually got me so enraged that there definitely will be a song about it on the next record is the police's collusion with triads. I cannot believe how open they were about that relationship and using it to intimidate protesters. Not only that, but there were countless instances caught on camera of police officers themselves acting like thugs and losing complete moral ground in Hong Kong. If something happens to my family, or me, the last people I would call in Hong Kong are the police."
Before the next record comes around, though, there is the latest one to promote. CNHC, released late last year and put out by Magnum Music (馬雅音樂) in Taiwan, is full of anthemic, hard driving songs steadfast in the hardcore tradition, espousing perseverance, personal reflection and rebellion with Farooqi's impassioned delivery at the epicenter. A video for the track Lost In A World, a song about finding a place to fit in via hardcore and rejecting the mainstream, features the bulk of the many band members who have come and gone over the years. Though Farooqi has stuck it out, finding others with a similar level of dogged determination has proven a tall order. Nevertheless, the willingness of ex-band mates to stand side by side with him in the video is a testament to the way the man handles himself, practicing the respect and dignity he preaches in his music, even if the initial parting of ways hasn't always gone smoothly.
"A lot of the guys did not leave on good terms actually," Farooqi says. "But time does heal all wounds and a lot of these guys have reached out to each other and found this amazing camaraderie and pride of being able to say that they were in King Ly Chee. To know that they are proud of their time in this band and especially proud to tell the world that they were in this band is a pretty amazing feeling to me."
■ King Ly Chee plays tomorrow night at Bleed to Death (瀕死重生頭友會), a metal concert featuring bands from Hong Kong and Taiwan at Jack's Studio (杰克音樂), B1, 76, Kunming Street, Taipei City (台北市萬華區昆明街76號B1). Tickets are NT$600 in advance, NT$700 at the door. Doors open at 6pm and the first band hits the stage at 6:30pm.
Comments will be moderated. Keep comments relevant to the article. Remarks containing abusive and obscene language, personal attacks of any kind or promotion will be removed and the user banned. Final decision will be at the discretion of the Taipei Times.