Pipa blues
Guitarist David Chen and pipa artist Chung Yu-feng have launched a project that combines pipa music with the blues
The performance by Chung Yu-feng (鍾玉鳳) and David Chen (陳思銘) at Thinkers' Theater (思劇場) on Taipei's Dihua Street (迪化街) last month was both fascinating and peculiar. Playing in front of a full-house, Chung, a pipa (琵琶) player, and Chen, a guitarist, combined the unlikely sounds of Chinese pipa and blues guitar in a collaborative music project they call Fade to Blue (藍掉).
The musicians, who have known each other for 10 years, describe their collaboration as challenging and fun. It also affords them the opportunity to break out of their musical comfort zone and explore musical styles excitingly unfamiliar.
"The structure of [Chinese music] is not intuitive to me at all. The fun part is trying to create your own logic for it," says Chen, a blues/folk guitarist who grew up in the US state of Ohio.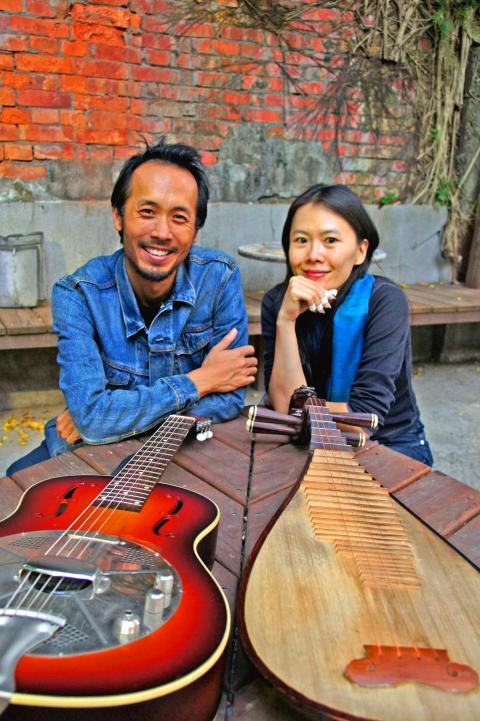 Having known each other for a decade, David Chen and Chung Yu-feng started their crossover project, Fade to Blue, last year.
Photo courtesy of Trees Music & Art and Yang Wen-ching
BREAKING AWAY
The classically-trained Chung says that music free of fixed forms does not come easily. Rather than a broad, inclusive genre, Chinese music (國樂) is a term that specifically refers to the modern Chinese orchestra, which emulates the Western symphony orchestra, says Chung. Academic training is rigid and students are treated more like "tools" than creative musicians.
"You are trained to perfect your techniques. After graduation, you can work as a performing musician, but it is the same music again and again. There is nothing much happening creatively. It is suffocating," she says. "Even if it is a new composition, it is created by a composer. Your job is basically to make sure you can play it right."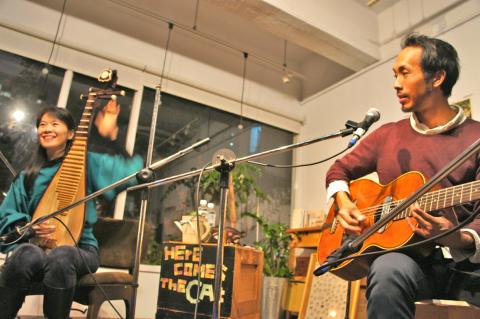 Chung Yu-feng, left, and David Chen are on their Fade to Blue cross-country tour.
Photo courtesy of Trees Music & Art and Yang Wen-ching
In 2003, the aspiring pipa player wanted to try something new and teamed up with Hakka musician Lin Sheng-xiang (林生祥) on what would become the award-winning album Getting Dark (臨暗). She has played with musicians from different cultures and musical backgrounds ever since.Chung has worked with Sambasunda, a celebrated fusion ensemble in West Java, Bedouin musicians and artists from Sudan and Nubia.
One of the biggest challenges she faced after bidding her orchestra colleagues farewell was the realization that she now has more control over her own fate.
"You don't have a composer to rely on, to give you sheet music to play. When, say, David plays a blues tune, I must decide which playing style or notes I can use, when I should jump in and join him, or how the segment should be arranged. You don't just play. You create," she says.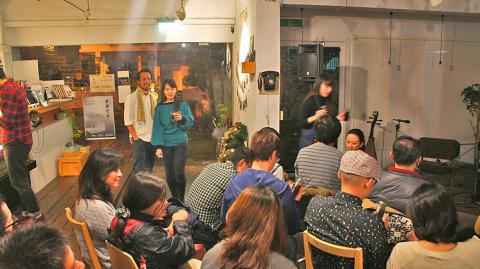 David Chen and Chung Yu-feng before a performance last month at the Thinkers Theater in Taipei.
Photo courtesy of Trees Music & Art and Yang Wen-ching
MINGLING WITH OTHERS
Chung's encounter with rich musical traditions gives her many new ideas to experiment with. Siwa, for example, draws inspiration from Arabic music, while Seven Beat Flash is the result of a self-challenge after hearing a folk song played by a Mongolian musician, which follows a pattern of five beats per bar. It is an irregular rhythm to musicians like Chung, who are accustomed to four beats per bar.
Chung believes that rhythms come from life, the way people live and interact with their surroundings. Five, seven and nine beats are common in Mongolian music, closely related to the bodily rhythms of riding a horse. In Persian music, there even exists 11 and 13 beats. To step outside her musical style, Chung made the song that has seven beats per measure.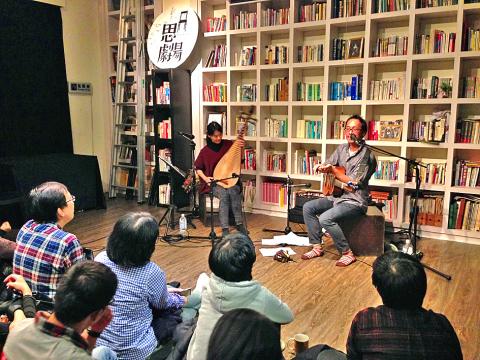 Pipa-blues fusion.
Photo courtesy of Trees Music & Art and Yang Wen-ching
"To them, rhythm comes naturally. Han culture doesn't encourage bodily rhythms that much. We have been sitting bolt upright for too long. We don't know how to move," she says.
For his part, Chen says Seven Beat Flash is the favorite song in their repertoire, partly because it was difficult to compose.
"Western folk/rock/blues music is also all 1, 2, 3, 4, 1, 2, 3, 4. Normal listeners might not hear the difference but they might feel it. If you play it, you have to know it. It repeats in places you don't expect it to. I have to really learn the feel, the feeling of it," he says.
Chen also likes to experiment with different instruments on each song. On this particular piece, he uses the 12-string guitar, which produces a more lush, "orchestral" sound than a standard six-string guitar.
WHAT'S THE SOUND?
Rhythm is not the only thing they have to learn. Chords, a concept taken for granted by Chen, is utterly alien to Chung.
"They use chords to organize music. But we don't have do, re, mi, fa, so. We only have melody…. And we use elaborate playing styles to enrich it [melody]," says Chung, to whom chords as simple as E Major constitute a whole new vocabulary to learn.
It wasn't much better for Chen when he first heard Rock 'n' Roll, an original work by Chung, adopting elements from The General's Command (將軍令), an ancient pipa piece. To the ears of the Western-trained guitarist, it was purely chaotic, with no structure whatsoever.
Then Chung explained that The General's Command is the wu style (武曲, martial) used to describe thrilling battle scenes. She adds that the wu style is the true nature of the musical instrument, requiring intricate playing techniques, loud and vigorous sound, and is very exciting to play.
"What she said was totally new to me… It helps me bring that kind of raw energy to the song," he says.
LEARNING TO IMPROVISE
The wu piece also illustrates a distinguishing feature of pipa music. Traditionally a solo instrument, pipa has always had problems communicating with others, Chung says.
"We are very loud. It is hard for other musicians to work with us ... We couldn't see them or hear their music," she adds
Playing with improvisational musicians like Chen, Chung has herself learned to welcome improvisation.
"You share a close relationship with one another. You have to pay attention to where he goes at any time, ready to improvise at any moment. There will be plenty of shocks and surprises that you can't find playing in a Chinese orchestra," she adds.
SIMPLY FUN
The music is all about cross-cultural, genre-defying fun. But don't dub them crossover musicians. They simply try to figure out a way to work together, keep the music fresh and create something new.
"You think about how to make it fun and entertaining for us and how to make it engaging for the people who listen," Chen says.
Chung and Chen say there is no concrete plan right now to cut an album.
"Right now we are sailing. We don't even know where we are going. But it doesn't matter. It's fun," Chen says.
Currently on tour across the country, they will perform at Uri-Sabaki-Jo (The Wall, 賣捌所) in Yilan tomorrow. On Jan. 31, they will play at Greater Kaohsiung's In Our Time, followed by a show at Taonan (道南館) in Greater Tainan on Feb. 1. Their repertoire is mainly composed of original songs by Chung and Chen, including Chen's Muddy Basin Ramblers and traditional blues tunes.
For more information, go to www.facebook.com/trees.music.art.
Comments will be moderated. Keep comments relevant to the article. Remarks containing abusive and obscene language, personal attacks of any kind or promotion will be removed and the user banned. Final decision will be at the discretion of the Taipei Times.