Live Wire: The only band that matters
There was a time when The Clash were called "The only band that matters." Yeah, it was a marketing ploy by the band's label, CBS, but it caught on. People took to it because The Clash were looked to as one of the bands in the late '70s early '80s that was supposed to see off the lumbering, bloated dinosaur that was rock 'n' roll. Well, forget The Clash. Forget the Sex Pistols. Forget all the bands of their ilk that were supposedly destroying music as we knew it, ripping down its very foundations while ushering in the snarling first wave of punk.
Why should we forget them? Because they were merely operating within the same set of musical conventions as rock musicians were, just doing it faster, sloppier and simpler. One of the few bands of that time frame that truly set out to operate wholly free of convention was an arty New York act of pure atonal malice known as Swans — a group that thought nothing of the fact that they were sometimes put last on a bill for the pure purpose of clearing out the crowd at the end of the night with their nightmarish blast of tempestuous, repetitive noise.
Punk didn't destroy rock 'n' roll. Swans did. They destroyed it and rebuilt it in their own ghastly image reflective of all humankind's ills, and in doing so became the greatest rock 'n' roll band of an epoch they gave birth to. In the examination of music from the early 20th century to the present, there should really be only two time periods — pre-Swans and post-Swans. Everything else, for the most part, is just a copy of a copy going all the way back to the Jazz Age.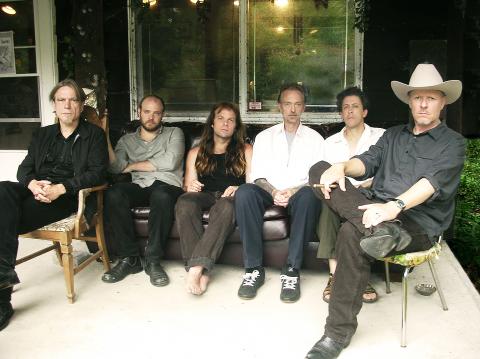 Swans are currently touring in support of their latest assault on music and the senses, To Be Kind.
Photo Courtesy of Owen Swenson
At their heart of Swans, through three decades and 13 studio albums, is their band leader. Their Howlin' Wolf. Their great madcap genius barking at a moon he once thought was meant solely to crash down on his troubled head. Michael Gira — survivor, contrarian, anarchic musical terrorist. A book could be written on Gira's wandering life and artistic explorations, but it's probably best to simply let the man's words stand on their own. And so it goes, here's Michael Gira on ...
The chart success of Swans latest album, To Be Kind:
"I just do the work and hope for the best, and it's good that more people seem to be interested in it. But if I thought too much about that I would have given up years ago."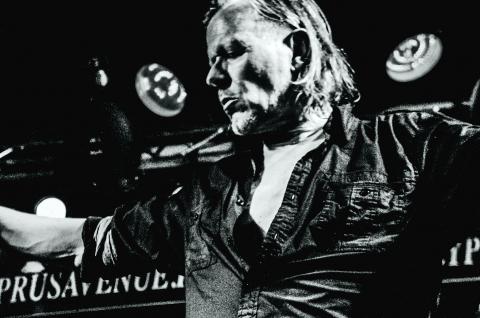 For over 30 years, Michael Gira has led New York experimental noise act Swans on a journey through music's sonic nether regions.
Photo Courtesy of Sibastian Sighell
The development of grooves and rhythms on To Be Kind:
"It's through playing live. And some of the pieces, some of them can't legitimately be called songs. They started out as a simple groove or sound idea and we just started exploring them live. Most of our set now is sort of similar. It's pieces that are just kind of growing as the tour progresses. Things change and shift constantly within that context."
The working relationship with long-time guitarist Norman Westberg:
"I don't believe I've ever had a long conversation with Norman Westberg. But he's the person I have to say the least to in the band about parts and things. He just has an intuitive grasp of what's necessary for Swans.
The perception of the band today still largely focusing on its past:
"I just can't think about that anymore. There's a lot of young people that come to the shows. They don't seem to share those preconceptions. But people go for the salient thing — for what's easiest. And I suppose in the early days the music was extreme and might have been interpreted as being negative, although I felt that the act itself was quite positive. Now what I emphasize, when I speak about the music, is the positive aspects, because that's what it is to me."
The source of his perseverance:
"A healthy fear of death or failure, I suppose. I just think it's important, with your short time on earth, that you make good work, and so that's what I try to do."
Sound as a path to a higher plane:
"During the live experiences now, it seems, when the band is effortlessly conjoined and we're reaching to a higher place, that the audience goes with us. It's not like we're religious figures or shaman or any cliche like that. But there's something that happens with sound and volume, I suppose, when it reaches a certain crescendo, that it naturally is elevating. It might be a kind of spiritual experience."
His past reputation for being, in his words, "...a real jerk:"
"I guess if you ask people that know me they may concur that I am indeed a jerk. But I definitely don't feel as much that the world is my enemy as I used to, and I couldn't even describe to you why I used to feel that way."
Improvisation:
"You can't just stand up there and play by rote. That's one of the reasons that we continually shift the material and develop it in each show as things go, is to remain sort of uncomfortable, and always trying to find something new. We don't want to just recite songs from a record."
What's left to explore in the Swans sound:
"We're developing songs live, and if it felt hackneyed or like a return to form we probably wouldn't be doing it. I guess I would leave it up to other people to determine if it's fresh or new or any of that sort of thing. We don't really have a choice. We just dive in and do the work, and it leads you where it does, and you try to use your critical faculties to make sure that you're not parroting yourself."
■ Swans takes the stage at 8pm on Jan. 31 at Legacy (傳音樂展演空間), 1, Sec 1, Bade Rd, Taipei City (台北市八德路一段1號). Tickets are NT$1,900 in advance, NT$2,200 at the door.
Comments will be moderated. Keep comments relevant to the article. Remarks containing abusive and obscene language, personal attacks of any kind or promotion will be removed and the user banned. Final decision will be at the discretion of the Taipei Times.