Madame Chiang's club, six decades on
Formed in 1951 by then first lady Soong Mei-ling, the Taipei International Women's Club began as a way for the KMT to restrict women's participation in the public sphere. Membership has plummeted since the end of Martial Law, as new women's groups offer a wealth of options for philanthropy
On a brisk autumn day, a group of women are convening at the Howard Plaza Hotel banquet hall.
These are the members of the Taipei International Women's Club (TIWC, 台北國際婦女協會) and their monthly meeting is about to begin.
Livia Yu (俞馮彤芳), who was the club's president in 1982, says the event looks vastly different from the first that met in 1951 under its honorary president, former first lady Soong Mei-ling (宋美齡).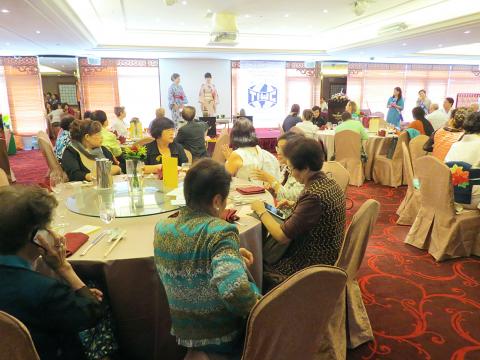 The Taipei International Women's Club meets at the Howard Plaza Hotel. The club, with a membership of 150, has a general meeting each month and gets together for smaller events throughout the year.
Photo: Enru Lin, Taipei Times
Unlike other women's groups of today, the TIWC was not founded as a rights advocacy organization for women. Taiwan's modern feminist movement saw its first real push in the 1970s.
Instead, TIWC was formed as a socializing club for English-speaking women, mainly the wives of US military attaches and diplomats.
"Madame Chiang used to entertain a lot of diplomats' ladies with tea and those ladies found there was very little to do in Taiwan besides attending teas and baking. They said to her, 'Can we do something?' And do something meant charity," Yu says.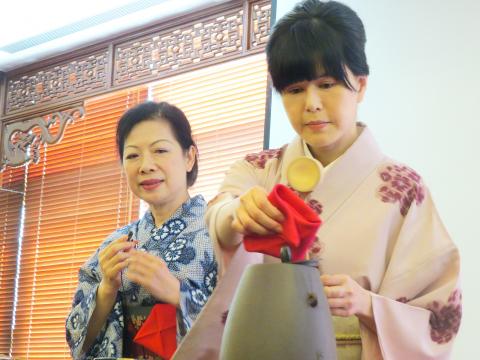 Two women demonstrate a Japanese tea ceremony at the Taipei International Women's Club.
Photo: Enru Lin, Taipei Times
Upon admission to TIWC, members joined at least one working committee, each in charge of commitment-heavy special projects and events such as visiting orphanages, visiting nursing homes and fundraising for the Salvation Army. It was constructive work, and it allowed expatriate women to engage with each other and the host community.
GOVERNMENT SCRUTINY
But much like the Chinese Nationalist Party's (KMT) Women's Department, TIWC was also a way for the government to manage the political environment, according to the late Norma Diamond, a professor of anthropology at the University of Michigan.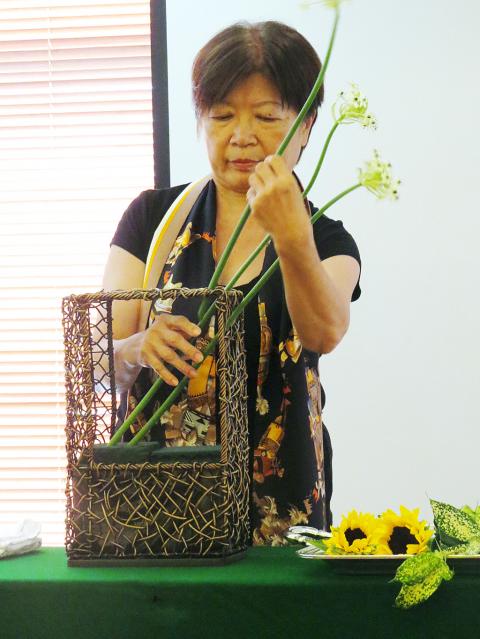 A TIWC member demonstrates flower arranging.
Photo: Enru Lin, Taipei Times
Soong and the KMT had supported the rise of the educated woman, but made it clear that the definition of their public service should be "consistent with those duties that embrace the care of their homes," Diamond wrote in her 1975 study, Women Under Kuomintang Rule: Variations on the Feminine Mystique.
Under government sanction, clubs like TIWC helped socialize women to gendered roles and to direct their time to select issues within a state that was technically at war. Meanwhile, Martial Law restricted the freedom of other groups to form and take up more contentious pursuits.
Susan Babcock, an American who arrived in the 1980s, originally declined to join TIWC in the first decades of her time in Taiwan. Instead, she started her own, and ran a covert group for women who worked with issues like HIV/AIDs awareness.
"'The club didn't have a name and we weren't registered," says Babcock, now 71.
"It was an international group that also included women from Taiwan. We also organized a way for these women to go to different places to learn about the local culture," she said.
Though they were once high profile, the cultural and charity activities of TIWC go largely unnoticed today by the public.
This year, the TIWC has held teas, cooking classes and a computer class to teach members the usage of tablets and smartphones, in addition to the monthly meetings.
Several of its events have been fundraisers and proceeds have gone to a college scholarship for women, a shelter for families and to other social welfare services.
Since the 1980s, TIWC activities and fundraising profits have scaled down as club membership ages and new members join at a below-replacement rate, says longtime member Shaw Lin (林秀慧).
At the height of its popularity in the 1980s, TIWC claimed a total membership of 500, while today it is down to roughly 150.
"The ones who wear hats have no hair, the ones with canes can't walk well and the dead ones are dead," Lin says.
FAREWELL TO ARMS
Although the typical TIWC member today is in her 50s and 60s, their monthly meeting is rambunctious and interrupted repeatedly by cheerful chatter.
Two women demonstrate the steps of a Japanese tea ceremony, and another two women complete flower arrangements onstage that are auctioned off to the audience for charity.
The ambassador of Nicaragua, an invited male guest, entertains the club with a song and accepts their gift of wheelchairs for children. Then the women break for socializing in English and Mandarin.
TIWC membership was once restricted to English speakers, with admission based on a fluency test, but now over half of its members are Taiwanese. Some members do not speak English well at all, says Kelly Cheng (鄭清淑), who adds that she is one of them.
She gestures at a table seated with three wives of foreign ambassadors residing in Taiwan, and says they are from the English-speaking demographic that the club was established for.
"They are the only ladies from that circle," she says. "There's nothing we can do about that, since the American military is gone and Taiwan doesn't have so many diplomatic allies anymore."
THE NEW RECRUITS
Since the end of Martial Law, new members have gotten only harder to come by: Other clubs have appeared, offering a wealth of options for philanthropy.
About five women do join each year, though these look very different from the ones of old.
Instead of the well-educated full-time wives of the 1950s, recent members have mostly been women who are professionals in their own right, like Gabrielle Seewald, chief executive of a beauty and health company, and Faye Angevine, who runs an antique furniture store in Taipei.
Membership has also become more representative of the national population.
"It's diversified a lot, I think. There are women from other countries, [Mainlanders], Taiwanese women," Babcock says.
Babcock, who has disbanded her own group, joined TIWC two years ago. Though the concept of a women's club now seems quaint, she says the atmosphere is warm and characterized by women helping other women instead of competing.
"There's a loyalty to each other that I haven't seen in many other places," Babcock says. "I think there are personal interactions through some of the activities that help empower the women to be the best they can be."
The current president, business owner Peck Hee Lim of Malaysia, agrees.
"Some of the women make introductions to others. They are very good at this. If one woman thinks she sees talent in another, she will help," Lim says.
It's a small but surprisingly pro-women turn for a club that began as a way to restrict women's movements in the public sphere.
Manila native Maria Tan, another recent member, says that the main draw of the club is not substantive aid, but that the women are interested and invested in one another's well-being.
"When I first came to Taiwan from the Philippines, I felt like something was missing or that I was not so welcome. I met one of the [club's] board members on a hike and joined and it came together for me," she says.
"In my experience, the club hasn't been about business and it hasn't been about politics. It is only a very good place to make friends."
Comments will be moderated. Keep comments relevant to the article. Remarks containing abusive and obscene language, personal attacks of any kind or promotion will be removed and the user banned. Final decision will be at the discretion of the Taipei Times.