Live Wire: Ease up on foreign performers
A talent competition for foreigners by the National Tax Bureau of Taipei was probably illegal. The competition, held in Da-an Park on Nov. 9, involved public performances by foreign nationals, including singing, story-telling and other entertainments, and offered prizes of gift certificates worth NT$58,000. Yet had any Taiwanese citizen video-taped the competition, called the Taipei City Hall citizens hotline, reported it and offered evidence, government officials would have been forced to investigate. Since the competition did not offer participants work permits, the hapless foreign performers would have been found to be working illegally, in which case administrative processes would eventually lead to their deportation. Who would benefit from this? The citizen who made the report would receive a NT$10,000 reward from Taipei City Government, which offers a bounty for reporting work permit violations. Legally speaking, this is the system that is currently in place in Taiwan.
It is a system that flies against common sense, common decency and common knowledge. For the most part, even most government agencies do not understand the rules involved. When foreign performers called the National Tax Bureau of Taipei to better understand the situation, agency officials claimed the competition to be legal, saying there is a difference between competition prizes and work compensation.
Though this definition is technically correct according to tax laws, lawyers for a local group trying to change these laws says this is not the case when it comes to work regulations.
Tim Hogan of The Muddy Basin Ramblers will perform tomorrow as part of Tiger Mountain Ramble, a music festival at a desanctified temple on Taipei's Tiger Mountain.
Photo courtesy of the band
"The responsible agency is the Work Development Agency (WDA) in the Ministry of Labor," said members of a legal team, by e-mail, at the local law firm Winkler Partners.
"The WDA issues work permits to foreigners and also has the power to interpret the work-permit related provisions of the Employment Service Act. In the late 1990s, an Interpretation Letter from the Ministry of Labor stated that any provision of services was defined as work, regardless of whether it is paid or not," the firm said.
In other words, performing in a competition could likely be considered as "work", even though the prize money is not taxed as "work compensation." This may sound like legal hair-splitting, but you could still be deported for it.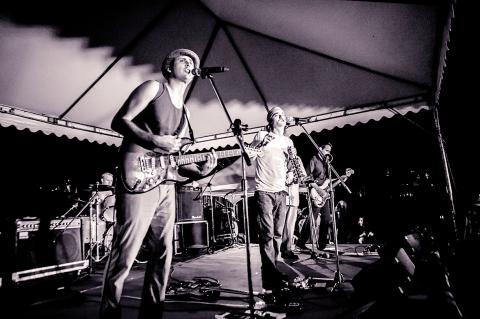 Blind Acid Date will perform tomorrow as part of Tiger Mountain Ramble, a music festival at a desanctified temple on Taipei's Tiger Mountain.
Photo courtesy of the band
Performance permit regulations have for the most part not been an issue in Taiwan in recent years, but only because the government never enforced them. This year however, there were several investigations into performances by foreign nationals, especially musicians playing in local pubs for little or no payment. According to the people involved, It is believed that several of the reports were made in revenge, including one by an ex-girlfriend.
Practically speaking, the performance laws were not a problem before, because nobody knew or cared about them. Now however the cat is out of the bag.
Foreign performers have tried very hard to comply, but in many cases they have found the work permit application process impossible. A recent amateur theater production was thwarted when the WDA refused to issue work permits, saying they could not issue work permits because the actors were unpaid.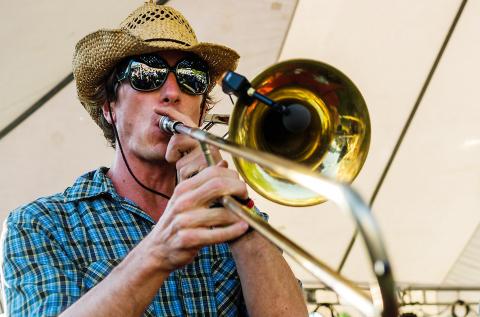 Andy Francis of La Cumbia will perform tomorrow as part of Tiger Mountain Ramble, a music festival at a desanctified temple on Taipei's Tiger Mountain.
Photo courtesy of the band
The WDA, a national-level agency, however does not carry out investigations into citizen complaints — that's done by city or county government offices. In Taipei, city inspectors have consistently said that any performance, paid or unpaid, is illegal without a permit.
The whole thing is a huge mess.
The good news — and yes, there is finally some good news — is that there is at least one group looking to change work and immigration regulations, and improvements could come in 2015.
Forward Taiwan is a lobby group founded in 2013 by Chu Ping (朱平), an internationalist Taiwanese businessman who heads Aveda Taiwan.
The group has issued a proposal for change, and in the prologue argues that "Taiwan's immigration policies reflect an official view that Taiwan is essentially a monocultural nation state based on shared ethnicity and culture. This illiberal view, combined with Taiwan's isolated political situation and national development strategy have created immigration and labor laws that discourage immigration by tightly controlling residence, work rights, and the acquisition of Taiwanese nationality."
Forward Taiwan believes that if Taiwan is to have an international economy, it also needs to have an international social and cultural environment. That includes little things like not deporting foreigners for singing at open mic nights or performing in Christmas plays.
Though some parts of Forward Taiwan's proposal will be controversial projects — for example, allowing people to become naturalized citizens without renouncing their foreign passports — changing the performance laws is considered to be of "low difficulty." Work permit regulations can be revised directly by government departments, and the changes do not need to be ratified by city councils or the legislature.
Chu and Forward Taiwan are to be commended for their efforts. They embody the good-spiritedness and openness that has Taiwan ranked as one of the friendliest countries in the world and is the reason why — a few backward laws not withstanding — so many expats love to call this nation their home.
TIGER MOUNTAIN RAMBLE
Daniel Pearl Day was such a success that it is doing an encore. The Tiger Mountain Ramble, to be held tomorrow on a mountainside farm just 10 minutes by taxi from Taipei 101, will feature a similar lineup of blues, funk, samba, gypsy jazz and Afro-pop, as well as pigs roasting on a spit, contortionists, fire swallowers and other surprises. Bands include the Muddy Basin Ramblers, Dark Eyes, Blind Acid Date, Cumbia del Sol and Afroholique. The venue is a decommissioned temple complex that has become a privately run arts space. It'll be nice to hear music in the mountains.
Tiger Mountain Ramble is tomorrow from 3pm to 10pm at Tiger Mountain (微遠˙虎山), 186-1, Lane 221, Fude St, Taipei City (台北市福德街221巷186-1號). Admission: NT$300 at the door.
Comments will be moderated. Keep comments relevant to the article. Remarks containing abusive and obscene language, personal attacks of any kind or promotion will be removed and the user banned. Final decision will be at the discretion of the Taipei Times.