Neither blue nor green
Backed by People Are The Boss, these two candidates admit a slim chance of getting elected, but believe that their campaigns aren't only about winning
High tension in the months leading up to the nine-in-one elections will finally subside as each of us goes to bed tonight, content — or not so content — with knowing who now controls the city halls, township councils and wardens' offices. But for candidates Chung Chun-chu (鍾君竺) and Wu Juo-ying (吳若瑩), the election results were never the primary concern.
"We are an activist group. We don't do things purely for the sake of getting elected," says Wu, who is running for warden of Shuanglian Borough (雙連) in Datong District (大同).
Wu and Chung are members of the Collective of Sex Workers and Supporters (日日春關懷互助協會, COSWAS), a rights group aiming to destigmatize and re-legalize sex work.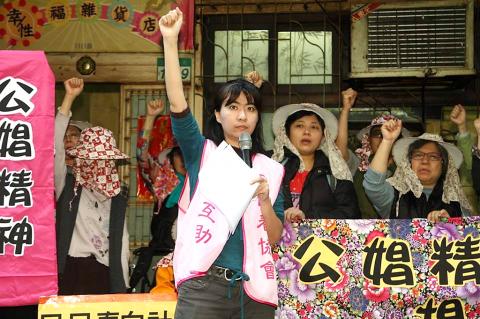 Chung Chun-chu, center, and the Collective of Sex Workers and Supporters protest at the Wenmeng Building in Datong District.
Photo: Yeh Kuan-yu, Taipei Times
For the two female activists, the main goal of their campaigns has been to foster civic engagement and empowerment, so that eventually the people may change the existing political system.
Every day during their campaign, the two spent hours on the streets, discussing their political platforms concerning gentrification of old urban neighborhoods and the right to housing with those willing to listen. They went to local residents likely to be affected by the large-scale urban renewal development project in the area. They chatted with them, sought their opinions and communicated different ideas.
In other words, they tried to reach out, connect and organize.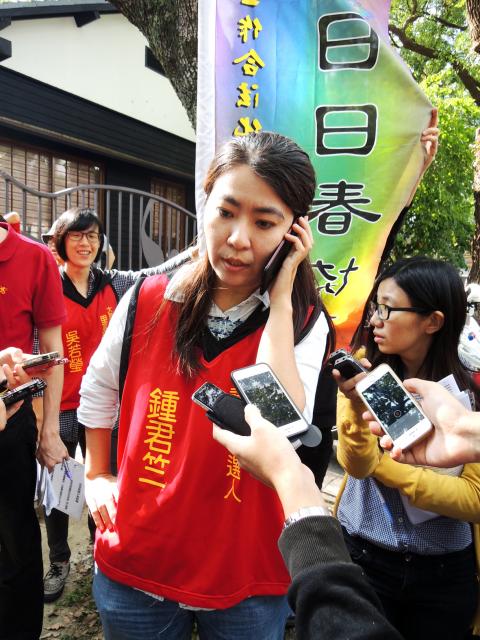 Chung Chun-chu is running for city councilor of Taipei City's Fourth District.
Photo: Yeh Kuan-yu, Taipei Times
"If elected, we don't want to just attend public events, shake hands and have our photos taken. We want to solve long-standing problems, but we can't do it alone ... We hope to connect with more concerned citizens, broaden the discussion and together put ideas into action," says Chung, who is running for city councilor of Taipei City's Fourth District, which comprises Datong and Zhongshan (中山).
A DIFFERENT KIND OF PARTY
Both Chung and Wu are nominated by People Are The Boss (人民民主陣線), a left-wing political party established in 2011. It consists of several social groups including COSWAS; Taiwan International Family Association (台灣國際家庭互助協會), an immigrant rights organization; and Taiwan Association for Victims of Occupational Injuries (工作傷害受害人協會).
For the nine-in-one elections, the party put forth 37 candidates across the country, most of whom are veteran activists, workers, gay men and lesbians advocating a wide spectrum of issues from LGBT, workers' and immigrants' rights to the rights of people with disabilities. The candidates represent those who are deeply disillusioned with the Chinese Nationalist Party (KMT) and the Democratic Progressive Party (DPP), both of which they regard as pro-capitalist and right-wing.
The origin of their political campaign dates back to 2004, says COSWAS executive director Chung.
Ten years ago, long-time labor rights activist Cheng Tsun-chi (鄭村棋), a key figure in People Are The Boss, initiated the Millions of Invalid Votes Project, which encouraged voters to spoil their ballots in the presidential election between then-president Chen Shui-bian (陳水扁) of the DPP and Lien Chan (連戰), then the KMT chairman, as a protest against both the pan-green and pan-blue camps. The number of invalid ballots exceeded 330,000 that year — much higher than the average figure of 100,000.
To Chung, the campaign highlighted the need to seek answers to a basic but important question.
"If I want neither the blue nor the green, what do I want then?" she asks.
After the project, these left-wing activists arrived at the decision to enter politics in order to change what they deemed a corrupt political establishment.
How the party operates is anything but usual. Ahead of elections, People Are The Boss calls on supporters and like-minded citizens to form different issues-based groups, in which the members discuss issues that concern them, pick candidates and jointly decide on political platforms.
Since the party's founding, all successfully elected candidates have been required to sign a pledge agreeing to fulfill political promises and to step down if they don't.
"We wanted to create a different relationship between candidates and voters," Chung says. "Everyone should chip in and share the political responsibilities, rather than placing all hopes on one politician and hoping he or she will solve everything."
MONEY AND POLITICS
Wu, the COSWAS secretary, says that her experience of working with sex workers, their clients and families showed her that a more just and equal system is needed to improve lives of the economically disadvantaged. Meanwhile, the ongoing controversy surrounding Wenmeng Building (文萌樓), a former brothel in Datong District and now the headquarters of COSWAS, has revealed how urban renewal projects are used to benefit big corporations, land developers and investors rather than protecting people's right to housing.
Though designated a municipal heritage site by the Taipei City Government in 2006, Wenmeng Building remains in private ownership, a fact that has led to controversy. Since 2011, the owners Lin Li-ping (林麗萍) and Liu Shun-fa (劉順發) have sought to expel COSWAS from the site. Lin and Liu, as the group discovered, are real-estate investors seeking to make a handsome profit when large-scale urban renewal project involving the building is carried out.
Wu decided to run for borough warden after realizing that even a political position that seems insignificant can wield influence in local matters.
Take the Wenmeng Building case, for example. The warden in the area is invited to every public hearing and meeting held by government officials regarding the issues surrounding the building, Wu says. Though the job of borough and village wardens only entails community service, in reality they are conveniently treated as elected officials representing local residents.
"The warden's attitude toward the issue [under discussion] is very important. Those meetings are usually attended by academics, public officials and land developers. Local residents are never present. So the warden alone can represent local interests and opinions," she points out.
More often than not, a warden only truly represents the interests of a small group of people he or she is affiliated with. In Shuanglian Borough, the incumbent warden Hung Chen-heng (洪振恒) of the DPP, who owns several properties in the area, has a close relationship with landowners and developers, Wu says.
"It is a mutually beneficial relationship. The developer helps the warden make connections with locals, for instance by giving rice to the poor [on the warden's behalf]. In return, the warden puts in a good word for the developer, helping to get landowners on board with the urban renewal project," Wu explains.
In city councils, the influence of land developers is equally noticeable. Regardless of which political party they belong to, city councilors often rely on political donations from big corporations to finance their election campaigns, Chung says.
"The assistants of every city councilor we visited said our [Wenmeng Building case] would be difficult to advance because it posed a challenge to the interests of land developers and real-estate investors, and that the best strategy was to join the development project so that everybody makes money," she adds.
"They said if developers called to ask them to speed up development projects, it would be hard for them to say no."
A LONG SHOT
To many, Wu and Chung seem engaged in a political experiment on grassroots democracy, rather than a realistic bid. The two candidates also say they have no illusion that they will get elected anytime soon.
In Datong District, voter affiliation is strongly tilted toward the DPP. Moreover, as the inhabitants of the area are largely older, the progressive ideas advocated by the left-wing activists have little resonance here.
But for the candidates, thoroughly engaging in the process of grassroots organizing is more important than seeing immediate results.
"I'd rather take my time talking to people, knowing that I share similar ideas and beliefs with my voters and that we can communicate. Otherwise, I will just become part of the system [if I get elected]," Chung says.
Comments will be moderated. Keep comments relevant to the article. Remarks containing abusive and obscene language, personal attacks of any kind or promotion will be removed and the user banned. Final decision will be at the discretion of the Taipei Times.