Live Wire: What is underground?
Japan — the country that has birthed such musical oddities and game changers as Boredoms, Melt Banana, Merzbow, Sete Star Sept, and Babymetal. Okay, maybe the less said about the latter the better, but nevertheless, you can't deny the fact that the country has fostered an inordinate proportion of bands that have melded, fused, deconstructed and reinvented the entire scope of musicopia. There's something about the Land of the Rising Sun that nurtures a particular breed of musician that isn't comfortable simply coloring within the lines.
Call it a reactionary movement against Japanese culture's overall air of conformity and conservative leanings. Call it anything you want, really. The bottom line is this: Japan has strange down to an art form. Case in point, type the words "Why is Japan..." into Google and the first thing that pops up is "Why is Japan so weird?" But there's weird for the sake of weird, as in post-modernism, and there's weird with a purpose in mind — a purpose of furthering an art form by challenging its boundaries, and combining different elements to achieve something wholly new and original.
One of Japan's most well-known exports in this regard is indie band Buffalo Daughter. Founded in 1993 in Tokyo, the three-piece act was quickly lumped in with the Shibuya-Kei movement, pop music mixed with the syncopation and improvisation of jazz and the dreamy nature of synthpop. However, the band sounded little like their peers who also came up in the early '90s — acts like Pizzicato Five and Flipper's Guitar. The underground caught on, though the band always seemed just out of the mainstream spotlight. Guitarist suGar Yoshinaga says it's not something she's losing any sleep over.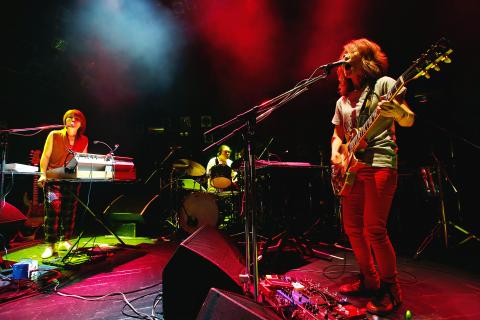 Tokyo indie act Buffalo Daughter is a band that has always remained true to the spirit of musical collaboration and experimentation.
Photo Courtesy of Yoshika Horita
"I actually haven't seriously thought about it and don't know what is mainstream and what is underground. For example, to me, [New York no wave band] ESG is a big star, and some people say they are underground, but I think they are pretty successful and well-known. Is that still underground?" she says.
Nevertheless, she explains, whether a band is regarded as being under the radar or not, it still needs a push from someone, anyone — an indication that someone gets it, and is paying attention. No band exists in a vacuum.
"It's good to be somewhat successful whether you are mainstream or underground because it keeps you going," says Yoshinaga of maintaining the will to persevere in a crowded, jaded market. "So many choices and easy access to so many kinds of music today, and I want my music to be picked and heard, especially by [a] new audience."
Buffalo Daughter did get their chance to get their music out to a wide audience in the '90s when the band was signed by Grand Royal, a vanity label run by the Beastie Boys in tandem with Capitol Records, in 1996. This got the band over to the US, culminating in an appearance at the Tibetan Freedom Concert at R.F.K. Stadium in Washington in 1998 to play for an audience of over 120,000. Still, the so-called big breakthrough didn't come. The band remained one of those that indie snobs love — a group that can remain their own. A well-kept secret. The ultimate in hipster credit.
Grand Royal was shuttered in 2001, and Buffalo Daughter moved over to the Emperor Norton label based out of Los Angeles. Tours in the US alongside high-profile indie acts like Blonde Redhead ushered along the aughts, and the band continued its tradition of stylistic morphology by collaborating with diverse acts such as the French ambient pop group Air, one-time blacklisted Japanese pop idol Ami Suzuki and all-female pop punk band Shonen Knife.
This practice of collaborating with other artists has continued right up to the band's latest album, Konjac-tion, a name which alludes to Buffalo Daughter's fluid, flexible style. Among the artists handpicked to do remixes for disc two of the double album was Taiwan's own electronic rock collective Varo. When working in partnership with other artists, Buffalo Daughter was happy to give their collaborators free rein, says Yoshinaga.
"As to remix, we picked the song and asked the remixer to work on it. But we didn't tell them any more than that. It was their freedom how to cook with the song ... There was also freedom for collaborators, and we are so happy that they came up with something creative and awesome."
Next year's calendar is shaping up to be busy for the band, which shows no signs of slowing down after over 20 years spent playing around the world. The summer of 2015 will see them doing the European festival rounds, and Yoshinaga says plans are in the works to hit markets they've never played before. It's all in keeping with the band's guiding tenet, she explains — to keep pushing, keep trying, keep experimenting.
"To try something new is the biggest motivation and important thing for us."
■ Buffalo Daughter headlines day one of the two-day LOBO JAM (蘿蔔節) mini-festival taking place Saturday and Sunday at Legacy (傳音樂展演空間), 1, Bade Rd Sec 1, Taipei City (台北市八德路一段1號). Tickets are NT$1,000 for one day, NT$1,800 for both. Doors open at 12:30pm, bands hit the stage at 1pm and the last band finishes at 10pm
Comments will be moderated. Keep comments relevant to the article. Remarks containing abusive and obscene language, personal attacks of any kind or promotion will be removed and the user banned. Final decision will be at the discretion of the Taipei Times.