Live Wire: Darkest before the dawn
"And if you gaze long enough into an abyss, the abyss will gaze back into you." Nietzsche wrote that in Beyond Good and Evil, and say what you will about the man, he was on to something there. Not a Nietzsche fan? Lamb of God front man Randy Blythe put it another way when he said, "When I write, I have to be able to go to that darker place. I don't have trouble getting there; the problem is not staying there." It's a conundrum artists and introspective types from all circles have wrestled with since humankind first had the intellectual capacity and the free time to look inward. And it's one that has swallowed many an artist whole.
Tokyo instrumental heavy rock band Mono dove headlong into the darkness in order to put out two companion albums this month, entitled The Last Dawn and Rays of Darkness respectively. For a decade and a half guitarist Takaakira Goto and the rest of the band have been exploring the interplay of light and darkness, or as their bio puts it appropriately, "bliss and bludgeon," but never has their swirling mass of feedback and effects-drenched wall of guitars come out sounding so raw as it does on the bleaker half of this gargantuan effort. Without pain there can be no pleasure. Without darkness there can be no light. But that doesn't make delving into the black corners of the mind any easier, says Goto.
"When I actually started writing based on the dark emotions, my daily life started to become much darker and depressing. For example, even when I got out of the studio, my feelings were very rebellious without any thoughts, almost as though I had sold my soul to hell. I thought it was going to be impossible," he told the Taipei Times.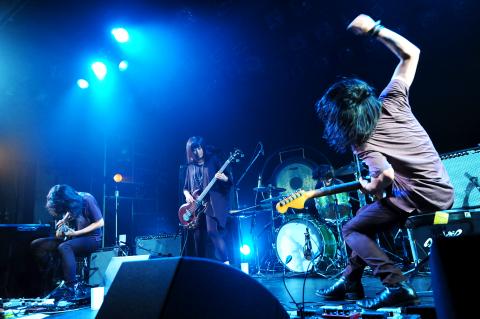 Mono guitarist Takaakira Goto took himself to hell and back during the writing process for Rays of Darkness.
Photo Courtesy of Teppei.
Goto doesn't go into detail about what inspired the impossibly black portion of the pairing, saying only that he was "in a bad place" when he wrote those songs that would appear on Rays of Darkness. However, just over a year ago, songs of a very different nature began to take shape.
"Last summer, we had the opportunity to work for films and TV shows, so at the same time, not necessarily for MONO but I started to compose more songs in a very different style. I started to change my lifestyle as well, like I almost always composed songs at late nights, but started writing early in the mornings or in the afternoon instead. Eventually, these new songs started to become like medicine for myself, just to live through everyday life."
It might seem strange to describe a sound as massive as Mono's as "stripped down," but this time around the band actually left something that had become something of a trademark off the table. That was the orchestral elements that had previously added a grandiose element of drama. On Rays of Darkness, though, there are none to be found.
"I originally wanted to create something symphonic and spiritual, like Beethoven but with electric guitars," says Goto. "So far, we managed to experience so many things, more than any indie band can ask for, like playing with full orchestra in New York, London, Australia and Tokyo. From these experiences, we tried something more complex and classical for our previous album, For My Parents, but at the same time, we started to raise some concerns. During the album's American tour, we started to feel our sounds were like a spineless dinosaur comparing to our old sounds. Sure, symphonic music is loud, epic and dreamy, but there is something lacking compare to rock music, like the pressure and destruction they can bring."
And so the decision was made to bring back the rawness in a big way, so much so that certain passages take on the feel of Scandinavian black metal, and in fact Goto says all of the members of Mono used to play in a black metal band "back in the day." In taking things so far in that direction, Goto was nearly consumed. With hindsight, however, the album has become something he can look upon as a stepping stone rather than merely as a bookmark for a particularly dark chapter of his life.
"When I was writing Rays of Darkness, my heart felt like it was getting torn apart. But surprisingly, I enjoy listening to the album now."
If there is a unifying message or theme within these albums, it is that whenever darkness comes into our lives, and it will, we have only but to walk through it. There is something better on the other side.
"The darkest place is near the end of the tunnel. Don't give up and keep walking towards the light. You might not notice then but the darkness is there for you to be stronger and to get to the higher place. I wanted to show that and give people hope."
■ Mono plays tonight at The Wall (這牆), 200, Roosevelt Rd Sec 4, Taipei City (台北市羅斯福路四段200號B1). Tickets are NT$1,300 in advance, NT$1,500 at the door. Doors open at 7pm and the show gets underway at 8pm.
Comments will be moderated. Keep comments relevant to the article. Remarks containing abusive and obscene language, personal attacks of any kind or promotion will be removed and the user banned. Final decision will be at the discretion of the Taipei Times.