Stars backing Hong Kong protests pay a price in China
The protests have created a divide among the celebrities in Hong Kong. Many have remained silent, while others have been outspoken in their criticism of the protests and their supporters in the entertainment industry
On the night of Oct. 4, at one of the largest pro-democracy rallies in Hong Kong to date, Denise Ho (何韻詩), a local pop singer, performed a new song, Raise the Umbrella, a reference to the ubiquitous umbrellas protesters have used to ward off pepper spray. Tens of thousands waved their lighted cellphones in the air, the crowd ecstatic.
But it is unlikely that Ho will be singing that song in China, where, she said the other day, she gets about 80 percent of her income, mostly from performances. She has had no invitations to perform there since the summer, when she began publicly showing support for the pro-democracy movement. A fashion brand recently canceled a job with her, giving no particular reason, she said.
Anthony Wong (黃秋生), another Hong Kong singer who has joined the pro-democracy demonstrations, said that two November shows in China had been "indefinitely postponed" by concert organizers and that he had no pending invitations to perform there.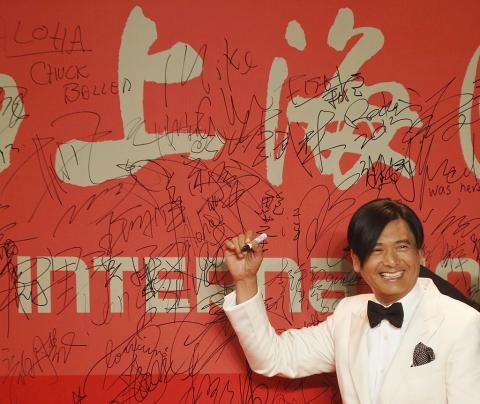 Actor Chow Yun-fat has backed Hong Kong protesters.
Photo: Reuters
"I'm just guessing, but I think they are trying to ban us because they're afraid of different views," Wong said Thursday night. "They fear that we would spread them. And of course it's an attempt to punish us, a cold-shoulder treatment of sorts, so we can't earn their money."
CELEBRITY SUPPORT
Wong, Ho and other artistic figures from Hong Kong and Taiwan — including actors like Chow Yun-Fat (周潤發) and Tony Leung (梁朝偉), and a filmmaker Kenneth Ip (舒琪) — have been among the most recognizable faces and voices during the protests that have occupied parts of the city for weeks. Some have spoken at rallies and mingled with students; others have used their social media accounts to express support for the demonstrators.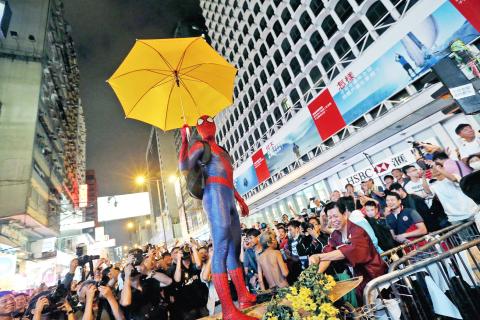 A protester wearing a Spiderman costume holds an umbrella at a barricade during an Occupy Central demonstration in Hong Kong's Mong Kok district on Friday.
Photo: EPA/jeon Heon-kyun
Before the protests, initially led by a movement called Occupy Central With Love and Peace, the names and faces of these performers were featured regularly on stages and screens in China, as well as in advertisements.
COLD SHOULDER
But now they are being shunned by fans and companies in China, on whose support many of their careers depend. Arms of China's state-run news media have denounced them as disloyal to their country. Photographs of a list containing the names of Wong, Ho and other artists were circulated on social media this week. The list was said to be a blacklist of pro-Occupy artists that had been drawn up and sent to mainland news media outlets and entertainment companies, with instructions not to mention or promote the stars.
"Regardless of how official the bans might be, they can always achieve the same result by scaring off people or companies who might otherwise want to approach us," said Ho, who was camping out this week beneath an overpass near Hong Kong's government headquarters, amid a sea of colorful tents.
An American celebrity, jazz saxophonist Kenny G, appeared to stumble into the controversy this week when he posted online photos of himself at one of the protest sites. The musician, who is popular in China, later deleted the photos and issued statements saying they had not been meant to show support for the demonstrations.
VIOLATING 'THE LAW'
In a commentary published Wednesday, state news agency Xinhua delivered an ominous rebuke to celebrities backing the protests, hinting at further consequences to come.
"You have violated the principles of 'one country, two systems,' challenged the authority of the central party, ignored the Basic Law, and earned fistfuls of cash only to then turn and scold your motherland," said the commentary, singling out Ho, Wong and a Hong Kong actor Chapman To (杜汶澤), who have been among the most visible celebrities at the protest sites. "Is this how you treat the country that gave birth to you and raised you?"
"Chapman To and all, don't think that you can eat our food and smash our pots at the same time," the commentary warned.
CELEBRITY BOYCOTT
By Friday afternoon, more than 151,000 people had participated in a poll set up on the Communist Youth League of China's account on Sina Weibo, a social media platform, asking users how they would choose to boycott the "good-for-nothing artist."
Of the four options presented, the one calling for the cancellation of performances and of broadcasts of the "pro-Occupy artists" proved to be the most popular, garnering more than 124,000 votes since Tuesday.
It is unclear how strictly a blacklist, if one even exists, would be enforced. On Thursday, for example, the state broadcaster CCTV went ahead with a showing of Mr. Cinema (老港正傳), a 2007 film starring Anthony Wong Chau-Sang (黃秋生), an actor who was said to be on the blacklist (and who is not related to the singer Anthony Wong).
And as of Friday, the romantic comedy Cafe. Waiting. Love (等一個人咖啡), written by a popular writer and filmmaker from Taiwan, Giddens Ko (柯景騰), was still showing in select theaters in China. But books by Ko, who was also said to have been blacklisted, were pulled from the shelves of major bookstores in China last week.
A prominent Hong Kong lyricist and writer, Lin Xi (林夕), had been scheduled to give a lecture Thursday night at China University of Political Science and Law in Beijing, but it was canceled at the last minute. In a notice posted on social media, the university's student association gave no reason for canceling the talk by Lin, who wrote the lyrics to the new protest anthem, Raise the Umbrella (as well as the official 2008 Beijing Olympics song, Beijing Welcomes You).
The boycott campaign comes amid increased government scrutiny of artists and entertainers in China. In August, 42 management agencies in Beijing signed an agreement with the police pledging not to work with celebrities who were found to have participated in illegal drug use.
Last week, President Xi Jinping (習近平) gave a speech at a seminar in Beijing calling on artists to use their talents to serve the nation and "disseminate contemporary Chinese values."
CELEBRITIES DIVIDED
The protests have created a divide among the celebrities in Hong Kong. Many have remained silent, while others have been outspoken in their criticism of the protests and their supporters in the entertainment industry.
In a message posted on his Sina Weibo account, a Hong Kong film director Wong Jing (王晶) declared that he was "unfriending" Ho, To and Wong, the singer, on social media.
"We have worked well together in the past and I respect your right to hold your own political views," the director wrote. "But I absolutely do not agree. To avoid embarrassment, your contact details will be erased from my phone and my computer. Have a happy life."
Even with the prospect of future reprisals, however, some celebrities, like Wong, who joined the campaign after he saw the police use tear gas on the protesters, have vowed to continue their support for the movement.
"It affects us a lot because much of my income comes from China, about more than half," he said. "But I think this is what we have to do. Our markets there and money aren't more important than our need to speak our mind."
Comments will be moderated. Keep comments relevant to the article. Remarks containing abusive and obscene language, personal attacks of any kind or promotion will be removed and the user banned. Final decision will be at the discretion of the Taipei Times.