Live Wire: en garde
In exploring the musical juxtaposition of the polar elements melancholy and joy, you trace it back to its Slavic roots and come up with names like Shostakovitch, Salmanov, Garayev and others who expanded upon it in contemporary times. Describing the process of becoming acquainted with the latter, Azerbaijani painter Tahir Sahalov said, "This is the only way to get deep inside an artist — through music. Everything trivial and insignificant — the things one pays attention to during mundane, everyday meetings — disappears. Only the essence of a man is left."
On the latest album of German pianist and composer Volker Bertelmann, a.k.a. Hauschka, entitled Abandoned City, we bear sonic witness to a continuation of that tradition in terms of exploring the joy in sadness and vice versa, and in regard to doing what music should do, cut down to the marrow of a person and reveal exactly who and what they are.
The album is another in the long and varied career of Bertelmann, who began his musical explorations with classical training on the piano at a young age and later moved on to performing in hip hop act God's Favorite Dog and the drum and bass band Nonex. A return to performing with the piano, which by that point had been relegated to the status of composition tool rather than an instrument employed in the live setting, would come later. By the time Bertelmann was 18 he had already composed his first film score and would later sign a deal with Sony Music, every bit the archetypal wunderkind.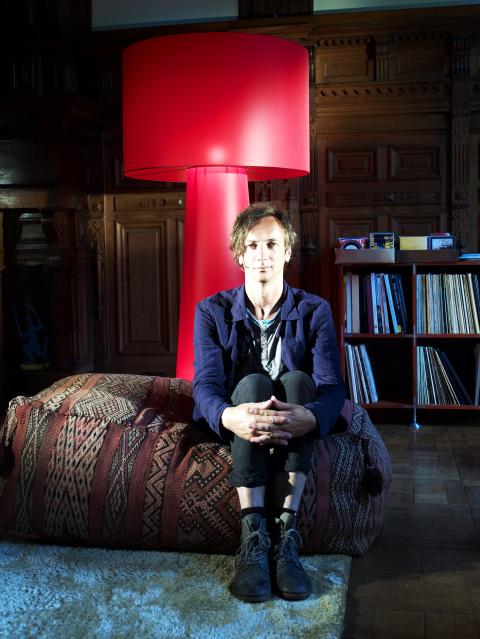 German experimental composer and pianist Hauschka has transformed the piano, in the literal sense, into an instrument all his own.
Photo Courtesy of Mareike Foecking.
Beginning in the mid-nineties, the ensuing years were passed in collaborations running the gamut from post-rock to electronica. In a way, his career has always been about looking for that essence Sahalov described. Within that search, though, lies many a pitfall. By the late nineties Bertelmann found himself unceremoniously dropped from the Sony label. Suddenly the terrible freedom loomed before him. In this moment, the man Volker Bertelmann stripped away all the excess of his prior work, and the minimalist piano-bound artist Hauschka emerged. In a way, getting his walking papers from Sony was the best thing that could have happened.
"That was resulting in a decision where I said I will only do my own music without form," says Bertelmann over the phone from the Alps just prior to an early October performance there. "There is no time restriction, no hits."
Freed from convention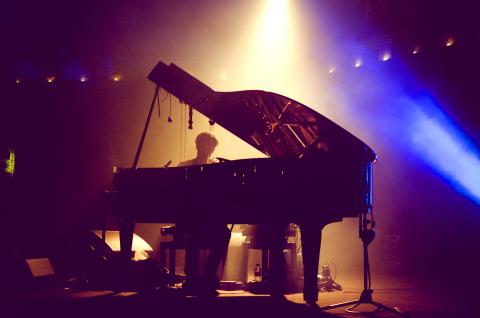 Hauschka's latest album, Abandoned City, is an examination of the entwined emotions of loneliness and hope as felt by the solitary composer.
Photo Courtesy of Annelie Rosencrantz.
In 2004, Bertelmann debuted his "music without form" on his first solo release, Substantial, an album that saw him delve into the world of free expression pioneered by the likes of John Cage and the post-war avant-garde movement. No longer bound by conventionality, he continually sought means of expanding the limits of the piano by tampering with it — placing different materials between the strings, wrapping tinfoil around the the hammers, placing objects on the strings or joining them together with tape. Suddenly, with the veil of popular form and function removed, there were only new and intriguing possibilities.
"I think, in a way, this transformation happened when I was moving from electronic to piano music," says Bertelmann of his initial forays into his own unique sound. "I wanted to use electronic sounds on my piano tracks, which meant either I'm using a laptop or I'm trying to find another way to produce electronic sounds inside of a piano. I decided to get rid of the laptop idea and try to find a way of creating electronic sounds on the strings."
The desire to move away from producing sounds artificially by way of a computer program was born of Bertelmann's love of pure performance energy. And so he set about turning one instrument into his own personal orchestra without limits.
"The first sound was a hi-hat sound, so I started actually with drum sounds to experiment with. Then I realized it's so nice because I'm totally disconnected from any tempo issue. It's actually my tempo where I define where we are going to. And all the sounds I can create are endless. In a way I created an endless sound machine."
Now in his late forties, Bertelmann's life in music has come full circle. It began with a boy sitting alone at a piano. Now it is a man doing much the same. On Abandoned City, he explores the feelings of loneliness and hope he experiences when sitting down by himself with his instrument to compose through the metaphor of the forgotten metropolis. But no matter what vehicle he chooses for his aural explorations in the future, one thing will never change — his need to keep pushing the boundaries of music, and his passion for experimentation. There is always another path to create.
"It's a little bit like if you change the way to your work every day. You can even count blindly when the traffic lights are switching to green, and then suddenly because of an accident you have to go another way and you realize there's a wonderful market in the back of your office building. And it's a little bit like that. I can actually block my way on purpose, and then I have to find something else."
■ Hauschka plays today and Sunday as part of the Piano Festival 2014 (鋼琴音樂節 2014) at Eslite Performance Hall (誠品松菸展演廳), 88, Yanchang Rd, Taipei City (台北市菸廠路88號). Doors open Friday at 7:30pm and the show starts at 8pm. On Sunday, doors open at 2:30pm and the show starts at 3pm. Tickets are NT$1,550 at the door and are also available in advance through the festival Web site, www.pfestival.tw.
Comments will be moderated. Keep comments relevant to the article. Remarks containing abusive and obscene language, personal attacks of any kind or promotion will be removed and the user banned. Final decision will be at the discretion of the Taipei Times.