Live Wire: Come together
This year, Daniel Pearl Day takes on a heightened level of poignancy following the brutal slaying of American journalist James Foley at the hands of Islamic State militants who are currently staging an insurgency in both Iraq and Syria. Much like Pearl, Foley was killed not for any offense he had committed, but for his nationality, the US the sworn enemy of the upstart IS. The killing highlights the fact that we are still living in an age when people are murdered in cold blood simply for possessing the wrong passport, for having the so-called wrong-colored skin, or for having the, quote-unquote, wrong faith.
We are living in a time when such things divide us — this terrible division having no basis whatsoever within the bounds of logic or human compassion. In such times, we need something to bring us together, not drive us further apart and deeper into the abyss of never-ending war and retribution. It may seem something of an oversimplification, but music could be at least a small part of the long, slow process of unification.
In talking about music as a tool of unification, it's difficult to avoid getting bogged down in hippy-esque statements about "really doing something, man," or delving into the celebrity sound bite, "We Are The World"-ness of it. To say in earnest that music is changing the world around it, and not just providing a platform for ego and self-interest, you need something more concrete. One man providing something tangible in that regard is Israeli singer/songwriter Idan Raichel. For over a decade, Raichel has been combining musical languages from all corners of the globe both figuratively and literally, creating seamless juxtapositions of cultures and styles and molding them into a genre all his own that the term World Music does little justice. His band, the Idan Raichel Project, will perform without him at the Daniel Pearl Day concert in Taipei this year, with the founder being called at the last minute to appear at a concert in New York put together by hip hop icon Jay-Z.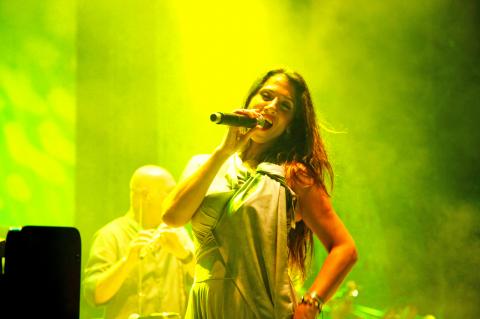 The Idan Raichel Project will perform tomorrow at the Daniel Pearl Day of Music, a free concert held at Taipei Hakka Cultural Park.
Photo courtesy of Elad Weizman
Attendees in Taipei will still have a chance to see his namesake group, however, which takes on various incarnations of anywhere from three to 25 musicians on stage. The result is a form of expression that goes far beyond musical boundaries.
"These musicians, without the band, might never [have] met otherwise," says Raichel in e-mail interview with the Taipei Times.
"These are musicians from totally different backgrounds, from rock musicians, to village African musicians, from East European classical musicians to DJs of electronic music. They have came from such different places, Morocco, Yemen, the US, Argentina, Ethiopia, the former U.S.S.R., and who knows if they could meet all in the same room without the Idan Raichel project."
The journey to worldwide recognition for Raichel was a slow one at first. Upon introducing his ambitious melding of music to record labels in his homeland a dozen years ago, he was met with resigned comments on how his style was too "ethnic" to make its mark on the pop scene. But Raichel was determined to give the diverse minorities of Israel a voice.
"In our beloved country," says Raichel, "there are so many immigrants from so many places around the world, but their voices would not have been heard in the mainstream. The main change that we did with the band is to bring the voices of the streets, the real voices, to the mainstream."
As the most recent bloody war between Israel and Hamas on Gaza has so tragically illustrated, the Holy Land is a land divided by religious and ethnic conflicts that have raged for millenia and more. These conflicts show no signs of abating in any permanent or meaningful way. In a land of many faiths, each of which has shed the innocent blood of the other, there are hardliners on all sides who take a very literal interpretation of their varied scriptures. Unsurprisingly, Raichel has found that not everyone in his country supports his progressive approach.
"I quote in my songs traditional texts," he says. "There are many biblical influences. So one Rabbi said that it is not nice to have these holy texts in mainstream music sang by a female singer. [A] Female voice should not be heard singing by the orthodox Jewish people. But another Rabbi said that he is happy that I am bringing these texts to the world."
Therein lies a microcosm of the often violent struggle within Israel and the world at large for identity and acceptance. We are a world of many voices, many creeds, many nationalities and races. In the Information Age each voice has a platform to be heard. It can be near impossible to rise above the deafening din. But music can bring focus to what is otherwise an overwhelming cacophony. It provides clarity, says Raichel — a means of seeing things in a different light.
"If you put 40 people in the room and you ask them to talk, everyone at the same time, it will be a total mess. But if you ask them to sing all together at the same time, you hear very interesting harmony."
■ Daniel Pearl Day 2014 takes place tomorrow at Taipei Hakka Cultural Park (客家文化主題公園), 2, Tingzhou Rd Sec 3, Taipei City (台北市汀州路3段2號). Bands will perform on two stages beginning at 2pm. The Idan Raichel Project headlining the World Stage at 8 pm, and 88 Balaz Seeds (8十八顆芭樂籽) headlining the Rock Stage at 8:30pm. Admission is free.
Comments will be moderated. Keep comments relevant to the article. Remarks containing abusive and obscene language, personal attacks of any kind or promotion will be removed and the user banned. Final decision will be at the discretion of the Taipei Times.