Live Wire: Don't call it a supergroup
Supergroups rarely work out the way we hope they will, at least for that first fleeting instant when the project is initially announced. It's almost always the same. On paper, the meeting of brilliant and eclectic minds looks like a surefire recipe for pure musical alchemy. Then, partly due to impossibly high expectations that nothing short of the second coming of Frank Zappa and the Mothers of Invention could have satisfied, the project falls flat in its face. Lou Reed on his own was one of the most important innovators in the history of modern popular music. Lou Reed with Metallica was a whole new breed of awful. In short, just because artists who have achieved success on their own or as part of a group can work together doesn't mean they should.
So when three musicians of such rare talent and pedigree as Marco Minnemann (drums), Guthrie Govan (guitar), and Bryan Beller (bass) announce that they are getting together to work on a fusion project called The Aristocrats, the sense of skepticism comes on thick and fast. Minnemann has played with everyone from instrumental guitar virtuoso Paul Gilbert to technical death metal legends Necrophagist; Govan has played with Asia and Steven Wilson, among many other notable names; and Beller, who tours with the alien himself, Joe Satriani, has recorded with Steve Vai for 15 years, and has formed a longstanding musical partnership with former Zappa guitarist Mike Keneally. All are brilliant solo artists and composers in their own right, too.
One would think that putting these three in the same room together would be nothing short of a disaster. Too many cooks in the kitchen, and all that. Fusion is a tricky game. It can easily devolve into the clumsy tacking on of disparate parts gleaned from genres x, y, and z simply for the sake of putting x, y, and z together — not because they sound particularly good when played in sequence or rearranged in any of the infinite possible permutations. So then what makes The Aristocrats sound so natural on record?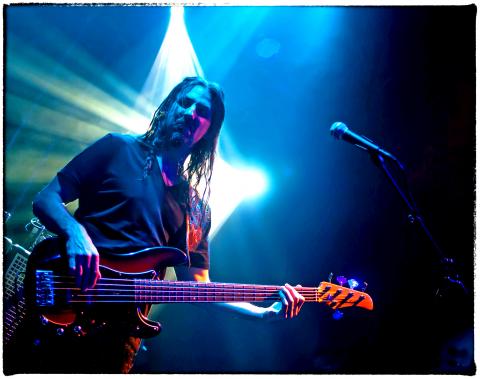 Aristocrats bassist Bryan Beller's career has taken him from jamming with Joe Satriani to playing with animated death metal band Dethklok.
Photo Courtesy of Kris Claerhout
"It's the kind of thing that comes from having a lot of shared musical influences and backgrounds so that it's really a part of us whether we're playing together or not," Beller says over the phone from Europe where he's just wrapped up another tour with Satriani.
"So when we get together, the thing that makes us us is always there."
That intangible "we" that now seems so clear to the trio was present almost from the outset, according to Aristocrats lore. They first got together to play what was supposed to be a one-off show at the Winter NAMM trade event in Anaheim, California in January of 2011. But such was the response of the crowd and the level of on-stage chemistry that they immediately felt the forces of destiny were at work. Rather than second guess it, they decided to run with it. They agreed that each would independently write three songs for their eponymous debut record. They had at their disposal that terrible unknown freedom to create within the limitless bounds of fusion. A little bit of jazz, a heaping helping of classic rock, some Zappa. Somehow, it all came together, even if they didn't know exactly what they were getting into, says Beller.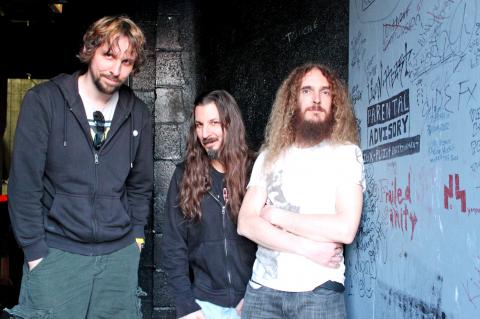 The Aristocrats take fusion away from jazz and into the sphere of classic rock.
Photo Courtesy of Jennifer Young
"The first record we didn't know what we were writing for because we didn't know what the project was. We didn't know if it was gonna be a real band or not. We were hoping, but you never know. And so we just wrote what we thought would be cool."
Though each of the members of the band busy themselves with a steady cycle of recording and touring with multiple acts, in addition to managing their own solo careers, The Aristocrats have found plenty of time to tour together. And it's precisely that time on the road that has galvanized The Aristocrats into a real band comprised of players who understand each other in terms of both their playing ability and their individual idiosyncrasies. That level of intimate knowledge of each other, as Beller describes it, showed through in the band's second album, 2013's Culture Clash.
"Once we toured together for the first record, we put that into the second record with a much greater knowledge of who we were and what we did," Beller says. "At this point, we can write a little thing, like, 'Oh, this'll be super fun for Guthrie to do.' Or, 'Marco'll have a blast with this.' So the familiarity has helped in a lot of ways."
So, call The Aristocrats an anomaly. A supergroup that delivers beyond the allure of the names involved and becomes more than just the sum of its parts. In fact, let's not call it a supergroup at all. Let's just call it a band.
■ The Aristocrats play Sunday at Riverside Live House (河岸留言—西門紅樓展演館), 177, Sining S Rd, Taipei City (台北市西寧南路177號). Tickets are NT$2,000 in advance, NT$2,500 at the door, with group rates available. Doors open at 8pm and the show gets started at 8:30pm.
Comments will be moderated. Keep comments relevant to the article. Remarks containing abusive and obscene language, personal attacks of any kind or promotion will be removed and the user banned. Final decision will be at the discretion of the Taipei Times.