Indigenous matters
Following a series protests against tourism in tribal villages in recent months, Aboriginal rights activists say the problem lies in their lack of land rights
There has never been a "tour" in Taiwan quite like the one given earlier this month at the Tourism Bureau headquarters in Taipei.
"Now, everyone, let's take a look over there. You can see the staff are performing the act of working," a tour guide said, pointing to employees behind a glass door.
"Wow, so that is what they wear at the Tourism Bureau. But where is your buttoned Mandarin jacket?" a curious "sightseer" observed.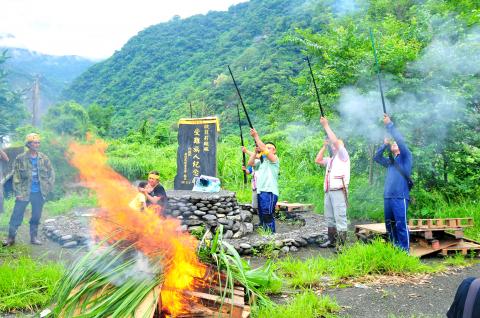 Residents of Mqmgi Village in Hualien County's Sioulin Village fire hunting rifles early last month.
Photo: hua meng-ching, Taipei Times
At another spot, a young Aboriginal woman dressed in high heels and a summer beach hat, snapped a few "selfies." Other tourists asked the civil servants to sing and dance.
Several bureau employees protested that it is a workplace, not a tourist attraction.
"Tribal villages are where we live, not tourist attractions either," a "tourist" answered back.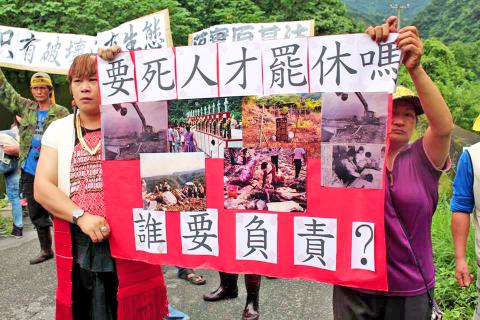 The villagers of Knkreyan block the road leading to the village in protest earlier this month against exploitative, polluting and disruptive tourism.
Photo courtesy of Rakaw Didi
Surprise protest
Namoh Nofu, an Aboriginal rights activist who acted as the "tour guide," said that what started as a chat with friends on Facebook turned out to be a successful surprise protest against the agency's plan to promote Aboriginal ceremonies and rituals as tourist events.
"We got upset talking about it and came up with the idea of touring the bureau," he says.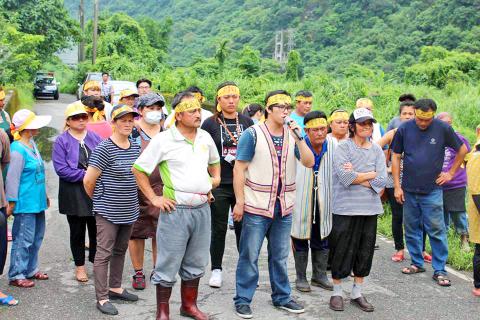 Aboriginal rights activists block the road going into Mqmgi Village early last month to protest what they regard as disruptive tourism.
Photo: Photo: Hua Meng-ching, Taipei Times
The "tour" of the Tourism Bureau ingeniously encapsulates what Namoh Nofu and other activists have tried to do to raise awareness of Aboriginal rights that they say are often overlooked in Taiwan's Han-centric society.
"Since the education system fails to integrate our cultures [into the public school curriculum] ... we need ... to expose the public and our own people to the Aboriginal issues," Namoh Nofu notes.
What 'harvest festival?'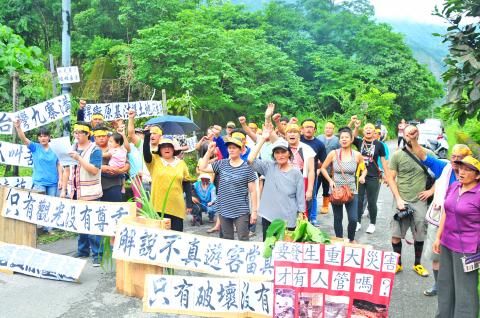 Give us our land rights.
Photo: Hua Meng-ching, Taipei Times
This includes targeting the type of tourism promoted by authorities to encourage vacationers to visit tribal events such as the "harvest festivals" (豐年祭) held in Pangcah (Amis) communities along the island's east coast every summer.
It may come as a surprise to Han tourists, Namoh Nofu says, but there is no such thing as a harvest festival as promoted by tourism pamphlets. The Pangcah communities in different regions have rituals known by various names, such as Ilisin, Malalikit, Malikoda and Kiluma'an. While each one is distinct, the rituals are important occasions where a tribe's cultural inheritance is passed down to younger generations.
Take Namoh Nofu's hometown, the Pangcah village of Tafalong (太巴塱) in Hualien, for example. The Ilisin ritual was originally about offering sacrifices to the hunted heads of the tribes' enemies. During the ritual, which lasts several weeks, tribal youth would carry out community projects such as mending thatched roofs and learning how to hunt, all of which culminates in a ceremony dedicated to expressing respect to ancestral spirits and the elderly.
"These rituals are important because they encompass the whole aspect of our culture. So are they a performance?"
Yes they are — at least in the eyes of government officials. Every year, local governments allot some money to each tribal village — usually, Namoh Nofu says, around NT$150,000 — through government-funded community development associations managed by tribal leaders in the village, who will then recruit villagers to learn songs and dances that are promoted by the local government to tourists as an Aboriginal festival.
Each participating performer receives "NT$1,000 and a lunchbox" on the day of festivities, which is presented to tourists who are brought in by dozens of tours buses, who "walk right into the middle of the ceremony with cameras and snap away or start dancing with villagers without being invited."
"Now 90 percent of the Pangcah rituals are reduced to tourist activities ... Our traditional [social, religious and political] organizations are collapsing, while our rituals have continuously become tourism commodities. In the end, we will have to face the ultimate question regarding our survival as a race: who am I?" he says.
The Truku village of Knkreyan, which is also known as Tongmen Village (銅門), in Hualien County's Sioulin Township (秀林), knows the adverse impact of exploitative tourism all too well. Ever since the village was opened for tourism in 2006, its natural attraction — known as Mqmgi — has quickly become popular with tourists. During the high season, more than 100 vehicles, ranging from motorbikes to minibuses, enter the area daily, causing damage to the environment and disrupting the local way of life.
The visitors litter, barbecue by the river and leave trash behind; their cars pollute the air and cause traffic jams that turn a 20-minute drive to farmlands into a 90 minute trek. When taking a group tour through the village, drivers sometimes speed up to 60km per hour on narrow roads, honk and yell "get out of the way," says Rakaw Didi, a spokesperson for the village.
Residents say tourism, which is controlled by tourist agents from outside the village, has brought nothing but problems and disappointment. Promised tour guide jobs for Truku youth have yet materialize, Rakaw says.
Instead, Han tour guides monopolize the industry and "talk nonsense" about his village.
In June, over 50 Knkreyan inhabitants gathered at a monument erected in remembrance of 36 villagers who were buried by mudslides triggered by Typhoon Ofelia in 1990 and performed a ritual by firing gunshots into the air and sending up smoke signals to declare their determination to defend their traditional territory. During the protest, they blocked the road leading to the village and asked visitors to enter on foot.
Rakaw says they are forced to resort to the protest after exhausting all possible means to communicate with government agencies. The villagers have repeatedly expressed concerns to local culture and tourism departments and police. Their concerns, however, were simply ignored.
"We went to the police station, they said there are no regulations to reduce the number of cars entering the village. We went to the township office and they said we need to go to the county government, which sent us back to the township office. We invited them to our tribal meetings, but no one came," he says.
Land rights
Namoh Nofu says the core problem doesn't lie with exploitative tourism but the lack of protection of the right of indigenous peoples to their traditional territory.
"Tourism is only a symptom of the colonial policy [of the Han-centric government]. Without land, we lose the basis for the development of our cultural, social, spiritual and economic survival ... To solve the problem, we need to return to the question of self-determination and autonomy, of whether or not we can make our own decisions," the Pangcah activist says.
Territorial rights are another issue. Namoh Nofu says that under Japanese colonial rule, reservations for indigenous peoples on the island amounted to 1,960,000 hectares and were significantly reduced to 260,000 hectares after the Chinese Nationalist Party (KMT) and its government gained control.
Politics as usual
As in many indigenous communities, Knkreyan suffers from internal conflicts as well. Rakaw says the main lies in the fact that decisions concerning the entire community are only made by a small group of people.
A clear example can be found in the aborted plan to set up a natural park at Mqmgi. Initiated by the government-funded Mqmgi Industry Development Association (慕谷慕魚產業發展協會) in 2002, the plan was approved by the county government in 2006. But it wasn't until 2011, when the county government held the first public hearing, did the villagers of Knkreyan learn about the project.
"Over the years, decisions have been made through closed-door meetings participated by township representatives, [Tongmen] village chief, township mayor and heads of the development association. They alone decide what is best for the whole community," Rakaw says.
Knkreyan residents organized tribal meetings, open to all individuals "ranging from toddlers to an 80-year-old grandparent," and the plan was withdrawn in 2012 due to strong objection.
However, the practice of government authorities co-opting tribal leaders has proven difficult to address.
"Plenty of resources come in the name of tourism, but nobody knows how these resources are allocated ... The government resources are controlled by a few people, and they promote tourism regardless of what the rest of villagers want," Rakaw says. "We don't want a plan made by some academics and imposed on us."
Namoh Nofu says that those who work for or at government agencies in villages are often regarded as tribal elites and exert a great influence over villages.
The current dispute over tourism in Knkreyan remains unresolved. Rakaw says their only remaining way of correspondence is through resolutions made by tribal meetings which are delivered to the Council of Indigenous Peoples (原住民族委員會), adding that the council's Economic Development Department has promised to resolve the issue through "high-level meetings."
"But if we don't hear from them, we will be forced to protect our land in our own way," Rakaw says.
Back in Taipei, Namoh Nofu scrolls through feeds on his Facebook page, looking for news and ideas that require further attention.
"People won't rebel if they don't know they are repressed. Well, we are here to show them how things are messed up," he says.
Comments will be moderated. Keep comments relevant to the article. Remarks containing abusive and obscene language, personal attacks of any kind or promotion will be removed and the user banned. Final decision will be at the discretion of the Taipei Times.