Live Wire: Dismantling the zeitgeist
Mike Shinoda of Linkin Park recently said rock isn't influencing the zeitgeist. Why mention Linkin Park (and I mean ever)? Bear with me. Where do you go if rock isn't moving the proverbial cultural yardsticks? You've got to get weird. All the way weird. I'm talking beyond Zorn and Zappa levels of oddness. When was the last time rock did anything but get bloated, fat and boring? When did it last do anything but suckle the fat teats of corporate radio? Who knows? I certainly don't. By and large I gave up, tuned out and dropped out when Nickelback broke big. It has been all downhill from there. In a perfect world, the Melvins and Melt Banana would be the biggest bands in the known universe. But that's a world we'll never know.
So what are we to do? Just lay back with the headphones on and a glazed expression of acceptance beaming from bovine eyes? Hardly. The answer is what rock once was, or rather what it could have been if it hadn't become big business. Let's just settle on what it tried to be before the cultural colonialist suits came long. Pure rebellion instead of all this yeah, yeah, yeah, ha-ha, baby, baby, baby, arena rock jock jam mom and dad fist pumping. No heart, no soul. Radio Nosferatu. The undead that won't just go curl up in a nice dank grave somewhere out of the way.
The answer isn't even punk. There's life in the old girl yet. Plenty of bands still waving the middle finger. But that digit was long ago co-opted by pop culture. Our greedy white paws have proven themselves adept time and again at strangling the danger out of anything that dares to bare its pearly fangs. That's why the future — the only one worth living in, anyway — is noise.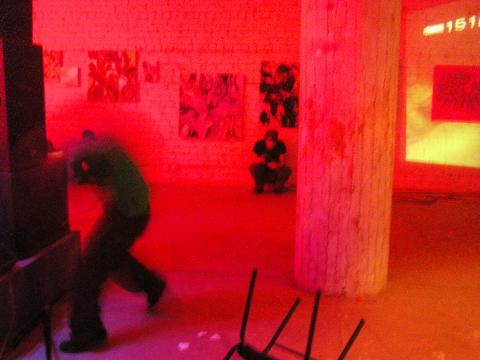 Performances by Torturing Nurse push not only sonic but visual boundaries as well, testing the limits of the audience in ways they never imagined.
Photos courtesy of Cao Junjun
What noise does, exactly, is reduce everything we know as music — everything comfortable, mundane, forgettable and marketable — to an absurdity. An uncomfortable, calamitous blast of reeking miserable humanist truth. Noise confronts in a way that which we traditionally regard as music never could. It berates us with the unwelcome, the unexpected, the unnerving.
Noise artists are also prolific in ways commercial music makers will never be. Unbound by the monotonous necessities of the corporate world, they put out self-dubbed tapes and CD-Rs of harsh feedback, looped pedal effects, and all manner of the grinding, the grating and the viscerally schizophrenic. The most prolific artists of the genre, such as Merzbow, have hundreds of releases to their name. Shanghai's Torturing Nurse (虐待護士) has nearly 300. The harsh noise duo is regarded by some as the founder of the Shanghai noise scene, and even that of all of China, a fact that half of that pairing, Cao Junjun, aka Junky, couldn't be less enamored with.
"Torturing Nurse may be China's first pure harsh noise groups, but I do not care," he says candidly.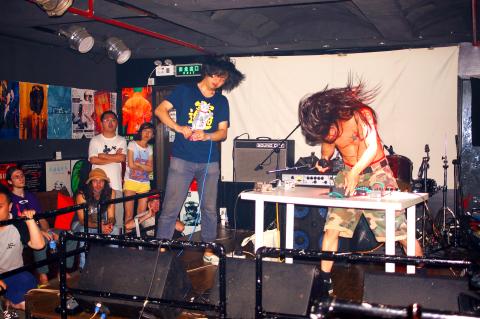 Shanghai-based noise duo Torturing Nurse blasts audiences with harsh walls of feedback and grinding pedal effects.
Photos courtesy of Cao Junjun
Despite a near complete disregard for recognition, Junky curates the semi-regular NOIShanghai series of gigs, attended, by anywhere between 10 and 30 people. The largest crowd he's ever performed for, by his own estimate, is somewhere around 200. That's the noise scene, in a nutshell. Small, almost militantly introverted, strange. Watch the documentary People Who Do Noise, about the experimental music scene in Portland, Oregon, and you'll get a clearer picture of the kind of person drawn to this extreme end of outsider art. They see things differently than you and I, let's put it that way. Then again, maybe they're not so different. Maybe they just have a lower tolerance for normal. Even Junky got his start in mainstream rock bands. It wasn't to last, however.
"The traditional guitar, bass and drum preparation in rock didn't excite me," he says of his decision to leave rock behind. "I wanted more freedom to take into account performances, and a more extreme sound."
Junky describes the perfect Torturing Nurse performance as "Extreme harsh nihilism noise," and nihilism clearly plays a large role in the way he views the world. His answers to queries are brief, at times dismissive and always betraying a deep sense of pessimism. How else could one do what he does without it? For some artists, it is their immediate surroundings that shape their creative output. James Joyce may have left Ireland, but Ireland never left him. Perhaps it's the same for Junky, who has espoused his hatred of Shanghai before, though he has never left, save for occasional overseas performances.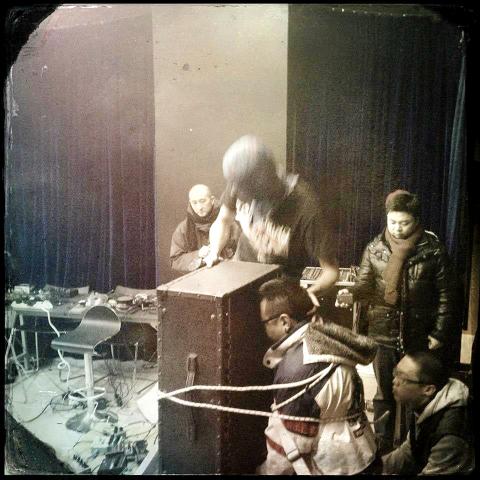 Where do you go when rock fails to evolve? For Torturing Nurse, the answer is devolution.
Photos courtesy of Cao Junjun
"Hate exists because there is love. If you do not love there is no hate," he says. "I just live here."
It might sound like he's being elusive, even derisive, but maybe he's on to something here, even if unintentionally. Hate exists because there is love. In that same sphere of thought noise exists because there is bloated, boring, over-produced rock music. After all, noise is the ultimate backlash. It's not canned aggression. It's aggression's rawest, most unprocessed form. It's primitive and ugly. You might slow down and stare at a car crash. But even hardcore noise fanatics sometimes can't stand to subject themselves to a full gig, having to walk out to heal their ears partway through. Noise is meant to evoke real feelings we might rather remain undiscovered or un-confronted, not about making us feel things we might never have felt before or never will with prefabricated, syrupy verses about love written by Hollywood hacks with spousal abuse convictions and glamor cocaine habits. We don't need rock 'n' roll to influence the zeitgeist. We have noise to destroy it.
■ Torturing Nurse plays Asianoise Connection (亞洲噪音連帶) tomorrow night at The Wall, B1, 200, Roosevelt Rd Sec 4, Taipei City (台北市羅斯福路四段200號B1). Support comes from Jiang Zhu-Yun (蔣竹韻), Mescaline (梅斯卡林) and Sonic Deadhorse (音速死馬). Tickets are NT$600 in advance, NT$800 at the door; the show gets underway at 8pm.
Comments will be moderated. Keep comments relevant to the article. Remarks containing abusive and obscene language, personal attacks of any kind or promotion will be removed and the user banned. Final decision will be at the discretion of the Taipei Times.