Lightness and despair fill the National Theater
Buoyancy and light were the order of the day at the National Theater in Taipei last weekend, while the Experimental Theater was filled with loneliness and despair — and cherry red jumpsuits.
The Mark Morris Dance Group on Saturday night exceeded the high expectations that had heralded its arrival, while Scarecrow Contemporary Dance Company's (稻草人現代舞蹈團) latest production, Singular (單‧身), upstairs in the Experimental Theater earlier in the day, gave a rather depressing outlook on life.
Morris' mixed program opened with a recent work, last year's Crosswalk, set to Carl Maria von Weber's Grand Duo Concertant, for Clarinet and Piano, which was light and lyrical, though with a hint of underlying darkness. The work exemplifies his musicality and imagination. The dancers — women dressed in tangerine and orange tops and skirts, the men in white T-shirts and dark pants — run, skip and tumble across the stage in bursts of energy. However, in the midst of all this fun, pushing and shoving between two women and one man belie the lightness that surround them.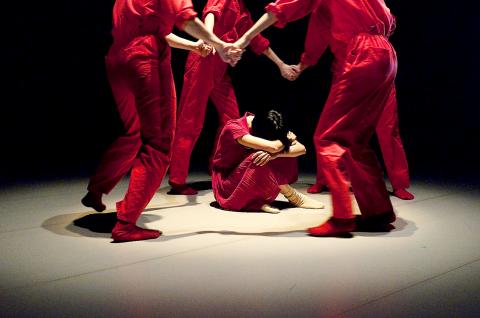 The Greater Tainan-based Scarecrow Contemporary Dance Company performed Singular, at the Experimental Theater in Taipei last weekend.
Credit: Courtesy of Liu Ren-haur / Scarecrow Contemporary Dance Company
All Fours, from 2003, is set to Bela Bartok's String Quartet No. 4, emitted a much darker mood. The demanding music evokes feelings of uncertainty, which are reflected in the stark, harsh movements of the dancers, who frequently clasp their hands above their heads as if in desperate prayer.
Symmetry is key to Festival Dance which premiered in 2011 and is set to Johann Nepomuk Hummel's Piano Trio No. 5 in E Major. The piece begins and ends with a couple embracing to the right of the stage. The 12 dancers twirl in pairs or divide in half, joining hands for geometric line dancing. The movements are reminiscent of simpler times, of village fetes and harvest celebrations, and brought to mind Jerome Robbins' Dances at a Gathering. The piece represents what so many love about Morris' work — the lush romantic lyricism and grace of classical ballet, but without the tutus, tights and toe shoes.
A key element to all three works on the program was that the dancers were accompanied by the troupe's seven-man music ensemble, in various formations. The rippling notes of the piano appeared to give added lift to the dancers in Crosswalk and Festival Dance. Dance just seems to breathe to live music and music has always been the key to Morris' works.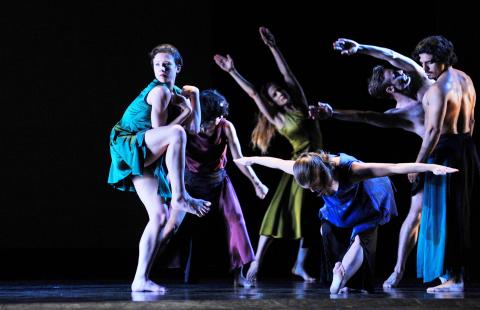 Dancers of the Mark Morris Dance Group perform during a rehearsal of Grand Duo at the National Theater in Taipei on Thursday last week. The US group performed at the National Theater in Taipei last week and will be at the Tainan Municipal Cultural Center in Greater Tainan tomorrow and Friday.
Photo: Mandy Cheng, AFP
The Mark Morris Dance Group will perform at the Tainan Municipal Cultural Center in Greater Tainan tomorrow and Friday. Friday night will be the same program I saw; tomorrow night is Program A, which is composed of two pieces set to Mozart — Eleven, set to Piano Concerto No. 11 in F major, K. 413, and Double, set to Sonata for Two Pianos in D major, K. 448 and Grand Duo, which is set to Lou Harrison's Grand Duo for Violin and Piano.
Scarecrow artistic director and choreographer Luo Wen-jinn (羅文瑾) cited US author Paul Auster's The Invention of Solitude as inspiration for Singular, which follows a "Time Wanderer" — whose image was derived from Luo's father — through different eras and a multitude of meetings, partings, separations and rejections.
A quick look at the names of some of the other characters in the program and it is easy to see there will be no happy endings: Kid Without Love, Lonely Woman, Mother With Hollow Soul and Rejected Girl.
Luo shows that isolation is not just a human concept, with her fighting fish scenes and a flock of panicked birds. The pain comes from the repeated attempts by the rejected to insert themselves into pairings and group activities despite continual rebuffs.
The vast white tiled wall that formed the backdrop to Singular conveyed both an image of modern urban in Taiwan, with its omnipresent tiled apartment buildings, and formed a barrier that kept the characters trapped within their stories.
Despite the painful subject, the choreography and the eight dancers, including Luo herself, were always interesting to watch. Most of the dancers portrayed multiple roles that required repeated quick costume changes, so kudos to their off-stage helpers who made that happen.
With Singular, Scarecrow Contemporary Dance Company continues to demonstrate that a troupe does not have to be based in Taipei to remain topical, edgy or adventurous.
This story has been amended since first published to correct the photo captions.
Comments will be moderated. Keep comments relevant to the article. Remarks containing abusive and obscene language, personal attacks of any kind or promotion will be removed and the user banned. Final decision will be at the discretion of the Taipei Times.