A storyteller weaves his magic in voice and dance
The Bill T. Jones/Arnie Zane Dance Company is making its second appearance in Taiwan this weekend as part of the Kaohsiung Spring Arts Festival, bringing with it Jones' autobiographical 'Story/Time'
As so often happens with dance in Taiwan, fans suffer through periods of feast and famine, though luckily the former is usually the problem. Contemporary dance fans have an even tougher choice this weekend with performances by two legends — but at either end of the country.
French ballerina-turned-modern dancer Sylvie Guillem has brought her show, 6000 Miles Away, to Taipei for two performances at the National Theater, while Greater Kaohsiung is playing host to the Bill T. Jones/Arnie Zane Dance Company, which is performing Jones' latest work, Story/Time at the Chihteh Hall in the Kaohsiung Cultural Center tonight and tomorrow afternoon.
Dance lovers in southern Taiwan owe a huge debt of gratitude to the programmers of the annual Kaohsiung Spring Arts Festival (高雄春天藝術節) for managing to arrange an appearance by Jones' company, only the second time it has visited Taiwan.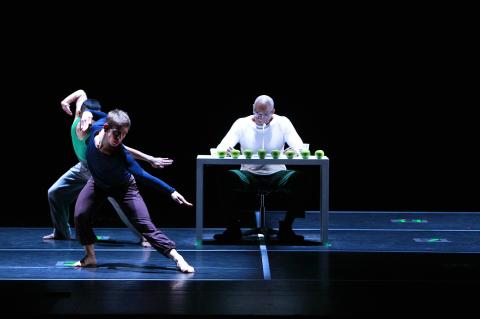 The Bill T. Jones/Arnie Zane Dance Company performs Jones' "Story/Time" at the Kaohsiung Cultural Center's Chihteh Hall in Greater Kaohsiung tonight and tomorrow afternoon.
Credit: Courtesy of Paul B Goode
The troupe's first trip was almost seven years ago, in September 2007, when it performed Jones' Blind Date at the National Theater in Taipei.
Of great interest to the local media at that time was Taiwanese dancer Lin Wen-chung (林文中), who had been with the company for seven years and was in his final weeks with Jones, having decided to move back home to strike out on his own.
This time around, another dancer is happy to be returning to Taiwan to show family and friends what she has been doing in New York City. Taipei National University of the Arts dance program-graduate Liu I-ying (劉奕伶) has performed with several local troupes, including Ku and Dancers (古名伸舞蹈團) and the Neo-Classic Dance Company (新古典舞團). She joined Jones' group the year after Lin left, in 2008, although she had served as an apprentice the previous year.
The Bill T. Jones/Arnie Zane Dance Company performs Jones' "Story/Time" at the Kaohsiung Cultural Center's Chihteh Hall in Greater Kaohsiung tonight and tomorrow afternoon.
Credit: Courtesy of Paul B Goode
The Bill T. Jones/Arnie Zane Dance Company is now in its 31st year, and luckily the 62-year-old Jones shows no signs of slowing down. In addition to being a dancer and prize/fellowship-winning choreographer, Jones is a writer and a theater director, having co-written and directed the Tony-award winning musical Fela about Nigerian composer and activist Fela Anikulapo Kuti, which premiered on Broadway in 2009.
Early on in his works he began incorporating both text and video, breaking down the walls between a purely "dance" piece and theater. Text plays a key role in Story/Time, which premiered in 2012.
Story/Time was inspired by avant-garde US composer John Cage, whose professional life became inextricably linked with another modern dance great, Merce Cunningham. Cage released an album in 1958 called Indeterminancy, in which he read a series of short stories as David Tudor improvised musical passages on a piano in another room. The trick was that neither man could hear what the other was doing. Cage also performed the piece on stage.
Jones took that idea of mixing narrative with another art form, yet not deliberately connecting them. He wrote about 170 largely autobiographical stories, each a minute or so long. For each show, he chooses 70 of the stories to tell, reading them out in his beautiful, melodious voice while seated behind a simple desk — behind a row of eight green apples — as his dancers perform snippets of choreography that he either created fresh for this piece or assembled from past works along with his long-time associate artistic director Janet Wong.
Like Indeterminancy, the confluence of stories and dances in Story/Times is a matter of chance, not design, but the show is no less spellbinding for it.
It is hard to begrudge the Kaohsiung festival for managing to snare Jones' and company, given that Taipei usually scores all the big-name performances, but I hope Taipei-area fans do not have to wait another seven years to see the troupe again.
This story has been corrected since it was first published to amend the photographer's credit.
Publication Notes
Dance notes
WHAT: Story/Time WHEN: Tonight at 7:30pm and tomorrow at 2:30pm WHERE: Kaohsiung Cultural Center's Chihteh Hall (高雄市文化中心至德堂), 67 Wufu 1st Rd, Greater Kaohsiung (高雄市五福一路67號) ADMISSION: Only NT$1,500 to NT$2,600 tickets left; available online at www.artsticket.com.tw and at 7-Eleven ibon kiosks and at theater box office before performance
Comments will be moderated. Keep comments relevant to the article. Remarks containing abusive and obscene language, personal attacks of any kind or promotion will be removed and the user banned. Final decision will be at the discretion of the Taipei Times.