Face the music
Taiwan's musicians have been on the front lines in the campaign against the cross-strait service trade pact, with some organizing performances at the protest venue
When the Legislative Yuan was first occupied, members of the music groups Masquerader, The Deposers (罷黜者) and Maggot Colony (蠅蛆殖民地) were amongst the first inside. On the third night of the protests, thrash band Bazooka organized an impromptu performance near the protests as a show of solidarity. Though the focus of the protests over the cross-strait service trade agreement has largely been on student involvement, Taiwan's musicians have also been putting themselves directly in harm's way.
The White Eyes's singer Kao Chih-wei (高芷瑋), like many musicians, claim to have fallen victim to what seems like excessive force at the hands of baton and shield-wielding police officers who also employed the use of water cannons to disperse protesters. Kao, a veteran of several protest movements, says she was pulled by police from her passive, seated position on the street in front of the Executive Yuan in the early hours of Monday.
"They surrounded me and began to kick [me in the stomach] — maybe at least five or six [police officers]. I said to them, 'I am a girl. Why are you beating me?' But they kept beating me. I can't remember for how long," Kao says.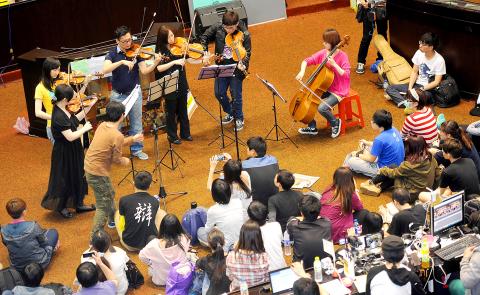 Musicians play on the legislative floor on Wednesday in support of students protesting the cross-strait service trade pact.
Photo: Liu Hsin-de, Taipei Times
She adds that they surrounded her so that no one else could see what was happening, which falls in line with media accounts that police ordered reporters away before becoming physical with protesters.
Kao has been at the protest every day since it began and will keep returning until the day the trade agreement is sent back to the legislature.
"If we stop this time," she says, "I can't imagine what will happen in the future."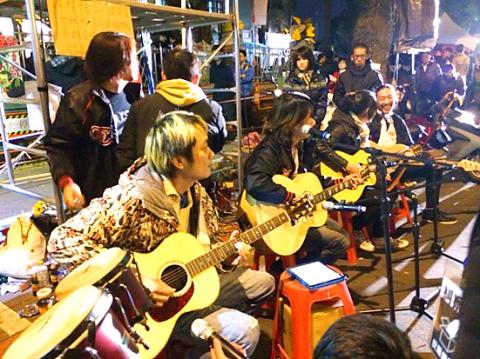 The Chairman plays in front of the Legislative Yuan on Tuesday in support of students protesting the cross-strait service trade pact.
Photo: Wang Yu-hui, Taipei Times
SUPPORT FROM NON-TAIWANESE
Foreign musicians and artists, even those with permanent residency in Taiwan or those married to Taiwanese, face their own unique dilemma during this time of crisis. Non-Taiwanese taking part in activities such as political demonstrations are deemed to be in violation of the stipulations of their visa and subject to deportation. In other words, join forces with the activists, and you could see yourself banned from your adopted homeland.
This is something American Keith Saunders, a long time Taipei resident who performs and creates under the name Floaty, has wrestled with every day since the protests began. A father to a baby girl, both Saunders and his Taiwanese partner feel it is their duty to defend Taiwan's democracy. He has gone to the protests to observe, along with his family, but says he can't actively lend his voice, though it's not because he is afraid to.
"While I wanted to sing at the protests, I withheld," he says. "This moment is for the Taiwanese people. It is all about Taiwanese citizens standing up and determining their own fate. It is not my song to sing. It is a song for me, and for the rest of the world, to listen to."
Everyone taking part in these protests is putting something on the line. They are risking their health, possibly even their lives, and if not those things then at the very least their livelihood. Full-time musician Sarah Wen, bassist for Taipei electro-pop band Go Chic, was also in front of the Executive Yuan in the early hours of March 24 when many documented instances of police beating protesters took place. Her boyfriend, also a musician, says he was among those assaulted, claiming police dragged him away from the crowd to beat him in a more clandestine area.
CHINA BAN
But though he may want to come forward, Wen's boyfriend declined to reveal his name or that of his band, the reason being that his band is headed to China soon for a tour. If he speaks out, he risks being blacklisted and losing a vital source of income. Wen also declined to give her Mandarin name, fearing reprisal should the trade agreement give way to a de facto Chinese takeover of Taiwan by way of economic string pulling — an outcome feared by some economists. The couple attends the protests bravely but anonymously, as do so many others involved in the arts who watch the proceedings with an eye toward an uncertain future.
"I'm worried about the freedom of media and people doing arts and writing," says Wen, who admits to being brought to tears upon watching the news coverage of police manhandling protesters outside the Executive Yuan on Monday.
"China can secretly control the regime after they control the economy." Wen compares Taiwan to Hong Kong, which has witnessed a marked decrease in political and press freedom. "Hong Kong is already in the grave, and we are going in."
One person who does not have to live with the threat of being banned from China is Chthonic vocalist Freddy Lim (林昶佐), who has been blacklisted for several years already. Active with many social causes, including the Taiwan chapter of Amnesty International, and a vocal proponent of Taiwan independence, Lim has never been shy about voicing his opinion, nor has he stayed away from the front lines in this ongoing conflict. Lim, along with some of his band mates, were amongst the first to attempt to occupy the Executive Yuan, and he has remained a visible and vocal presence at the protest throughout, doing everything from giving speeches to providing first aid to injured protesters.
Lim is opposed to free trade agreements in general, saying they only serve to widen the gap between rich and poor countries. He also worries about the future of Taiwan should it sign such a deal with China, a country that has made no secret of its wish for nothing less than unification with Taiwan.
"If a country signs a free trade agreement with an authoritarian country like China, it will give rise to a series of more complex consequences," Lim says.
MORE OVERSIGHT NEEDED
Not all musicians have been so quick to rally around the Sunflower Movement (太陽花學運), however. Aboriginal singer Ayal Komod issued a statement in which he said that he would not take part, citing a lack of support from Taiwanese in matters of Aboriginal rights in the past. Pop rock stars Mayday (五月天) also seems to have backtracked on an initial show of support for the movement after a backlash from their large Chinese fan base.
Then there are those in the music community who have taken something of a middle road. Bixx, who prefers to go by a singular stage name due to the sensitivity of the issue at hand, is the vocalist for rock band Formosa Romance. He has also been at the protests every day since they began, sometimes just for an hour or two, sometimes staying all night. He attends the protests to espouse the simple wish that the service trade agreement go through the proper democratic channels before it is passed or defeated. He is not there to say whether it is right or wrong, but simply to say that those politicians charged with the safekeeping of Taiwan's hard-won democratic freedoms have not done their due diligence.
"I believe there must be some good points to pass the trade services agreement," he says, "but I personally think with what has been going on since President Ma [Ying-jeou (馬英九)] took over the country until now, it's inappropriate to sign this agreement. I'm not totally against this agreement, but I think it's supposed to be the agreement to help us, not to save us."
Comments will be moderated. Keep comments relevant to the article. Remarks containing abusive and obscene language, personal attacks of any kind or promotion will be removed and the user banned. Final decision will be at the discretion of the Taipei Times.