Live Wire: Paint it black
The venues musicians play at can become just as important as the bands themselves, sometimes even more so. I'm not talking about those shiny corporate boxes that make you feel like you should have your Sunday best on just to walk through the doors, but those beautiful, grimy sweat boxes where you can see the perspiration soaked into the walls and breathe in years of angst and expression along with hazardous mutations of black mold as yet unnamed by science. It almost goes without saying that Underworld (地下社會) was just such a place to the Taipei music scene, and a very special recreation of the art that donned its gritty walls is part of an exhibition that opens this weekend.
Taipei-based artist and musician Floaty (Keith Saunders) is as much a part of Underworld's history as anyone. A 13-year resident of Taiwan, the Michigan native who counts among his influences everything from Mad magazine to Marc Chagall started hanging out at the former Shida Night Market area mainstay about a dozen years ago. Eventually he could be found manning the DJ booth a few days a week, spinning Slayer, the Ramones, the MC5. If it was real, Floaty played it. Then the owners asked him to do something about the bare walls.
"The only conditions were I could do what I want," he says, which seems to sum up his approach to life, music and art.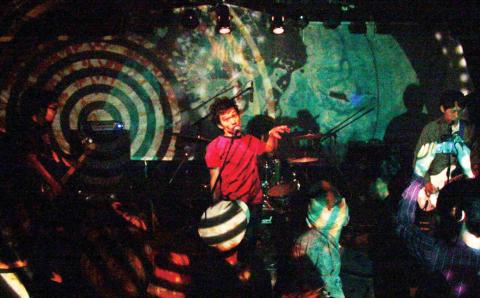 Dark synth, pop and punk are on the menu at Revolver tonight, featuring Japan's The Jongha.
Photo courtesy of Ken Marukuchi
The work itself was an abstract exploration of the many ways music can be taken in and appreciated and the human connections music can help forge. Floaty found himself updating and changing it several times over the years.
"It was really improvised," he explains. "It would have been quicker if I had a plan, but I enjoy improvising a lot; just what I feel at the moment. There was one wall that was about friends, and for me that's what the bar was about," he says.
Sadly, in the summer of 2013, Underworld was forced to close its doors for good, the end result of a concerted campaign on behalf of the so-called Shidahood Self-Help Association (師大三里里民自救會) to rid the neighborhood of anything that made it unique. A cultural landmark was lost forever, and rather than see his artwork become the backdrop for a chain restaurant or shelves lined with designer handbags, Floaty chose to paint the walls black in a symbolic gesture of defiance and closure. The upstairs noodle restaurant was considering expanding into the space, and asked if Floaty would consider selling his work to them. Everyone has their price, the artist says, and he named his: US$10 million. They never got back him on that. Just like that, it was over. The end of an era.
Visual artist and musician Floaty recreates his iconic Underworld artwork as part of a special exhibition opening this weekend.
Photo courtesy of Floaty
This weekend, however, the spirit of Underworld will be resurrected as part of an exhibition at the Museum of National Taipei University of Education (北師美術館) called Altering Nativism: Sound Culture in Post-War Taiwan (造音翻土— 戰後台灣聲響文化的探索). The exhibition, curated by one of Underworld's former partners, Ho Tung-Hung (何東洪), along with the husband-and-wife team of Jeph Lo (羅悅全 ) and Amy Cheng (鄭慧華), features vinyl records from the Martial Law period, installation art pieces exploring the impact of songs that have become ingrained into the Taiwanese psyche, documentary films, listening stations where visitors can take in Taiwanese music from aboriginal artists to pop singers to noise artists recorded from the 1950s to the present, and a reading room with literature related to music history in Taiwan.
The exhibition also features a recreation of Floaty's Underworld artwork done by the artist himself. Though not an exact replica, the large-panel piece encapsulates the raw emotion that billowed out of the basement icon for over a decade and a half and proves that it won't soon be forgotten. Stepping back into the time and place when he created the artwork was moving for Floaty, who admits to getting emotional while preparing the piece.
"After I sketched the whole piece out on the wall, I stepped back to see what I'd done," he says of the experience. "It really was Underworld."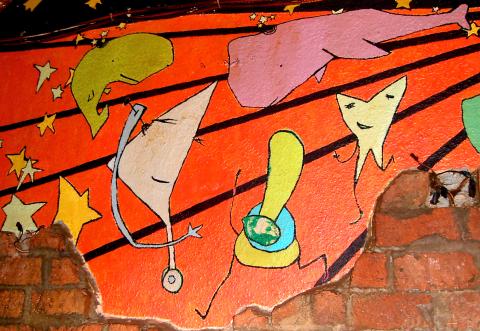 For Taipei-based artist Floaty, Underworld was as much about friends coming together as it was about the music.
Photo courtesy of Floaty
■ Altering Nativism opens tomorrow 3pm at the Museum of National Taipei University of Education, 134, Heping E Rd Sec 2, Taipei City (台北市和平東路二段134號). Open Tuesday through Sunday from 10am to 5pm. Until April 20th.
Before the exhibition opens, you might want to head over to Revolver to check out a display of dark synth-driven pop, rock and punk tonight. Local gothic death rockers Qi Lai Observatory (奇萊山觀測站) are on the bill along with Vermillion Lies and The Jongha from Japan. If you're wondering just what in the hell "The Jongha" means, it's the Anglicized version of the Japanese word for Throbbing Gristle, a nod to the experimental progenitors of the industrial genre. The band was formed 15 years ago by vocalist Ken Marukuchi and a crew of high school friends, and in the ensuing years they've put out four albums and evolved from being a noise band to more of a punk type of sound, in the way that The Clash were considered punk. For Marukuchi, punk is more of a state of mind and being than anything else.
"My biggest musical influences are from John Lydon," he says, adding that, "I feel more empathy to his way of life than his music."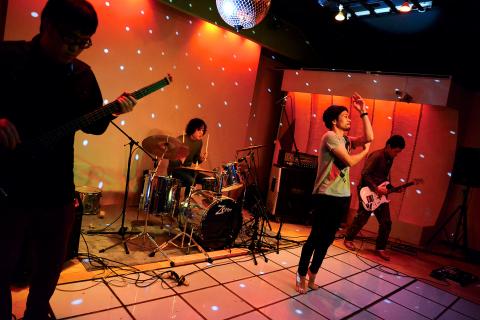 The Jongha will give you a taste of Throbbing Gristle.
Photo courtesy of Ken Marukuchi
■ The Jongha, Vermillion Lies, and Qi Lai Observatory play tonight at Revolver, 1-2 Roosevelt Road Sec 1, Taipei City (台北市中正區羅斯福路一段1-2號). Doors open at 7:40pm and the show starts at 8pm. Tickets are NT$350 in advance, NT$400 at the door.
Comments will be moderated. Keep comments relevant to the article. Remarks containing abusive and obscene language, personal attacks of any kind or promotion will be removed and the user banned. Final decision will be at the discretion of the Taipei Times.