Live Wire: The Anti-Band
At what point does music become commercial? If music is your full-time job, meaning you have to put a new album out every one or two years in order to survive, does the fact that you have to produce something make the music that comes out more of a product than a piece of art? I'm talking about real creativity here, ladies and gentlemen, posers and artists among you. If music is governed by thoughts of, "I need to get this record done so I can pay my rent," rather than, "I need to get this record out so people will understand who I am, who they are and how the world really works," is it just another pre-fab widget on tape? Maybe the real artists are the ones who keep a day job and create when the time is right.
This is the attitude taken by Taipei post-punk band Touming Magazine (透明雜誌). Formed in 2006, and with two EPs and one full-length record to their name, the band hasn't put out anything new since 2012's Forever EP. That's hardly a lifetime by music industry standards, but generally bands like to have something new on the shelves at least once every two years, if only to let people know they're still around. But what's artistic about that? Putting out a product just to say, "I'm still here." Why not wait until you actually have something of substance to say?
For Touming Magazine, nothing is calculated. There's a right time to step forward and make a statement. And that time could reveal itself even at the most inauspicious times. Take the band's first EP, recorded on impulse right after a show at National Taiwan University (國立臺灣大學) in 2007. You might think the band put on a blazing performance and strode into the studio high on the roar of the crowd and their own sense of self-confidence. Not so, says vocalist/guitarist Hom Shen-hao (洪申豪).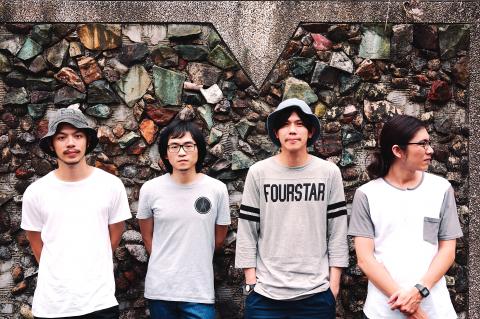 Taipei-based post-punk band Touming Magazine plays its first show of 2014 at The Wall this Sunday night.
Photo courtesy of Lo Yi-Fan
"The show sucked! We didn't have a groove at that time. But we had to move on to the next stage," Hom says over the blare of J-Pop at a Japanese chain restaurant.
Hom started the band after playing guitar in emo/hardcore group Fall Of This Corner, which also featured current Touming Magazine drummer Trix Tang (唐世杰). Fall Of This Corner had a sound that was easy to pin down, whereas Touming Magazine is all over the stylistic map, drawing from far-ranging wells of influence from the Dischord Records hardcore punk catalog to Pixies, Fugazi, and Superchunk. There's never been an agenda in the band to suit any particular style. Hom and Tang have been there, done that, and they aren't going back.
"In Fall of this Corner we had a certain style that we wanted to play," Hom says. "But sometimes I think it limited the possibilities of the music. So when I wanted to start Touming Magazine, I thought, let's play some simple, straight stuff at the beginning and see what it will become in the future."
This elastic approach has afforded the band opportunities few other acts in Taiwan have enjoyed. They've opened for acts as disparate as grindcore legends Napalm Death to emo/punks The Get Up Kids to fellow transcendentalists The Flaming Lips. When you don't subscribe to any one school of sound, of course you can hang with such a colorful cast of characters and never seem out of place. Just don't tell Hom it's all part of some grand scheme.
"We don't do this purposely. We all grew up listening to punk rock and metal and psychedelic — everything we love. So I think when the opportunity comes to us, it's natural. We want to tell people they can listen to all kinds of music and love it and you can play it. You don't have to limit yourself. You can love every kind of music."
One thing Touming Magazine has in common with all the bands they have shared the stage with over the years is that they would likely consider themselves accomplished musicians. Yet that's another thing that sets Touming Magazine apart — a near total lack of ego and pretension. Even though they have cultivated what is arguably the most rabid grassroots fan base of any alternative band in Taiwan, they still don't consider themselves musicians at all.
"I'm not a musician," says guitarist Vincent Chang (張盛文), not being deliberately self-deprecating for the sake of appearing humble; merely making a statement of fact. "I'm a music lover."
"We all suck at music," Hom continues, drawing earnest agreement from the rest of the band. "In my generation, all the kids who play music, some of them are well-trained. You play with them and they'll talk about a lot of theory. But we don't talk about that. We just play. And when we play, we don't care about how bad we are. We just want to have fun."
The next album? It'll come when it comes, and not a moment sooner. There's no major label to appease, and the rent? The day jobs cover that. The music is as far removed from monetary or commercial concerns as it can possibly be. That's what makes what they do art. And for now, Touming Magazine develops at its own pace, the way it always has.
■ Touming Magazine plays with 88 Balaz Seeds (八 十 八顆芭樂籽) and headliners Eastern Youth (Japan) this Sunday, January 19th, at The Wall, B1, No. 200, Roosevelt Road Section 4, Taipei City (台北市羅斯福路四段200號B1). Doors open at 19:00 and the show starts at 19:30. Tickets are NT$1,200 in advance, NT$1,400 at the door.
Comments will be moderated. Keep comments relevant to the article. Remarks containing abusive and obscene language, personal attacks of any kind or promotion will be removed and the user banned. Final decision will be at the discretion of the Taipei Times.