The waste land
Peter Nelson's show of video and sculpture suggests that Chinese painting predicted today's video games by 500 years, merging both to create a desolate portrait of the artist in contemporary society
Peter Nelson's video Extensions of a No-Place (Wen Zhengming) contains traces of T. S. Eliot's epic 1921 poem, The Waste Land: It is a barren and black-and-white landscape, where the most redeeming features are the dry stone of mountains, dotted with dead trees, juxtaposed with broken fragments of poetry and song.
It is disarming in such a way that you want to get inside this bleak, futuristic landscape (recalling the movie Tron Legacy in many ways) and stand beside the isolated characters.
But in this sense his exhibition, Extensions of a No-Place, which is part of the National Palace Museum's New Waves Show in Tainan — comprising video, drawings and sculpture — achieves an aim of Chinese painting: to make the viewer want to swap places with the figures therein.
Peter Nelson, Mountain Drawing — The First Time I felt at Home (2009).
Photo courtesy of Peter Nelson
While it shares with The Waste Land alienation and fragmentation, high-intellectualism and broad allusion, Nelson takes artistic inspiration from Song Dynasty landscape paintings, such as Wen Zhengming's (文徵明) Imitating Zhao Bosu's Illustration of the Latter Red Cliff (仿趙伯驌后赤壁圖) and Qiu Ying's (仇英) Spring Morning in the Han Palace (漢宮春曉).
Fractures
Nelson, who is Australian, is searching for something: perhaps the redemption that is a core part of The Waste Land; perhaps self-identity. Australia has arguably turned away from its mainly European roots to become part of the Asian continent it inhabits, rendering it the unintentional cultural heir of East and West.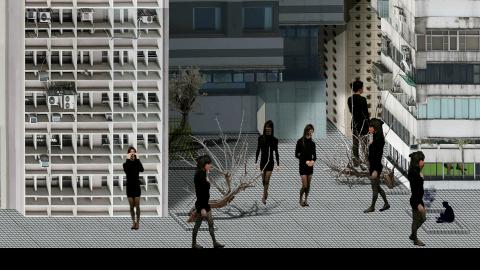 Extensions of a No-Place — Qiu Ying's Spring Morning in the Han Palace (2012).
Photo courtesy of Peter Nelson
Nelson's search has taken him through Chinese landscapes, the 18th century British picturesque (Thomas Gainsborough and George Stubbs) and the 1970s utopian visions of the future. Physically, it has taken him to Paris, Chongqing, Beijing and Taipei, where he is doing a six-month residency at Treasure Hill Artists Village.
Wherever he goes, he is an outsider, alienated by language, culture and location, condemned to never really forming the bonds of community that allow for sustainable growth. This fracturing is reflected in the subject of his art, and also in the assorted media he uses, and within them the juxtaposition of cultural references and samples, forming a collage of recycled motifs. They combine to depict a pluralistic modern world of East and West.
Extensions of a No-Place (Wen Zhengming) takes the soft curves and colors of the mountains in Wen's Imitating Zhao Bosu's Illustration of the Latter Red Cliff, and replaces them with monotone mountains draped in patterns reminiscent of Taipei's ubiquitous street tiles. The grid this creates, and which can be projected across five screens, brings it into line with the utopian architectural motif of squares. Taking landscape as coded self-portraiture further, Nelson places himself within it, appropriately, as the "lost man."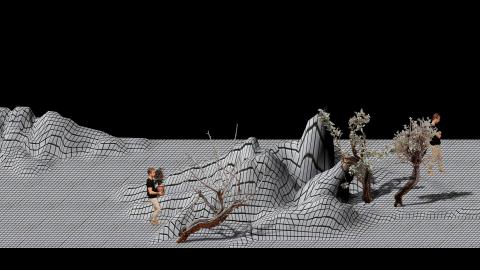 Peter Nelson, screen grab of Extensions of a No-Place — Wen Zhengming Imitating Zhao Bosu's Illustration of the Latter Red Cliff (2012).
Photo courtesy of Peter Nelson
Video games and chinese painting
Human instinct is to exert control — over ourselves, over others — in the quest for order, perfection or happiness. That we will create entire worlds to achieve this is exploited by the realms of fantasy and video games.
In Nelson's second video, Extensions of a No-Place (Qiu Ying's Spring Morning in the Han Palace), he draws parallels between the video game Starcraft and the Han Court, despite the 500-year-gap, through their use of isometric angles and oblique parallel perspective, which ensures the scenes have no vanishing points and objects are the same size no matter whether they appear in the foreground or background.
The effect, referred to as "moving perspective" in Chinese painting, is an endlessly extendable scene where no single point on the landscape has hierarchy over another (which is good for both ambulatory Chinese scrolls and large-scale sci-fi battles), and in terms of time, past and present are conflated, making the concept of time irrelevant.
In Nelson's Qiu Ying the court buildings are replaced with a Sonyshop and Taipei apartments, and the female courtesans with versions of Nelson in drag, while the soundtrack plays in Mandarin and English lyrics from US rapper Eminem's Without Me.
Mountains
It all started in the soaring, sublime mountains of China's Zhangjiajie National Park, Hunan Province. The title of Mountain Drawing (The First Time I felt at Home), a 2.6m by 4.2m perspex sculpture, indicates that Nelson felt a connection.
But could this also be where it ends? In Qiu Ying, there is a devilish figure crouched down, creating smoke. This is in fact a silhouette of Nelson destroying First Time.
Shorn of The Waste Land's spirituality, or any other redeeming feature, perhaps the title's No-Place can only rely on Nelson's Jade-like mountain sculptures — his final medium made from celadon ceramic through a 3D printer — to bear the burden of beauty and hope, where Jade represents purity, nobility and perfection.
Still, Nelson says he destroyed the sculpture in order to recycle it, which again recalls The Waste Land's cycle of birth and death. In the poem's very last stanza, many read hope in the Fisher King's final words: "These fragments I have shored against my ruins." Perhaps Nelson's message is, with these fragments, that we can build our worlds.
Publication Notes
Exhibition notes
What: Extensions of a No-Place When: Until Nov. 27. Open daily from 1pm to 9pm Where: Tainan Cultural and Creative Industries Park (台南文化創意產業園區出張所) 16, Beimen Rd, Sec 2, Greater Tainan (台南市北區北門路2段16號); tel: 0981-926-987 Admission: Free
Comments will be moderated. Keep comments relevant to the article. Remarks containing abusive and obscene language, personal attacks of any kind or promotion will be removed and the user banned. Final decision will be at the discretion of the Taipei Times.