Live Wire: The great innovator
Most artists adapt themselves to the musical climate around them. It is only the rare few who exert their will upon music itself, changing it to their own whims, creating something entirely new in the process. Herbie Hancock has spent a lifetime in music doing the latter. Be it jazz, funk, hip hop, R&B or electronic music, the multiple Grammy Award-winning pianist, composer, and band leader has found a way to not merely influence, but alter multiple genres of music, putting his indelible imprint on them in ways other musicians could only dream of. Then again, if you want to stay ahead of the game, you have to be able to take those things others can only dream of, and find a way to make them real.
As it goes with prodigies, Hancock's musical journey started early. He began playing the piano at the age of seven, and even then an innate curiosity drove him forward — a need to explore and figure all things out for himself.
"Ever since I was a child I can remember that I was always curious," Hancock recalls. "It was that curiosity that was the reasoning behind me wanting to examine things, to see what makes them tick. How does this part work? What does this do? And what would happen if you put this with that? Maybe a chemist's approach, putting different things together to see how that could work."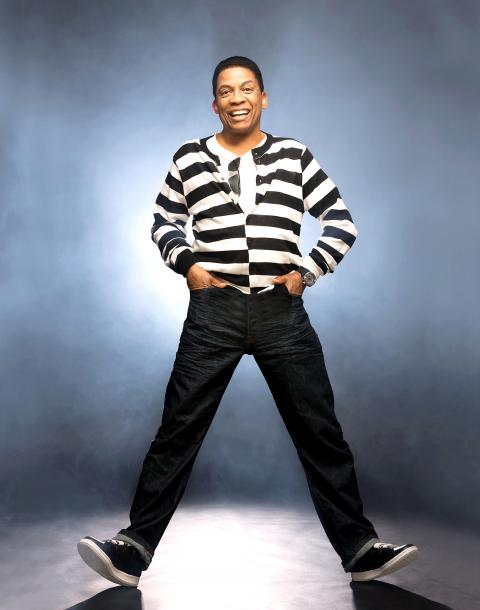 Hancock and his band play at the National Theater Concert Hall in Taipei City on Thursday night.
Photo Courtesy of Douglas Copeland
That approach goes a long way to explaining some of Hancock's landmark albums, game changers such as Head Hunters, a definitive moment in the history of jazz funk, and Future Shock, an essential pivot in the evolution of electro-funk. These albums were born as much of Hancock's scientific take on mixing past with present while simultaneously having the confidence to foresee a future of his own creation as they were of his ability to not only utilize new technology to his advantage, but to embrace it. His lifelong technophilia extends from experimentation with new instruments and juxtaposing non-traditional instrumentation over stagnant genres, to testing out new recording techniques and being one of the first musicians to jump on the PC bandwagon. This is just one more area where Hancock was ahead of his time.
"First of all, I wanted to tell you that I didn't observe that happening, I helped push it," Hancock explains, chuckling over the phone. "I got my first computer in 1979, and I immediately saw the possibilities. I mean, I never knew that the whole industry would change to what we have today, but I'm the one who encouraged other musicians to get computers and learn how they work, because I knew that music was gonna be affected by technology."
Few have been able to look ahead, see what's coming, and know that they could play a major part in shaping multiple horizons on the approach. That's just one of the reasons why, later this year, Hancock will be receiving the coveted Kennedy Center Honor alongside legends such as Carlos Santana and Billy Joel. It's yet another accolade in a long, long list, but the significance still resonates deep with the man who got his start in Miles Davis' Second Great Quintet in the early sixties and has gone on to work with everyone from Anthony "Chick" Corea to Norah Jones, his list of collaborations running the gamut of pop and jazz superstars.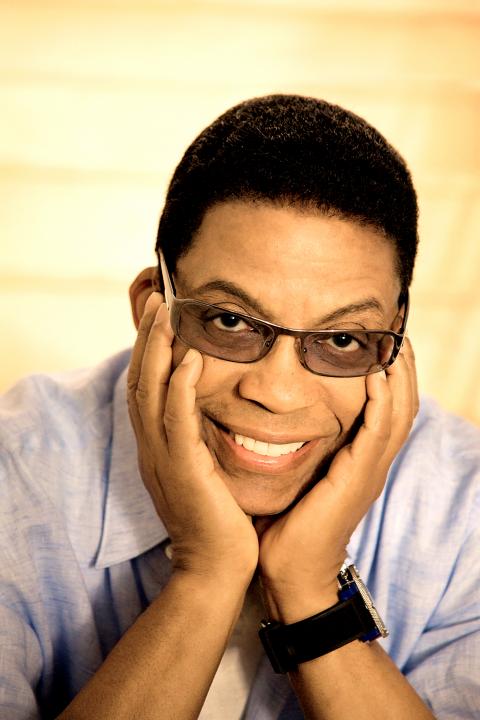 At 73 years old, jazz legend Herbie Hancock is still sharp and eager to experiment with new recording techniques.
Photos Courtesy of Douglas Copeland
Though still sharp as ever, time marches on, and a man's mentality can't help but shift with age. Hancock finds that his way of thinking has changed, both as a man and a musician, entities that may seem separate, but for him are inextricably entwined. Musicians often lament their advancing years, but that doesn't mean getting older in the music game has to be a bad thing. It's all a matter of perspective. Envision advantages, and they will be there, even as the shadows grow long.
"It's difficult to separate the advantages of getting older as a human being from getting older as a musician," Hancock reflects thoughtfully. "I think more about purpose now than I did when I was younger. Also, at this point, many of us look at how we were nurtured when we were younger by older musicians. Now we're in the position to carry that ball and nurture and be concerned about the progress and development of younger musicians, too."
As for the future, Hancock, now in his early seventies, will continue doing what he does best, evolving, experimenting and working. He's got his memoirs to finish for a much-anticipated release next year, a lecture series coming up at Harvard University, more touring to do, and there is always new music to record. The only thing typical about Hancock's career is his remarkable ability to remain defiantly atypical. Case in point, his next album will be a collaboration with producer/rapper Steven Ellison, better known as Flying Lotus, grandnephew of the great jazz saxophonist John Coltrane. Also on board is the genre-spanning monster on the bass guitar Stephen Bruner, aka Thundercat, a kindred spirit in the experimental sense who has worked with everyone from metal-punk crossover pioneers Suicidal Tendencies to gangsta rap progenitor Snoop Dogg.
In the end, musicians like Herbie Hancock, innovators in the truest sense of the word, are few and far between. You don't so much interview them as you simply hit record, let the wisdom flow uninterrupted, and learn. If there is one piece of advice Hancock wants to impart, it is that up-and-coming musicians need to "develop themselves as a human being, because playing music is not about notes and rhythms. It's about life. If you're in the process of developing the art of life, as well as the art of music, then there's much more of a potential of the palette that you draw from to be much more expansive, and much more rewarding and satisfying on a deep life level."
Hopefully, the next generation is listening.
■ Herbie Hancock and his band play Thursday at the National Theater Concert Hall (台北國家音樂廳), No. 21-1, Zhongshan S Rd, Taipei City (台北市中山南路21-1號). Doors open at 7:15pm, and the show starts at 7:30pm. Tickets range from NT$1,200 to NT$6,000, and can be purchased in advance at 7-Eleven, FamilyMart (全家便利商店), and Hi-Life (萊爾富) convenience stores.
Comments will be moderated. Keep comments relevant to the article. Remarks containing abusive and obscene language, personal attacks of any kind or promotion will be removed and the user banned. Final decision will be at the discretion of the Taipei Times.