Live Wire: "Wow. Energy. Cat. Samurai. Growing. Feedback. Dynamic."
There is a weird, grungy scene in Brooklyn, New York that is literally on the fringe of the hipster colony of Williamsburg, in a neighborhood that the bands are near enough to play in all those hipster bars, but also far enough that they can keep their distance. This group of bands is about loud, punk-inspired music, and also about painting their own album covers, silkscreening their own t-shirts, skateboarding, rooftop parties and a kind of communal living that keeps rent low and the whole thing financially viable, though sometimes just barely. Their neighborhood is Bushwick, where Dominican bodegas and diners outnumber hipster coffee shops and hipster rock clubs at least four to one. And the headquarters is an industrial loft with an indoor halfpipe for skateboarding and four tree-house-style bunks that leave the rest of the space completely open and shared — for gigs that other live houses won't book, jam sessions, skating, screening shirts and just hanging out.
Two of the bunk lofts in that apartment are occupied by native New Yorker Adam Aron Amram and Tokyo guitarist Kenichi "Ken" Minami, who form the band Ken South Rock. The other two bunks are occupied by Matt Reilly, bass player for Japanther (an arty skatepunk band that has played at both PS1 contemporary art museum and the Venice Biennial) and Space Meow (the project of Taiwanese film student and former lead singer of Varo, Doll Chao, 趙中慧).
On two previous tours of Taiwan, Ken South Rock already stirred local punks to raw amazement in a string of Brooklyn-style DIY shows, purportedly leaving one kid only able to speak in one-word sentences, exclaiming: "Wow. Energy. Cat. Samurai. Growling. Feedback. Dynamic. Fuzz. Urgent. Powerful. Raw. Life. Rock." This weekend they return for the third time in two years, playing shows in Greater Tainan and Taipei.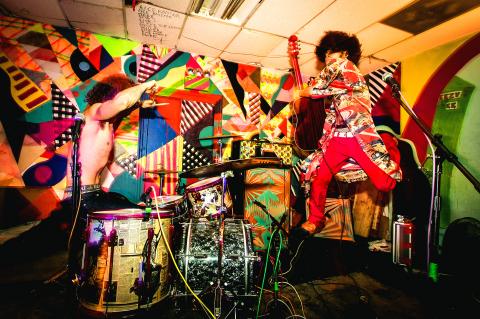 Ken South Rock will punk it up this weekend with shows in Taipei and Greater Tainan.
Photo Courtesy of Walter Wlodarczyk
Amram and Ken have very different backgrounds, but they have come together in an amazing way. Adam Amram is the son of David Amram, a jazz legend who has collaborated with everyone from Dizzy Gilespie and Miles Davis to Allen Ginsberg and Bob Dylan.
"I was raised playing with my father," says Adam, contacted by phone in Taitung, where he is working with local aboriginal musicians after playing Beastie Rock in Taipei last weekend. "I played jazz with him from the age of four to 18, but it was always difficult, and I was never really having fun. One of the reasons was that I was playing with musicians who were incredibly gifted and practiced constantly, but I was lazy. I never practiced."
"So I put down the drums for a while, but then I had the chance to play in a rock and roll show when I was 19. It was this really horrible band, and I was really nervous. But then from the first song, I just started playing crazy and dancing and just having a blast. There was no thinking. It was just playing. It was a really special feeling, and I still try to catch that feeling every time I play," Amram says.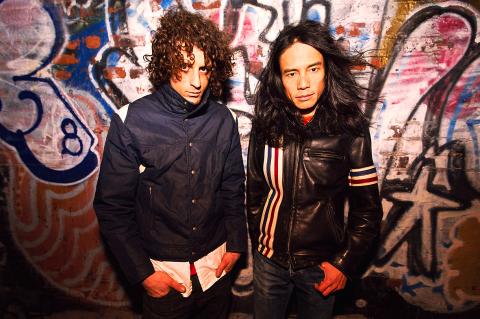 Adam Aron Amram, left, and Kenichi "Ken" Kinami make up Ken South Rock.
Photo Courtesy of Walter Wlodarczyk
Ken had been playing in a three-piece hard rock band, Chubarari, in Tokyo for almost 10 years, but once the group broke up in 2010, he was left drifting.
"I wanted to refresh, so I put down the electric guitar and picked up an acoustic, because it was easy to take anywhere," he says.
He wrote songs and toured on his own, mixing stretch-legged guitar stances and leg kicks with a fast acoustic sound, inspired, he says, by flamenco, but playing an acoustic guitar in a Kimono and red bellbottom jeans. He was not finding it a smooth transition, though, so "I just made a sudden decision. I am going to New York."
"In New York, I started by playing open mic nights, and after that I got first one booking, then more bookings."
One of those gigs was at Blue Mondays, a rocker dive bar directly downstairs from Amram's communal music loft. Their doors are literally only three or four meters apart.
"Ken was playing in front of maybe three people," says Amram. "But I was thinking this guy is amazing. After he finished, I said, 'Please, please, play with me.' He hardly spoke any English then, but I invited him upstairs. I was like, let's jam right now."
"I was thinking, 'Upstairs! Right now!' I was really scared," says Ken. "In Japan, it is impossible to play inside the apartment. I didn't think it was possible, and also it was New York."
"But when he saw all the old amplifiers and the drums, I started to see a smile on his face," says Amram. "We jammed that night and wrote a song."
That song is called Hold On, and Amram now describes it as "a pact between me and Ken to play music together no matter what." The lyrics are simple, yet powerful: "Hold on, hold on. We're in this together against the storm."
Before long, it would take on even greater meaning for the pair. Ken returned to Tokyo after a few more gigs, but he quickly invited Amram to join him in Japan for a tour. The night of their first show was set for March 11, 2011, the day of the earthquake and tsunami.
"The show actually went on," says Amram. "We had no idea how serious it was at that moment. But we soon realized. We didn't have a long history together, but going through that brought us a lot closer."
The earthquake has also left its mark on Ken South Rock's music, and Amram says both are obsessed with natural, elemental forces that are far beyond human power. These sentiments are evident in songs like Hold On and Volcano, where Ken's Japanese lyrics speak of animistic gods of the mountains and the seas.
This combines with a raw sense of emotional urgency that Amram describes as "positive aggression."
"There's a lot of emotion in our playing," says Amram "That comes from how difficult it is to say anything, or how difficult it is to get your point across, or just how difficult it is to survive."
In Tainan: Ken South Rock plays tonight at 9pm at TCRC, B1, 314, Simen Rd Sec 2, Greater Tainan (台南市西門路二段314號B1). Tickets are NT$300 at the door.
In Taipei: Tomorrow at 5:30pm with Slack Tide, Broken Little Sister, Manic Sheep and Naisho at The Wall (這牆壁), B1, 200 Roosevelt Rd Sec 4, Taipei City (台北市羅斯福路四段200號B1). No price given.
Sunday 9pm in Taipei with Forests and Suichublanco at Revolver, 1-2, Roosevelt Rd Sec 1, Taipei City (台北市羅斯福路一段1-2號). NT$300 at the door.
Comments will be moderated. Keep comments relevant to the article. Remarks containing abusive and obscene language, personal attacks of any kind or promotion will be removed and the user banned. Final decision will be at the discretion of the Taipei Times.