A non-tribute to Wagner
What his oeuvre has in common with air conditioners
IN Big Bang Wagner (華格納大爆炸), three artists from Taiwan and Germany celebrate the 200th anniversary of Wagner's birth by not paying homage to the German composer.
"We are not interested in Wagner as an authority. Instead, we try to see what he was nourishing his work with. Where were the sources of his ideas? Since he thought so big and so fundamentally, he had a very fundamental source," says Moritz Gagern, a Berlin-based composer who contributes an orchestral piece to Big Bang Wagner.
As it turns out, the source is Norse mythology. In his operatic works, Wagner often borrowed and transformed the myths of northern Europe, which, like mythologies in all human cultures, describe the creation of the world.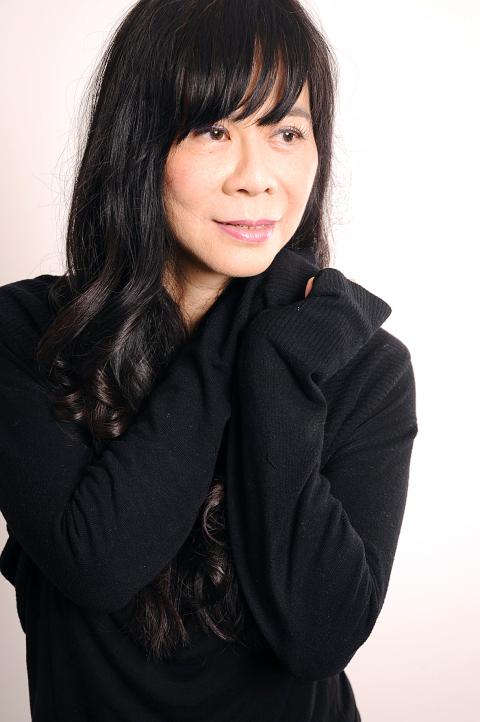 Cirque Alfonse performs feats of strength and dexterity using real saws and axes.
Photo courtesy of Taipei Arts Festival
"We started with Wagner but end up with an exploration of the origin of things," notes writer, theater director and curator Jade Chen (陳玉慧).
For Chen, words are the prime origin of human things. She attempts to examine the possibilities of words and her relation to them by putting herself under the viewer's scrutiny. She will type in front of viewers to give them a glimpse into what goes on in a writer's mind. Her words, sentences and fragmented text will be projected onto the screen, alongside real-time interactions on Facebook.
Taking Wagner's The Ring of the Nibelung as the starting point, German visual and performance artist Anne Tismer uses large handmade objects and movable sculptures to depict the Norse myths behind Wagner's epic work. From Tismer's viewpoint, the mythology is a collection of knowledge explaining natural and cosmic phenomena and the Big Bang theory.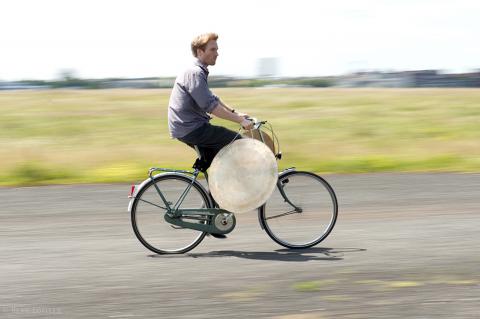 Big Bang Wagner presents music by Moritz Gagern, above, a performance by Anne Tismer, right, and Jade Chen's exploration of words.
Photo courtesy of Taipei Arts Festival
Meanwhile, at the open performance space where audiences are free to move around, Gagern makes his only explicit reference to Wagner by realizing the idea of an "invisible orchestra" that shuts out musicians from view. The Quanta Philharmonic Orchestra (廣藝愛樂管弦樂團) will play at the balcony on the second floor that's not accessible to the audience.
The contemporary German composer says his work, like Tismer's, is inspired by the Big Bang theory. The underlying structure of his music follows precisely "the physical process of the creation of the universe" in which matter spreads equally after the Big Bang. Galaxies evolve later, formed by gravity and other forces.
"Music is also a physical process … It is clear that it could also be a process where you start from the first element, where you have equal spread and no pitch. It is white noise, which means that all frequencies spread equally," he explains. "I don't have pitch in my composition until I reach the point in the story of the universe where there are suns, stars and galaxies. I start at the moment that you could say it is before music. But it is not because white noise is extremely important in music."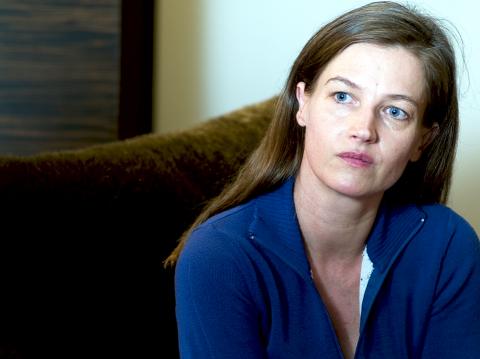 Big Bang Wagner presents music by Moritz Gagern, above, a performance by Anne Tismer, right, and Jade Chen's exploration of words.
Photo courtesy of Taipei Arts Festival
To Gagern, the white noise of air conditioners that he finds omnipresent in Taiwan musically reflects the creation of matter. Repetitive, steady, continuous and with no contrasting structure, the sound of a motor is similar to the noise of a planetary system, which is also a repetitive system, according to the composer.
But even though that white noise seems like the sound of the universe, an orchestra playing white noise is most similar to the sound of the universe. "The sound of the universe is even closer to the orchestra playing air conditioner because the universe is not a machine. It has lots of chaos," Gagern says.
"It doesn't mean I try to describe the sound of the universe. I take the idea in order to find initial musical element. For me in a way it works, because I am much more familiar with noise now than before," he adds.
The production is in Mandarin, English and German with Chinese subtitles. A techno after-party will be held at the same spot featuring Lin Jing-yao (林經堯), a new-media artist and composer, making electronic sounds inspired by Wagner's music.
Publication Notes
Performance notes
What: Big Bang Wagner (華格納大爆炸) When: Thursday to Saturday at 7:30pm Where: Guangfu Auditorium (光復廳) at Taipei Zhongshan Hall (台北中山堂), 98 Yanping S Rd, Taipei City (台北市延平南路98號) Admission: NT$800, available through NTCH ticketing and online at www.artsticket.com.tw
Comments will be moderated. Keep comments relevant to the article. Remarks containing abusive and obscene language, personal attacks of any kind or promotion will be removed and the user banned. Final decision will be at the discretion of the Taipei Times.