Live Wire: Underworld: This is the end, really
Taiwan is about to lose its answer to New York's CBGB. The Underworld (地下社會), an underground rock club that has been a driving force in Taiwan's music scene, will close for good after two final nights of gigs and parties this weekend. Today, two bands that cut their teeth on the dingy B1 stage before going on to greater popularity, Sugarplum Ferry (甜梅號) and 88 Balaz (八 十 八顆芭樂籽), will play a sold-out final show at 9pm. Then today after 11:30pm and tomorrow from 9pm to 5am, the bar's owners will join fixture DJs like Randy Lin (林志堅), Fish, Dizzy, Floaty and others for free parties.
The legendary club will go out with a bang, though it will be a begrudging finish. The decision to pull the steel shutters for the final time comes after more than a year of battling government inspectors and a neighborhood group bent on evicting the bar.
Underworld's eviction is most directly the result of a decision by its landlord, who has chosen not to renew the lease, despite the club's 17-year history at the same location. The landlord was pressured into the decision by the Shidahood Self-Help Association (師大三里里民自救會), a non-profit group which claims to represent area residents. The Association began lobbying the Taipei City Government in late 2011 to clean up the neighborhood and its rapidly growing night market. So far at least 150 businesses have closed in the neighborhood including landmark bars, restaurants and cafes.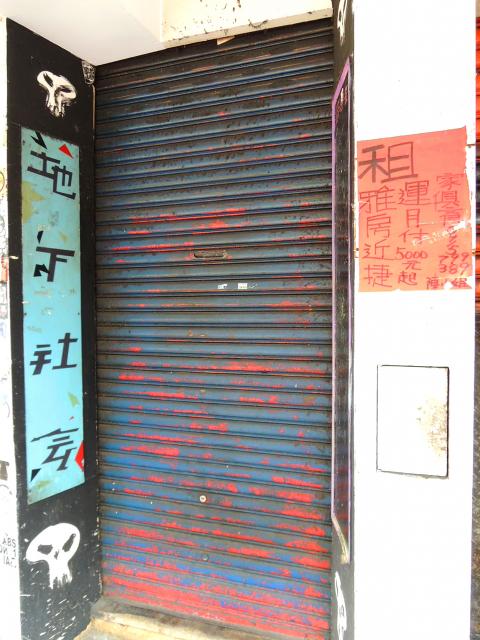 Taipei's answer to New York's CBGB will shutter its doors after a 17-year run.
Photo: TT
"We can understand the pressure on the landlord. Last year the landlord could resist pressure from the Self-Help Association, because our protest led him to believe the government would step in," said Ho Tong-hung (何東洪), one of Underworld's owners.
Last summer, city inspectors found problems with Underworld's business license and safety facilities, and the bar suspended live music for a month. Protests followed, including hundreds of rockers flocking to the Legislative Yuan. Behind a wave of popular support, the bar upgraded its facilities and returned to business as usual.
"We were good tenants and never had a problem with public safety," Ho continued. "The police also know this. But now it is a year later. The city government has been inconsistent and the fines have started to shake him."
Despite the upgrades, frequent inspections continued. It seemed the city was nitpicking, looking for any violation that could give the bar problems.
"What's more, the Self-help Association has continually harassed [the landlord] and has threatened to make legal claims against violations on another of his storefronts. So he has decided to no longer support us," said Ho.
This is the third time in its history Underworld has announced it will shut down — the first time was in 2005, when an improper business license led to suspension of live music for about a year, and the second was last year — but this time there appears to be no recourse. Ho says there are no plans to reopen or relocate. In other words, this is truly the end.
"In the very beginning, our investment was only about NT$150,000," says Ho. "A lot of the equipment and lighting came gradually through money we made and donations. If we were to reopen now, we would have to spend several million NTD, but the shareholders don't have any money."
Underworld was established in 1996 as an idealistic gambit to provide Taipei a home for underground music.
"One of the main reasons that Underworld could last for 17 years was that earning money was never a goal," says Ho. "Bands knew that this was a place to cultivate and enjoy music, so they would not fuss about performance fees. Allowing bands to understand the culture of a performance space is very important, and even more important is the way they went on to form a major scene for this kind of indie culture. In 17 years, we have never taken one cent from the government or taxpayers."
At present, Ho and Underworld's other owners realize they are in a battle they cannot win. Even if Underworld's persecution is unfair, there are more bands and more live shows in Taipei than ever before. Even if the club dies, its legacy seems more than assured.
We should also perhaps remember that the 2006 closure of CBGB also involved a dispute with residents in its downtown New York neighborhood. At this very moment, a recreation of the CBGB bathroom sits in America's temple of high culture, the Metropolitan Museum of Art, marking the entrance to an exhibition on the history of punk. Underworld may someday get similar recognition from the Taiwanese government culture officials that now refuse to protect it. At the moment, it seems a very small consolation.
■ Today at 9pm, Sugarplum Ferry and 88 Balaz perform. Admission is NT$400 at the door with one drink (sold out). From 11:30pm, there is a free DJ party with Mu Chian (沐謙) from Digihai, Showyao (小搖), Da Shi Xiong (大師兄), Chosen (秋生) and Floaty. Tomorrow there is a free DJ party with Sandy Lee (李佳純), Dizzy, Underworld shareholder Ho and others. Underworld is at B1, 45 Shida Rd (台北市師大路45號B1).
Comments will be moderated. Keep comments relevant to the article. Remarks containing abusive and obscene language, personal attacks of any kind or promotion will be removed and the user banned. Final decision will be at the discretion of the Taipei Times.