Live Wire: Oracles of electro-rock
Last year, the Hong Kong promoters Untitled Entertainment began bringing British buzz bands to southeast Asia on a regular basis. They delivered Bombay Bicycle Club, Metronomy, the Vaccines and The Horrors, and this year they open with Delphic, which performs at Legacy on Monday. Delphic occupies some weird musical territory between shoegaze, indie dance and electronic rock. Should you dance to it? Put it on heavy rotation on BBC Radio 1's daytime shows? Or geek out over it as the next big indie breakthrough? One thing Delphic are not, however, are guitar rock saviors. Theirs is a synth-driven sound that is a moody, distant and spaced-out version of the electronic pop that dates back to New Order. They are an echo of the 80s, but without the bubbly enthusiasm.
Now touring to promote their newly released album Collections, lead vocalist James Cook admitted to shoegaze-y roots. "The word delphic means obscure," he wrote, in an e-mail interview. "When we started, we didn't feel confident enough to show our faces so it seemed to work well."
Formed in 2009, Cook says the songwriting quickly evolved from indie electronica jams to a more pop oriented ideas about song crafting that by 2012 had them named as one of five British bands to release songs for the London Olympics. The other artists were Elton John, Muse, The Chemical Brothers and Dizzee Rascal.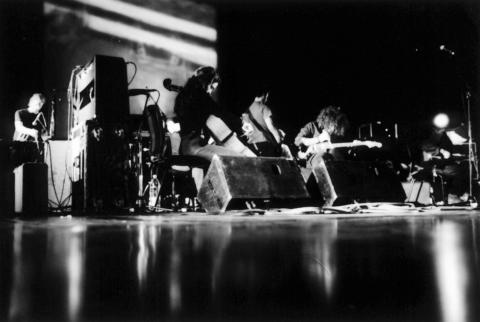 Godspeed will play tomorrow at the NTU Sports Center.
Photo courtesy of the Wall
"We started by making beats or loops and writing around them, but then realized that the key things we wanted to hear in our songs were a strong melody, a lyric that resonates, and a beat that defines it," says Cook.
As an example, he compares the tunes Halcyon and Doubt from the 2009 debut album Acolyte to others from the new album. Those songs "started out as chord sequences and mumbled nonsense lyrics that we carved into a song on the computer." But with current hits Baiya and Memeo, "the different sections — verse, bridge, chorus — were linked intrinsically at the very beginning on just piano and voice." In other words, the starting point has shifted from beats to musical ideas you can sing along with.
For this reason, Cook is not overly concerned about how the songs will inevitably be remixed by others. "I think a lot of remixes are hit and miss. There is only ever one original of the track, and that is what we hope will be remembered 30 years down the line."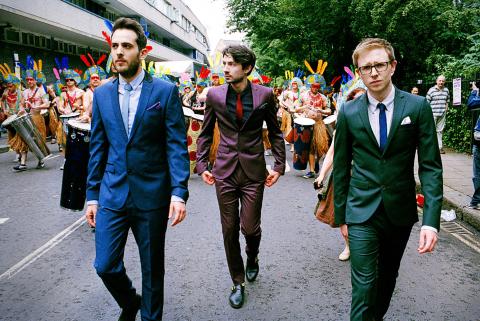 Delphic will play on Monday at Legacy Taipei.
Photo courtesy of Untitled Entertainment
Writing melodies that resonate is a conscious goal for Cook, and his plaintive pop odes derive inspiration from a diverse array of powerful singers. "I grew up listening to Jeff Buckley, Kate Bush and Robert Plant, but as I've grown I find so much reward in listening to others such as Sam Cooke and Aaliyah," he says.
His vocal parts offer a counterpoint to the indie dance synth beats of keyboard player Rick Boardman. "Rick's synth room is ridiculous," Cook continues. "He looks for warmth and tone from a synth in the way a jazz connoisseur would look at warmth and tone from a trumpet. It doesn't really matter what record it is on, if the synth sounds good he will spot it."
So in this short journey from shoegazing shyness to Olympic stardom, has the band arrived anywhere definable within the musical spectrum? Probably not. When asked about his choice for an ultimate show, Cook admits as much, saying that if given the choice "we'd rather headline the biggest festivals in the world, then head straight off to DJ in a cool club till 3am."
■ Delphic plays on Monday at 8pm at Legacy, 1 Bade Rd Sec 1, Taipei City (台北市八德路一段1號). Tickets are NT$1,700, or NT$1,400 in advance.
Godspeed You! Black Emperor is probably the band that defined post-rock. The Montreal group formed in the mid 1990s and developed a sound that is now often described as cinematic — instrumental music overlaid with the occasional sound byte that progresses in an organic structure of building and diminishing distorted guitar driven intensities. It is like the experience of a movie, but without the movie, or at least that's what many have said. The band actually does use play film loops as an integral part of its act, but the visuals — like the music — reach back to lo-fi aesthetics and pre-digital technologies. They use real film for projection source material, and eight musicians on stage are playing instruments that are electric or acoustic, but not electronic — three guitars, a violin, double bass, electic bass and two drummers. The sounds build and drift in layers, like a symphony or a landscape.
Now, this particular Godspeed show at NTU Arena is highly anticipated for several reasons. First, there is Taiwan's long running predilection for post-rock, which dates back to late 90s, when underground tastemakers oohed and aahed over Spacemen 3. Godspeed was only a distant, reverent fantasy for Taiwanese rockers then, and with only a cult following in North America, a Taiwan visit was not likely. But in Taiwan, postrock continued to grow into one of the most identifiable currents in the local indie scene (thanks in large part to The Wall, who are organizing this show). Bands like Mogwai, Explosions in the Sky, Mono and Toe have been hugely successful here over the years. But as Taiwan's appetite for post-rock grew ever stronger through the 2000s, Godspeed went on hiatus, disbanding in 2003. The group reformed, however, in 2010, and now they are returning to the scene like lost heroes. Their 2012 album Alleluja! Don't Bend! Ascend! was the first in a decade, and has received significant indie acclaim, enough in fact to launch a world tour. Sigur Ros blew everyone away with a visual and sonic spectacle at NTU Arena in November. Everyone expects the same to happen here.
■ Godspeed You! Black Emperor performs tomorrow at 8pm at NTU Sports Center (台大體育館) 1 Roosevelt Rd Sec 4, Taipei (台北市羅斯福路四段一號). Tickets are NT$2,800.
Publication Notes
Comments will be moderated. Keep comments relevant to the article. Remarks containing abusive and obscene language, personal attacks of any kind or promotion will be removed and the user banned. Final decision will be at the discretion of the Taipei Times.