Battle royale
The Songjiang Battle Array, a traditional form of performance that includes dance, music and martial arts, will take place over the next week in Greater Kaohsiung's Neimen District
This weekend, thousands of martial arts fans are expected to descend on Greater Kaohsiung's Neimen District (內門) to watch a week-long lineup of Song-Jiang Jhen Battle Array (宋江陣), a form of performing arts that combines elements of kung fu, dance and drumming.
The festival, now in its 12th year, invites martial arts troupes from home and abroad to showcase their best moves. Groups of college students will also take part in a creative competition, which is aimed at revitalizing the tradition.
Originating over a century ago, the battle array was named after Song Jiang (宋江), leader of a group of bandits who lived during the Song Dynasty. In training his henchmen, Song would divide them into two groups and have each person carry a weapon. A round of mock duels would then follow.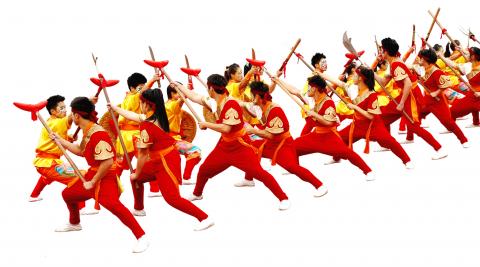 The Songjiang Battle Array demands valor and courage.
Photos Courtesy of Kaohsiung City Government
The method was so successful in preparing the men for battle, it was later adopted as a regular military exercise to boost defense capability and ward off pirates, bandits and neighboring clans. A wide variety of weapons, strategies, formations and music were applied to make the exercise more challenging.
Over the years, the battle array has transformed itself into a ritual that is performed in temples to honor the birthdays of deities. Today, temples in southern Taiwan organize the performance teams themselves. Although a full-size team consists of 107 members, it is more common to see a 72 or 36-member array.
Recognizing that the custom has been slowly dying out, the Kaohsiung City Government, in cooperation with local temples, has been holding a series of activities in Neimen to revive interest in the performance art.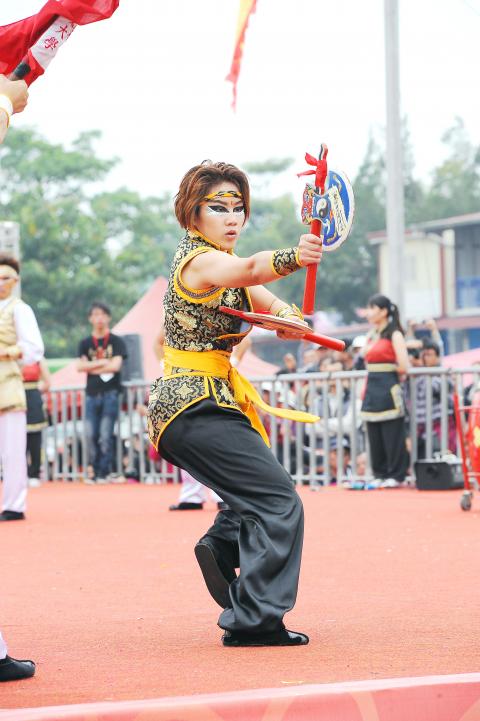 The Songjiang Battle Array demands valor and courage.
Photos Courtesy of Kaohsiung City Government
"Neimen is a special place … Its population stands at 15,000, but it has 50 to 60 martial arts performance troupes," said Deputy Mayor Lee Yung-te (李永得) at a press conference held to launch the annual festival.
Many uprisings took place in Neimen in the past, including a large scale anti-Manchu protest led by Chu Yi-kuei (朱一貴) in the early 18th century. Neimen people's valor and courage both in the past and present contributed greatly to Taiwan's battle array culture, he said.
Introducing the battle array as an art that integrates sports and music, Lee said that the event is a great way to experience Taiwan's rich cultural heritage. Photo exhibitions, calligraphy shows and a culinary extravaganza will also be held alongside the performances. Complete details in Chinese and English can be found at: www.who-ha.com.tw.
Publication Notes
Performance notes
What: Song-Jiang Jhen Battle Array (宋江陣) When: Starts Saturday and runs until April 7 Where: 8-8, Caiyuanding, Neimen District, Greater Kaohsiung (高雄市內門區菜園頂8號-8) Admission: Free On the Net: www.who-ha.com.tw (English and Chinese)
Comments will be moderated. Keep comments relevant to the article. Remarks containing abusive and obscene language, personal attacks of any kind or promotion will be removed and the user banned. Final decision will be at the discretion of the Taipei Times.