Share and share a bike
The Taipei City Government's Youbike service offers cheap bike rentals from kiosks located throughout the city
Walking into bowels of Taipei's Mass Rapid Transit system for the first time can be a bewildering experience. The same can be said about the Taipei City Government's highly ambitious Youbike bicycle sharing system. But once you've signed up, used the service once or twice and figured out where the stations are, Youbike is a breeze.
Since Youbike stations are popping up all over the city, the Taipei Times wanted to get some feedback from users. There are two ways to get started with Youbike — EasyCard or credit card. If you already have an EasyCard, simply go to the Web site (www.youbike.com.tw/home.php) and click on the member icon. After following the instructions in English or Chinese, an SMS is sent to your mobile phone for confirmation and you can head directly to any of the stations to use a Youbike. The first 30 minutes of every rental are free and every 30 minutes after that is NT$10.
On the road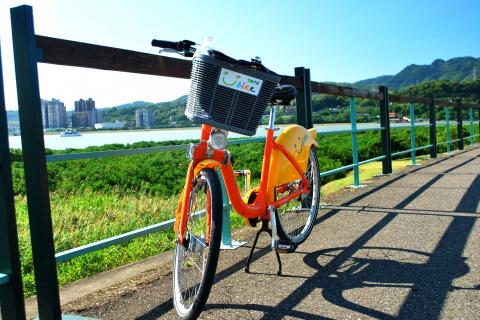 Youbikes are taking over the streets of Taipei.
Photos: Marcus Aurelius and Lindsey Leamen
Using a credit card should be even easier, since all riders have to do is go to a Youbike kiosk and flash the credit card (as long as it has a microchip) and pick a bicycle. However, the credit card service is only available at 31 out of the 41 stations (mostly in the Xinyi District, 信義), and this is only marked on the physical map, not the one on the Youbike Web site.
Kate Lin (林雅婷) learned about Youbike from her co-worker and now uses the service at least twice a week.
"I enjoy doing this because I don't get much chance to exercise during the week," Lin said. "Also, there's only one bus I can take home, and sometimes I have to wait a long time for it. Riding Youbike [home from work] is faster than that."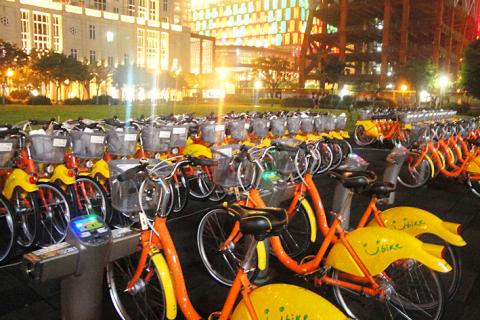 Youbikes are taking over the streets of Taipei.
Photo: Marcus Aurelius and Lindsey Leamen
Lin isn't completely satisfied, though. "The registration machine at the station nearest my house is always broken," she said. "Also, one time I couldn't find any vacant places to return the bike, so I could only wait there until someone came to rent another bike."
Lindsey Leamen, who prefers using the bikes for longer trips, thinks the service could be improved by adding more stations in places that aren't in the main areas of the city.
"I work in Neihu and would love to have the option of biking to work in nice weather, and then taking the MRT home if the weather turns bad, which is a common occurrence in Taipei."
Convenient service
Overall, Leamen believes the service is convenient because it provides a list of stations, a real time listing of how many bikes are there at that particular time and how many empty spaces are available.
"The first time I used a bike, I borrowed it for three and a half hours and it only cost me NT$60. That's amazing, especially considering there's a similar bike share program in Toronto and for half the time I ended up getting charged the equivalent of NT$700. Oh, and I love the baskets!"
Alex Trup, an avid Youbike rider, thinks it has a lot of potential. "It is very well-priced and if you are a light user, you will rarely pay anything," he said. "I even made it once from Taipei City Hall to Academia Sinica in Nangang within the free time."
Youbike hasn't expanded to where Trup lives yet, but he still believes the service will improve. "Taipei is a great city for cycling because it has plenty of paths, generally flat terrain, and on some days, gorgeous weather. YouBike will solidify Taipei's position as one of the world's greatest cities for cycling."
Publication Notes
Youbike Tips
1. Choose off hours to ride the bikes or be prepared to wait during the busiest times of the day. 2. Before choosing a bike, always make sure and check the tires and brakes. If there is anything wrong with a bike, adjust the seat so it's facing backwards, so other riders will know not to take it and the Youbike repair crew will know to fix it when they come by. (Tips courtesy of: www.weviewtaiwan.com)
Comments will be moderated. Keep comments relevant to the article. Remarks containing abusive and obscene language, personal attacks of any kind or promotion will be removed and the user banned. Final decision will be at the discretion of the Taipei Times.