Easy riders
A group of elderly US motorcycle enthusiasts will join Taiwan's Grand Riders on an around the island road trip beginning next week
American film producer Peter Starr is in his late 60s and a lifelong motorcycle enthusiast. Having visited Taiwan last year with a plan to make a documentary about Taiwan's Grand Riders, a group of elderly scooter hobbyists, he is returning to the nation this month with a group of elderly American riders who have been invited to accompany a larger Taiwanese group of riders on a nation-wide tour.
A Taichung-based senior citizen's welfare foundation, the Hondao Foundation (弘道老人基金會), organizes the annual trip.
"Our group is scheduled to arrive in Taipei on Sunday, and we then travel to Taichung the next day to take delivery of our scooters," Starr said in an email interview with the Taipei Times. "There will be a reception for all of us with Taichung Mayor [Jason] Hu (胡志強), then we're off later in the morning."
Peter Starr wearing his "Starr Helmet."
Photo Courtesy of Peter Starr
The Grand Riders are scheduled to arrive back in Taipei on Oct. 22, where they'll be treated to a special screening of Go Grandriders (不老騎士), a 90-minute documentary by 31-year-old Taiwanese director Hua Tien-hao (華天灝), he said.
An article Starr wrote in April's edition of the Motorcyclist magazine described the 1,125km road trip he made in 2011 with local seniors over the age of 80. Many of the riders had cancer or degenerative heart disease, Starr said, noting that most of them had arthritis as well.
"But it was a fantastic trip," he said.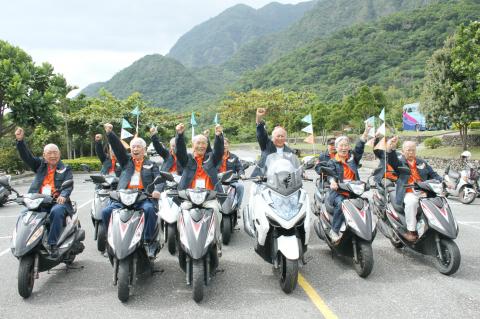 Peter Starr on the road in 2011 with the Grand Riders.
Photo Courtesy of Peter Starr
When Starr later learned that Hua had already made his own 90-minute documentary of a cross-country scooter brigade of octogenarians hitting the road in Taiwan, he decided to cancel his plans for his own movie. But he continues to ride with the group every year.
"When I found out director Hua was already well into producing his movie on the same subject I was looking at, I backed off," he said. "But I am still enthusiastic about doing this second trip with a group of American riders coming along, too, and we're all looking forward to our upcoming adventures on the roads of Taiwan — from Taichung to Alishan (阿里山), Sun Moon Lake (日月潭) and all over."
Starr, 69, flew to Taipei in September and was shown a preview of Hua's movie, and now he's coming back for the documentary's Taipei premiere on Oct. 22 and his reunion with the Grand Riders on Oct. 15.
When asked why he is returning to Taiwan even though his plans for a Grand Riders documentary have been shelved, Starr said: "I want to promote the relationship of the group of elderly riders in Taiwan with elderly riders in the America. I not only want to keep this Grand Riders thing alive, but I also want to help it grow, too."
Starr initially came to Taiwan in 2011, he said, because he was inspired by a popular TV commercial about the Grand Riders that went viral on YouTube, getting over 4 million hits.
''I decided then and there I wanted to ride with them and make a documentary about their adventure," he said.
The theme of his planned documentary was going to be about ''having a dream and a purpose for living out your years productively," he added, noting: "After watching that YouTube video I was left with a gargantuan lump in my throat and far-from-dry eyes."
There will be an official start with government officials in attendance and TV cameras in tow, he said. From Taichung, the Grand Riders will head south, stop overnight in Chiayi and then head up to Alishan, he said.
"There's no stopping us," he added.
Comments will be moderated. Keep comments relevant to the article. Remarks containing abusive and obscene language, personal attacks of any kind or promotion will be removed and the user banned. Final decision will be at the discretion of the Taipei Times.